Best No Credit Check Loans for 2023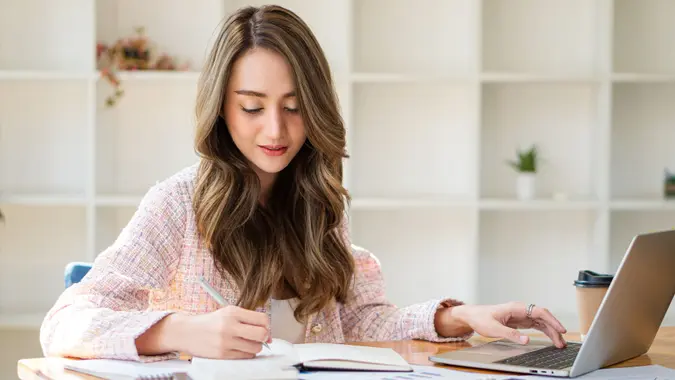 ArLawKa AungTun / Getty Images/iStockphoto
Most lenders do a type of credit check called a hard credit pull when a borrower applies for a personal loan. A hard pull shows up on your credit report and can affect your credit score. A few lenders circumvent that process by issuing personal loans with no hard pull on borrowers' credit.
Best No Credit Check Loans for 2023
"No credit check loan" is a bit of a misnomer in that all lenders look at your credit report to verify information on your application. However, that kind of check is a soft pull, which no one except you can see on your credit report. What's more, it has no effect on your credit score.
Very few lenders offer that kind of loan, but GOBankingRates scoured the internet to find the best choices for August 2023. Here are four options to consider:
60 Month Loans
OppLoans
Possible Finance
Upstart
60 Month Loans
60 Month Loans offers personal loans of $2,600 to $10,000 for terms of up to five years. Instead of using your credit score to make a lending decision, 60 Month Loans looks at your three most recent bank statements to confirm that you have enough income to repay the loan.
After your application is approved, you sign the loan documents to accept the loan offer, and 60 Month Loans direct-deposits the money into your checking account within one business day — or two business days if you sign the documents after the 4:30 p.m. CT cutoff. Your bank should make the funds available within three business days.
60 Month Loans personal loans are available in 19 states.
Minimum/maximum loan amount: $2,600 to $10,000, varies by state
Time to receive funds: One business day for loans accepted before 4:30 p.m. CT
Fees: Up to 5% origination fee, deducted from loan proceeds
Loan terms: One to five years, depending on state; most loans have terms of two to three years
Interest rates: 19% to 35.83% annual percentage rate, depending on state
Co-signer allowed: No
OppLoans
Borrowers who use the OppLoans Lending Platform could be approved for a loan of $500 to $4,000 with just a soft pull on their credit. While OppLoans is itself a lender, it's also a loan-matching service that can look to partner lenders for less-expensive loans than it can offer a particular borrower. But regardless of the loan you choose, you won't pay fees other than interest on the amount you borrow — however, that rate is exorbitant at 59% to 160%.
OppLoans' application process is fully online and requires just personal and employment information for approval. Once approved, you can receive your funds via direct deposit in as soon as one business day as long as OppLoans can verify and approve your credit by noon Central time on a business day.
Minimum/maximum loan amount: $500 to $4,000
Time to receive funds: As soon as one business day
Fees: None, other than loan interest
Loan terms: Nine to 18 months
Interest rates: 59% to 160% APR
Co-signer allowed: No
Possible Finance
Possible Finance is a payday loan alternative offering a more favorable repayment plan than payday loans typically offer. You can get instant approval for up to $500 (subject to state restrictions), which you can receive instantly, and with no hard pull on your credit because Possible uses information from bank statements and a soft credit pull to evaluate applications.
Possible deposits the loan funds into your bank account or loads them on a debit card linked to that account. Loans are repayable in four installments spread out over eight weeks. Loan costs vary by state. The Possible website discloses flat-rate borrowing fees ranging from $10 per $100 borrowed to $25 per $100 borrowed. It notes that in a number of states, including Florida, Texas and Ohio, the fee is not a flat rate, and borrowers typically pay an APR of 150% to 200%. However, you'll have to install the app and create an account to find the rates for those states.
Minimum/maximum loan amount: Up to $500
Time to receive funds: Within minutes or up to five days
Fees: $10 to $25 per $100 borrowed or a percentage of loan amount (see app for details)
Loan terms: Four payments over eight weeks
Interest rates: 150% to 200% APR but could be higher in some locations
Co-signer allowed: No
Upstart
Upstart does do hard credit checks, but only after you've requested a rate quote, accepted the quote and then completed the application. The quote itself only requires a soft credit pull, so you can decide whether to proceed with the application if the rate is acceptable to you. Also, Upstart considers other factors, such as your employment and education, in its credit decision, so you can be approved even with bad credit.
You can borrow between $1,000 and $50,000 (subject to state restrictions). Rates vary from 4.6% to 35.99%, depending on the loan term and the borrower's state, education, work experience and credit history.
Upstart notes that 99% of its personal loans are funded within one business day after the borrower signs their loan documents.
Minimum/maximum loan amount: $1,000 to $50,000
Time to receive funds: As soon as one business day
Fees: 1% to 12% of loan amount, deducted from loan proceeds
Loan terms: Three to five years
Interest rates: 4.60% to 35.99% APR
Co-signer allowed: No
Good To Know

Multiple hard pulls for the same loan type count as a single inquiry if they occur within 14 days of each other.
Is a No Credit Check Loan Right for You?
No credit check loans are risky for lenders, so they have high rates and/or fees. You should consider using one only as a last resort, and only in an emergency. If you have no alternative, such as borrowing from a family member, selling big-ticket items you no longer need or taking a side gig to raise the extra cash, minimize the loan costs by repaying it as soon as you can, especially if it has no prepayment penalty. Making extra principal payments will get you out of debt faster and reduce the total interest paid on the loan.
Data was compiled on Aug. 19 and Aug. 20, 2023, and is subject to change.