5 Best Same-Day Loans With Instant Approval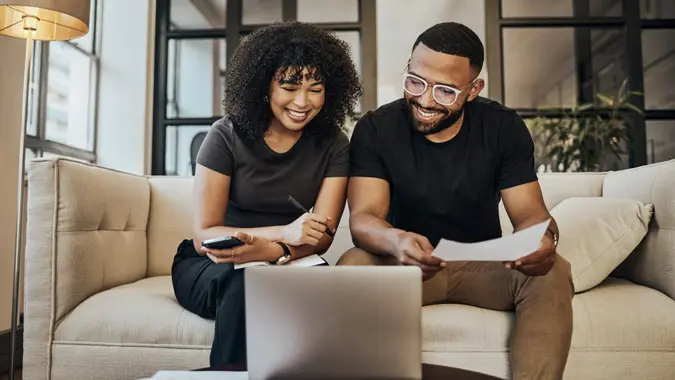 Delmaine Donson / Getty Images
Dozens of situations may require an infusion of cash quickly. If you don't have a low interest or 0% financing credit card, looking into same-day loans could be one solution. Instant approval loans, as their name implies, help you secure financing fast, often with funds deposited in your bank account the same day. Keep reading to learn more.
5 Best Same-Day Loans With Instant Approval
Here's a look at five of the best same-day loans with instant approval:
Best for borrowers with good credit: SoFi Personal Loans
Best for poor credit or no credit history: Upstart
Best bank loan: Citi®
Best credit union loan: Alliant
Best overall: Lightstream
1. SoFi Personal Loans
Best for borrowers with good credit
With a rating of 4.6 out of five on Trustpilot, SoFi is a trusted brand in online financial services. It was ranked as the Best Neobank of 2023 by GOBankingRates, earning a rating of 4.9 stars. It offers a full range of services, including savings accounts and top-rated personal loans, which can deliver funds the same day you sign the loan agreement. Between January 2022 and January 2023, 82% of SoFi personal loan borrowers who signed before 7 p.m. EST received funds the same business day.
You can use SoFi loans for a variety of purposes, ranging from debt consolidation to home improvements, vacations, family planning or weddings. Loans range from $5,000 up to $100,000, with terms of two to seven years.
SoFi loan interest rates range from 8.99% up to 25.81%. There are rate reductions for having direct deposit in a linked SoFi bank account and autopay set up for loan payments. SoFi advertises the average interest rate at 14.84% for a five-year loan.
There is one caveat: While SoFi doesn't indicate the credit score required to qualify for a loan, an article on the site points out, "Many lenders consider a score of 670 or above to indicate solid creditworthiness." Multiple sources and review sites indicate that you need good-to-excellent credit to qualify for a SoFi loan.  
Pros
Interest rate reductions for direct deposit and autopay
Unemployment protection can preserve your good credit if you lose your job
Get money the same day you are approved
Cons
Requires good-to-excellent credit to qualify
Origination fees of 0% to 6%
2. Upstart
Best for poor credit or no credit history
On the other side of the coin, if you have poor credit or no credit history, you can still get a personal loan with same-day funding. Upstart may be your top choice if you have been struggling with high interest credit card debt, have encountered unexpected financial difficulties or need cash fast.
Upstart offers loans from $1,000 to $50,000, with interest rates ranging from 5.2% up to 35.99% for a five-year loan term.
You may qualify for a loan if you:
Have an annual income of at least $12,000
Have a regular means of income
Do not have any bankruptcies in the past 12 months
Do not have current delinquencies on your credit report
Upstart evaluates borrowers based on their debt-to-income ratio and a few other requirements, which results in a higher approval rate for borrowers and potentially lower interest rates for the loan. Not all applicants will earn approval. If you have a bankruptcy, delinquency on your credit report or no steady income, you are not likely to be approved.
Upstart delivers money directly to your bank or credit union within one business day of loan origination and approval, making it one of the easiest and quickest loans for instant money.
Pros
No prepayment penalties
Available to borrowers with poor credit or no credit history
Receive funds within 1 business day of approval
Borrow between $1,000 and $50,000
Cons
Not valid in West Virginia or Iowa
One-time origination fee
3. Citi®
Citi is one of the largest banks in the U.S. If you are a Citi banking customer — or willing to open a Citi bank account — and looking for a personal loan with fair interest rates, it's worth considering Citi.
Citi offers loan amounts between $2,000 and $30,000. You can use your Citi personal loan for home improvements, emergency purchases, a vacation, a wedding or to pay off high interest credit card debt. You cannot use your Citi loan to pay off a Citi credit card.
Citi loan interest rates range from 11.49% to 19.49%, depending on your creditworthiness. You can receive funds into your Citi account as quickly as the same day your loan is approved, and within two business days if you have funds deposited directly into a non-Citi account.
Pros
Apply online or in a branch
Receive funds in your Citi deposit account the same day you are approved
No origination fee
Interest rate discounts available for qualifying applicants
Cons
No co-applicants
Best rates and fast funding available only to Citi customers
4. Alliant
Alliant Credit Union is known for high interest rates on checking and savings accounts. It also offers a wide range of other products and services. One of its best products is its unsecured personal loan, offering same-day approval and same-day funding in most circumstances.
Standing head and shoulders above many other options, Alliant offers flexible terms of 12 to 60 months and loan amounts ranging from $1,000 to $100,000. Interest rates start at 11.79% for 12- and 24-month loans and go up to 13.79% for 48- or 60-month loans. Your final APR is based on your creditworthiness.
Alliant offers a debt protection plan for an additional monthly fee added to your loan payment.
Pros
No prepayment penalties
No origination fees
Flexible terms and loan amounts
Discounts for automatic payments
Cons
Only available to established members of 90 days or more
High interest rates compared to some competitors
5. Lightstream
Lightstream is super-transparent about loan rates and terms. Rather than having to comb through fine print, borrowers can find the low fixed rates in bold type on its home page.
Interest rates range from 7.99% to 25.99%. Borrowers with excellent credit are likely to qualify for the lowest rate, which is significantly lower than most credit card rates. If you find a lender that approves your loan at a lower rate and the same terms, LightStream will offer a rate lower than theirs by .10 percentage points.
Loan terms range from 24 to 144 months. Depending on the purpose and size of the loan, you can borrow between $5,000 to $100,000.
Lightstream also offers super-fast approval. You will receive a response the same day you apply. Once you e-sign your loan agreement and set up funding, you can receive your funds the same business day. Qualified borrowers can have their loan funded the same day they apply, making Lightstream the top choice for fast funding.  
Pros
No prepayment penalties
Low interest rates for qualified borrowers
No origination fees
Rate Beat program ensures the lowest rate you can get
Same-day funding available
Cons
Only borrowers with excellent credit receive the lowest rates
What To Look Out for When Choosing Quick Loans Online
When you're choosing from the wide variety of quick loans online, you want to make sure to choose a reputable lender. Be sure you do the following:
Read consumer reviews.
Check Better Business Bureau Ratings and read complaints.
Read the fine print so you are aware of any fees or prepayment penalties.
Improve Your Odds of Loan Acceptance
Applying for a loan and being rejected can lower your credit score and reduce the chances of being approved by other lenders. To improve your chances of qualifying for a loan, understand the credit score needed and other approval requirements.
It's a good idea to obtain copies of your credit reports from all three credit bureaus: Experian, TransUnion and Equifax. Take the time to fix any errors on your credit reports before you apply to improve your chances.
Also, gather all your paperwork in advance, including pay stubs and tax returns that you may need to show as proof of income. If you are a gig worker or self-employed business owner, it may be harder to qualify for a loan, as additional proof of employment may be required. Being prepared to show proof of income can help speed up the loan process.
Risks of Instant Loans
Applying for an instant loan carries several risks. Some of these risks are also common with other types of loans. For instance, you might pay:  
Loan origination fees
Prepayment penalties
High interest rates
Late fees if you don't make your payments on time
You can avoid these additional fees by reading the fine print and choosing your lender carefully. Of course, make your payments on time to avoid late fees. Some lenders even offer a lower interest rate if you set up autopay when you first take out the loan, so be sure to ask about it.
Be aware that your credit score may drop slightly following your loan application and opening a new credit account. Look for lenders that offer pre-approval before they run a hard credit check.
If you are taking out an instant loan to pay off higher interest credit card debt, you run the risk of charging up your credit cards again, which would lead to even more debt.
Pros and Cons of Same-Day Loans
As with any financial decision, the choice to take out a same-day loan comes with pros and cons. Here's a look at some of the benefits and drawbacks.
Pros
May secure a lower interest rate than with credit cards
Get funds quickly
Improve your credit profile diversity to boost your credit score
Cons
May not receive immediate approval
High interest rates
High monthly payments
Fees
Credit score may drop temporarily
Instant Approval Loans To Avoid
Before you apply for an instant approval loan, read consumer reviews and check their standings with the Better Business Bureau.
In general, you want to avoid companies that are identified as "payday loans," which may have interest rates as high as 400%.
It's also smart to avoid title loans since you are using your vehicle as collateral. If you don't make your loan payments, your car could be repossessed, which means the loan company takes it. Since many people use their vehicle to get to work, losing your car could worsen your financial condition, along with the negative impact a repo can have on your credit.
Bottom Line
Same-day loans can help you pay off high interest credit card debt or pay for an emergency, such as car repairs or necessary home renovations. If a credit card with 0% financing for one year or more is not an option, consider applying for one of these top-rated same-day loans.
FAQ
Here are the answers to some of the most frequently asked questions regarding same-day loans.
How can I borrow money and get it instantly?

You may be able to borrow money instantly through a fintech like Varo, which can deposit up to $250 in cash, instantly, to your Varo online bank account. You can also withdraw money from an ATM as a cash advance against your credit card.
To borrow larger amounts, however, you may want to take out an unsecured personal loan and pay it back over a period of six months up to five years.

Where can I borrow $100 instantly?

If you need to borrow a small amount of money, like $100, you might consider asking a family member or friend. You should clearly define repayment guidelines to make sure it doesn't put a strain on your relationship.
You may also consider taking out a cash advance against your credit card. The amount you can borrow will be subject to your cash advance credit limit.

What is the easiest quick loan to get?

Upstart provides loans to borrowers with a credit score of as low as 300, or with no credit history. Rated 4.9 out of five on Trustpilot, Upstart delivers funds in as little as one business day after approval.

Where can I borrow money in five minutes?

If you need money fast, you have many options. You can consider payday or cash advance loans, but many come with high fees and exorbitant interest rates.
You can take out a cash advance on your credit card, but you might pay high interest rates and cash advance fees.
You can also get a cash advance from online financial services companies like Varo or Albert.
If you need to borrow a larger amount of money quickly, consider one of the top-rated loans with instant approval and same-day funds reviewed above.
Data is accurate as of Sept. 1, 2023, and is subject to change.
Editorial Note: This content is not provided by any entity covered in this article. Any opinions, analyses, reviews, ratings or recommendations expressed in this article are those of the author alone and have not been reviewed, approved or otherwise endorsed by any entity named in this article.
*All loans are subject to credit approval by LightStream. If approved, your APR will be based on loan purpose, amount, term and your credit profile. Conditions and limitations apply. Advertised rates and terms are subject to change without notice.