Where to Get Small Personal Loans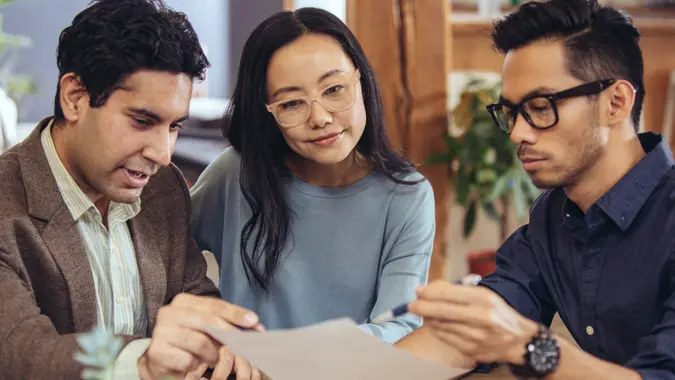 Weekend Images Inc. / Getty Images
When you borrow money for a house or college, you typically need large loans often exceeding $100,000 or more. But more often than not, you'll need to borrow a smaller amount of money for home repairs or other much-needed expenses. It might seem easier to borrow smaller amounts of money, but small loans can be hard to come by — if you don't know where to look. 
Small loans, a type of personal loan, can be used for a wide variety of reasons. Your credit score will affect the affordability of your loan because it will determine your interest rate and thus your payment amount. You can find these loans at banks, credit unions, online financial institutions and online peer-to-peer lending groups. Keep reading to learn more about just how small of a loan you can get.
What Are Small Personal Loans?
Personal loans, small or big, allow you to access a lump sum of cash and then repay it in installments. Though your credit and the amount you want to borrow will affect the terms of your specific loan, all personal loans generally share the same features. Most small personal loans are unsecured, meaning the lender does not have a legal right to seize property for non-payment of the loan. Small loans are a type of term loan, meaning they have a defined repayment term of a certain number of months or years. They often carry a fixed interest rate over the life of the loan, which might be higher than secured loans, like auto loans, since the lender is taking on more risk. Some of the most common types of personal loans are short-term loans for urgent funds, second-chance loans for financial crisis, small personal loans for bad credit and home equity loans, according to Debt.org.
Learn: 10 Common Personal Loans and Options If You Don't Qualify
How Are Small Personal Loans Different From Other Loans?
Unlike other loans, personal loans of all amounts offer greater flexibility by letting you choose the loan's purpose. Many other kinds of loans specify how you can spend the money. For example, a mortgage is a secured loan for purchasing, improving or adding to a home. An auto loan is a secured loan that allows you to purchase a vehicle. Student loans pay for educational costs. Mortgage, auto and student loans can only be used for those purposes, making them inflexible for someone who needs the freedom to use a loan as they see fit.
Mortgage and auto loan lenders might have high borrowing minimums. It just isn't worth their time to set up a loan that is too small to earn enough interest. Borrowers might find it very difficult to get mortgage loans for less than $50,000. Many banks won't consider an auto loan for less than $5,000. However, depending on the lender and your credit information, you can get a personal loan for anywhere from $1,000 to $50,000, with some lenders offering even higher limits for well-qualified borrowers.
Reasons to Get Small Personal Loans
There are many reasons a small personal loan might be useful to you. Homeowners might want to borrow money for a roof repair or to remodel a bathroom. You might need money for an expensive car repair, an unexpected medical procedure or to replace broken appliances. Sole proprietor business owners might find personal loans useful for acquiring fixed assets for the business, or for paying expenses to expand a business segment. Some individuals might use a personal loan as a debt consolidation loan, rolling high-interest credit card debts into a single, fixed payment with a lower interest rate via a personal loan. These small personal loans for bad credit can turn a seemingly unsolvable situation into one where there is a definite end in sight if handled effectively.
Get the Answer: Can I Use a Personal Loan for Anything?
Where to Get Small Personal Loans
Before you start shopping for a loan, you should know a bit about your credit and your goals for the loan. This information will help you browse potential rates based on your credit score, the amount of loan proceeds you want and the length of time you want to spend paying on the loan. Shop around and compare rates at a variety of lenders, from traditional brick-and-mortar banks, to credit unions, online financial institutions and peer-to-peer lending groups online or offline. Here some examples of rates and loan amounts you can get if you qualify:
Where to Get Small Personal Loans
Financial Institution
Name
Loan Limits
Interest Rates
Traditional bank
Wells Fargo Bank
$3,000 to $100,000
7.24% to 24.24%
Credit union
Navy Federal Credit Union
Up to $50,000
7.39% to 18%
Online financial institution
RocketLoans.com
$2,000 to $35,000
5.98% to 29.99%
Online peer-to-peer lender
LendingClub.com
$1,000 to $40,000
6.95% to 35.89%
Once you have chosen a lender, you will fill out an application for your loan. In addition to your name, Social Security number and contact information, you might need to provide identification, pay stubs, bank account information or other documents. Watch out for scams that ask you to pay fees upfront before receiving loan proceeds, and do not provide personal information before verifying that the lender is legitimate.
Up Next: Where to Get a Personal Loan With No Origination Fee