No Credit Check Loans: Are They Worth It or Should You Look Elsewhere?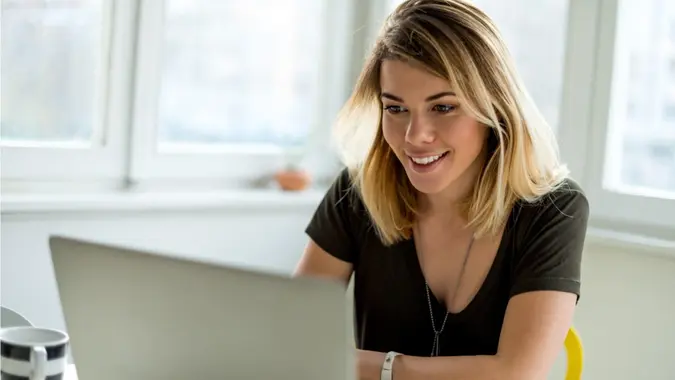 ©iStock.com
If you need money to cover an unexpected bill or if you need to borrow money but have poor credit, you might consider installment loans or no credit check loans. They can be a fast form of funding, especially if you choose online loans with no credit check. Used wisely they could even help you rebuild your credit.
Before you sign on the dotted line, understand what the terms of the loans are, how they differ from soft credit check loans or hard credit check loans and what will happen if you choose to take on a no-credit-check personal loan.
What Are No-Credit-Check Loans?
A FICO score of 620 or below is considered lower than average, making it hard to qualify for many conventional personal loans. You might already know there are a variety of loan products that do not require a credit check. These loans often require payment within 15 to 30 days. Borrow with caution — the interest rates might be referred to as fees and can be as high as 400 percent.
Types of no credit check loans include:
Payday loans
Title loans
Online loans no credit check
Learn more about no credit check loans to see if one is right for your financial situation.
Payday Loans With No Credit Check
Payday loans are loans in which you write a check for the amount of the loan with a fee included, and then the lender gives you the money for the loan. On your next payday or within a set time period, you must bring in the amount of the money back to the lender and you will receive your uncashed check back. If you fail to bring the money back in time, your check — along with the pricey fees — will be cashed. You'll still pay a hefty amount in fees, so try to find a payday loan alternative before opting for one.
Title Loans
Title loans use a car title as collateral for the loan. You might be able to borrow a larger amount of money than with a payday loan, but the payment is still due within 15 to 30 days. If you fail to repay the money, you could lose ownership of your vehicle.
Online Loans No Credit Check
Online installment loans require you to make monthly or weekly payments until the loan is paid off. Your payments might be interest-only with a balloon payment at the end for the remainder of the loan.
Advantages of No-Credit-Check Personal Loans
One of the biggest advantages of a no-credit-check loan is that the process can be completed very quickly — often within a few minutes or hours — because the company will not run a credit check on you. The only requirements are your identification and proof of income. People often turn to these types of loans when they're in a financial bind and have run out of other options.
Disadvantages of Personal Loans With No Credit Check
One of the disadvantages of these types of loans is the higher interest rate that you end up paying. The interest could be as high as 400% APR, which is much higher than what you would pay if you borrow the money on a credit card or took out a personal loan.
Additionally, people can become trapped in a cycle of relying on payday loans because they need to continue using them to cover the next month's bills since the entire amount is due at the beginning of each pay period. No credit check online loans can require low monthly interest payments, with one large balloon payment at the end. If the borrower cannot pay it off then, they might borrow the money again and restart the cycle.
The example below demonstrates just how much more you might have to pay with a no-credit-check loan compared with other options. Imagine you are taking on a $3,500, two-year loan calculated with a standard amortization schedule. Loan option A and loan option B are both from lenders that consider credit; loan option C is from a no-credit-check lender.
| Borrower's Credit | APR | Monthly Payments | Total Payments |
| --- | --- | --- | --- |
| Excellent | 6% | $155.12 | $3,722.93 |
| Poor | 36% | $206.67 | $4,959.98 |
| No credit check required | 400% | $1,167.84 | $28,028.12 |
Alternatives to No-Credit-Check Loans
Although no credit check loans seem like the best solution when you have an emergency, they should be avoided, especially if you need them periodically. Consider the following alternatives.
Personal Installment Loan
One option is to apply for a personal installment loan with a credit check through your bank or online. Even if you have poor credit, personal installment loans offer better rates than payday loans.
Loans From Friends and Family
You can also borrow money from friends or family. However, be sure you can repay a loved one to avoid putting them in a bad financial situation and straining the relationship.
Credit Cards
Having a credit card as a backup in case of a financial emergency can be a lifesaver. Using a credit card could cost you less in interest and allow you to make payments over time with less outrageous interest rates.
Payment Plans
Before you take out a loan, check to see if a payment plan option is available. Some businesses and many hospitals are willing to work out a payment plan with you so you can cover unexpected bills without taking out a payday loan.
Final Take
If you decide to look for online installment loan options, shop around for a low interest rate. A credit check loan will come with a better interest rate than the ones that do not require a credit check, making it easier for you to pay back the loan and come out ahead financially. Lastly, set up a budget to take control of your spending and try setting aside money each month to help cover emergencies.
Cynthia Bowman contributed to the reporting for this article.
Our in-house research team and on-site financial experts work together to create content that's accurate, impartial, and up to date. We fact-check every single statistic, quote and fact using trusted primary resources to make sure the information we provide is correct. You can learn more about GOBankingRates' processes and standards in our editorial policy.