Are Christmas Loans Naughty or Nice? Here's the Answer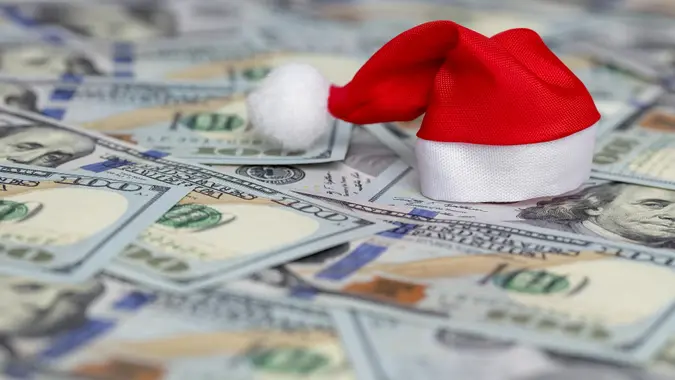 Viorika / iStock.com
The holidays tend to be the most expensive time of the year. Trips to visit family, shopping for Christmas presents and all the extra entertaining can put a dent in any budget. For some people, Christmas expenses are covered with savings, a holiday bonus check or credit card financing.
But where do consumers with poor credit history and no savings turn? Not many financial borrowing products are available to those who need it most. Christmas loans are a cheery-sounding financial product that offer fast cash during the holiday season to those who may not be able to borrow elsewhere. But are these loans naughty or nice?
What Is a Christmas Loan?
A Christmas loan is a type of short-term personal loan marketed to fund holiday spending for things like Christmas gifts and holiday travel. Like other types of personal loans, Christmas loans are installment loans with a set repayment period that can be secured — backed by collateral like a vehicle or savings account — or unsecured.
If a borrower defaults on a secured loan, the lender can claim the asset used as collateral to reimburse itself for the unpaid loan.
Christmas Loans Pros and Cons
If you're asking yourself, "Can I get a loan for Christmas shopping?" You probably can. Here's a quick look at the pros and cons of a Christmas loan to help you decide if this borrowing option is right for you.
Pros
Fast access to money, as soon as the same business day
Some Christmas loans don't require a credit check
No use restrictions
Short-term loan with a fixed payment timeline
Borrowers with good credit have access to favorable interest rates, lower than credit card interest rates — especially if eligible to borrow from a credit union
Loan applications often fast and simple to complete
Cons
Interest rates as high as 1,564.28% APR
Interest rates for borrowers with low credit scores typically higher than a credit card's APR
Expensive fees
Missing payments or taking longer to pay back the loan costs more and can worsen a person's financial situation
Lenders may link to borrower's bank accounts for automatic repayments of the loan, which can run up overdraft fees if bank account balance is too low
Late payments can affect credit score if lender reports to credit bureaus
What To Watch Out for When Taking a Christmas Loan
Before taking out a loan, do your research and compare several financial products and services. Some loan interest rates and fee structures could cost you more than you were willing to borrow in the first place. When comparison shopping for a Christmas loan, review:
The loan's interest rate
Additional fees, like prepayment penalties or borrowing costs
Repayment period
Other loan terms
Just because a Christmas loan is short-term doesn't mean the high interest rate won't affect you. Read on to discover how much a payday loan — disguised as a short-term Christmas loan — could cost you.
Should I Get a Loan for Christmas?
Many Christmas loans marketed to borrowers with poor credit that need cash fast are payday loans with a holiday-themed name. Like payday loans, they usually offer smaller loan amounts that must be repaid over a shorter period — usually from one paycheck to the next. Unfortunately, a payday loan could cost far more than some people can afford.
Can You Get a Holiday Loan with Bad Credit?
A holiday loan gets tricky for borrowers with low credit scores. You could get a holiday loan with bad credit, but the best terms may not be available to an applicant with a checkered credit history.
Some holiday loans don't require a credit check, but tend to have incredibly high interest rates — up to 1,564.28% APR — that could get a borrower in trouble.
How Can I Get Christmas Money with Bad Credit?
To find the best Christmas loan, shop around and compare the terms before you apply. All Christmas loans aren't created equally — once you explore the available products, you'll discover that. 
Consider banking with a credit union. They typically offer the best interest rates on Christmas loans.
What Does a Christmas Loan Really Cost You?
Christmas loans that are structured like payday loans charge a percentage or dollar amount for every $100 borrowed. This method is costly and can get a borrower in trouble. Here's how:
You need to borrow $500 ASAP.
The lender discloses they will charge $15 for every $100 you borrow.
You borrow $500.
You repay the loan plus fees for a total of $575 in two weeks.
That equates to an annual percentage rate of almost 400% for a two-week loan. Although the APR of 400% is shocking, the $75 borrowing fee may be a lifesaver if you're in a pinch and have an emergency that can't wait. But what happens if you can't repay the loan in two weeks?
Some states may allow you to roll over the loan amount another two weeks, according to the Consumer Financial Protection Bureau. Here's what happens when you do:
You still owe the $500 + $75 in loan fees for the first two weeks.
Add an extra $75 in fees for the original balance you're still borrowing.
You have another two weeks to repay the loan.
Borrowing $500 for one month will end up costing you $650. Were the items you purchased worth the $650 they will eventually cost you?
If you continue to roll over the loan, you'll owe double what you borrowed in no time. As you can see, Christmas loans and payday loans can cause a borrower who doesn't pay their loan off on time to land in financial trouble. Cheaper alternatives are out there.
Christmas Loan Alternatives
Unless you're able to qualify for an unsecured Christmas loan with low-interest rates, such as from a credit union, there are better alternatives for financing your holiday spending. Here are some Christmas loan alternatives to consider.
Budget and Save for the Holidays
The best way to fund your holiday spending is by setting aside a small monthly amount throughout the year toward a Christmas savings account or prepaid debit card. Setting a Christmas spending budget ahead of time that's based on the amount you've saved for Christmas will keep you debt-free into the new year.
Use a Credit Card
Credit cards usually offer better interest rates than Christmas loans. And if you have a rewards or cash-back card, leverage the rewards or cash-back bonuses to apply toward your holiday gifts and spending.
If you're planning on some larger holiday purchases, signing up for a credit card with an introductory 0% APR on purchases can allow you more time to pay off your Christmas spending without accruing interest on your purchases.
Paycheck Advance
According to the Wall Street Journal, more employers are starting to offer paycheck advances or loans, which can be a good option if you're short on cash and need to borrow money at a favorable rate in a hurry. Your chances of receiving an advance are good if your boss has faith in you as a long-term employee.
Loans From Friends and Family
Borrowing money from friends and family is a cheaper way to cover a cash shortfall during the holidays. When borrowing from loved ones, make sure you're able to pay them back in a timely manner that won't affect their finances — or your relationship.
Takeaway
In most cases, Christmas loans are never a good idea. Unless you can qualify for a competitive interest rate and favorable loan terms and conditions, you should consider Christmas loan alternatives. Most people that can qualify for good terms on a Christmas loan because they have a good credit history and long-term employment could probably qualify for a better loan product, like a personal loan or credit card.
Unless borrowing during the holidays is needed to cover an emergency or unforeseen situation, it's a better idea to cut back on holiday purchases. Spend responsibly and within your means. If the cost of Christmas gifts and other holiday obligations is more than you can afford, it's time to reconsider if your holiday spending is worth sacrificing your peace of mind and future financial independence.
Our in-house research team and on-site financial experts work together to create content that's accurate, impartial, and up to date. We fact-check every single statistic, quote and fact using trusted primary resources to make sure the information we provide is correct. You can learn more about GOBankingRates' processes and standards in our editorial policy.