1 in 5 Americans Weren't Ready for the Student Loan Moratorium To End in May — What They Can Do To Prepare For the New End Date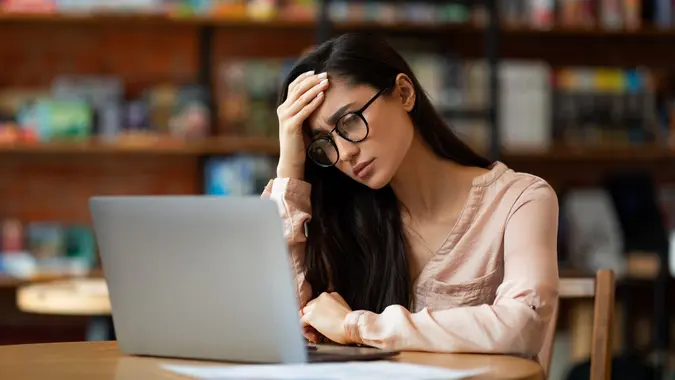 Prostock-Studio / iStock.com
In March 2020, the federal government paused both payments and interest charges on all qualifying federal student loans. It was part of the CARES Act, the original pandemic relief bill, and in the ensuing years, the moratorium was extended five times. And then most recently, President Joe Biden postponed the end of the protections, which were set to expire on May 1, until Aug. 31.
That means that $1.37 trillion in student debt will be paused a little longer for 36 million borrowers. And many are probably relieved because they weren't ready to start paying again.
GOBankingRates surveyed more than 1,000 American adults about their financial lives, and most of them didn't have any student debt at all. Many of those who do, however, were not prepared for the coming strain on their monthly budgets — but the bill for their higher education will soon come due, whether they're up to the task or not.
Those With Student Debt Are Likely To Be Unprepared
A little fewer than 2 out of 3 respondents — about 63% — don't have any student debt to worry about. Of those who do, however, nearly 1 in 5 concede that they weren't prepared for the end of the moratorium on May 1. One in 10 have been diligently saving in anticipation of the end of the moratorium and are ready to absorb that long-forgotten monthly bill back into their household budgets. Another 8% are confident they can afford the payments despite the fact that they haven't been saving in advance.
Young Borrowers Are Heavy on Debt, Light on Preparation
Perhaps not surprisingly, the youngest respondents were the most likely to have student debt and the least likely to be prepared for the end of the grace period. Almost exactly two-thirds of the 18- to 24-year-old demographic reported having student debt, as did a little more than half of those between the ages of 25 and 44. Among the older sets, the percentage of people free from student debt increased by roughly 10 percentage points for every half-decade of age — from around 70% at age 45, to 80% at 55, and 90% for those 65 and up.
In terms of their confidence in being prepared for the end of the moratorium, all three demographics between the ages of 18 and 44 — 18-24, 25-34, 35-44 — were unsure of themselves in nearly equal proportions. About 1 in 4 — a little more for the youngest set and a little less for the older groups — answered "no, I'm not prepared." 
The good news for the youngest borrowers is that 18- to 24-year-olds are also the most likely to have been saving in preparation for the end of the moratorium and the most likely to be confident that they'll be able to transition back to paying their loans despite the fact that they haven't been saving.
Same as Before the Pandemic, Women Bear the Heaviest Load
According to the study, women are a little more likely than men to have student debt and a lot more likely to be unprepared for the end of the moratorium.
None of this is new.
Women take on more student debt for longer periods of time than men, according to the American Association of University Women (AAUW). Also, their monthly payment tends to be higher, which puts more pressure on their budgets and makes it harder for women borrowers to meet their other household expenses.
"Before the pandemic, women had on average 7% more student loan debt than men," said Andrew Crowell, financial advisor and vice chairman of wealth management at D.A. Davidson. "The pandemic exacerbated existing issues such as wage disparities that made student loan repayment difficult for women. Women with bachelor's degrees earn 74% compared to men with the same education. With remote learning for children and social distancing critical for elderly relatives, many women took on increased caregiving responsibilities during the pandemic. As a result, in part, nearly 1.66 million women left the workforce from February 2020 to August 2021, according to the Federal Bureau of Labor Statistics. Leaving the workforce can hurt an individual's lifetime earnings potential, and loss of wages can further compound the potential challenge of repaying student loan debt."
Ready or Not, Here Come Your Student Loan Bills
Since the December announcement of the May extension, Crowell has been advising people to make their minimum payments starting in February. This would have gotten them back into the habit of making loan payments while allowing them to stress-test their budgets against the introduction of a new monthly bill.
Now, of course, you have even more time to begin tackling this task — as well as taking other steps to prepare. And you should try to get ahead if you can.
"Think about student loan debt in the context of your holistic financial plan," Crowell said. "Speak with a financial advisor about how to balance student loan debt alongside other debt, such as car loans or credit card payments. Evaluate whether there is an opportunity to refinance or consolidate debt at a lower rate."
For many, of course, no amount of planning will magically create a few hundred dollars worth of space in budgets that are already stretched. That leaves one of three avenues: earn more, spend less or both — unless, of course, you have a tax return or any found money coming your way.
"Be strategic with newfound cash flow to make additional student loan payments," Crowell said. "For example, did you earn a year-end bonus or receive a raise over the past year? Plan on putting some of that money toward your loan repayments."
More From GOBankingRates
Methodology: GOBankingRates surveyed 1,012 Americans aged 18 and older from across the country on between March 8 and March 9, 2022, asking sixteen different questions: (1) Do you consider yourself financially literate?; (2) Where did you learn most of your financial literacy?; (3) Which financial topic do you think you should have learned more about in high school? (Select all that apply); (4) Which financial topic do you still feel you need more education on in 2022? (Select all that apply); (5) When you were growing up, did your parents talk to you about how to manage your money?; (6) Do you think high schools are lacking in financial education?; (7) How has a lack of financial education cost you the most?; (8) At what age did you become comfortable with basic money skills (i.e., writing a check, balancing your accounts, budgeting)?; (9) At what age did you start saving and planning for retirement?; (10) How do you feel about how you used your 2021 American Rescue Plan stimulus check?; (11) Which financial topic did you feel the need to learn more about due to the COVID-19 pandemic? (Select all that apply); (12) What do you not understand about the Child Tax Credit? (Select all that apply); (13) Which part of the homebuying process is most confusing to you?; (14) Which part of the car buying process is most confusing to you?; (15) Are you prepared for the student loan debt moratorium to end in May?; and (16) How are you changing your driving habits with the rising gas prices? GOBankingRates used PureSpectrum's survey platform to conduct the poll.