Can AI Be the Key To Paying Down Student Loans? Experts Weigh In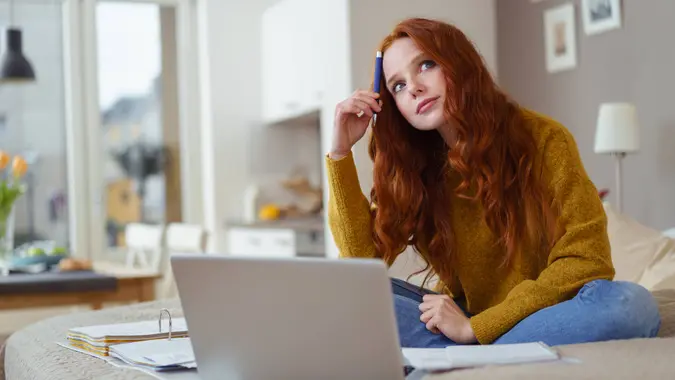 ©Shutterstock.com
You can use artificial intelligence to tackle a wide variety of financial responsibilities, including setting a budget and earning passive income. As we approach the end of the student loan payment pause, some borrowers may wonder if it's possible to use AI to help repay student debt.
What can and can't AI do to make navigating student loan repayments easier for borrowers? Let's find out from experts whether AI is the key to paying down student loans.
Can AI Help Pay Down Student Loans?
Zack Geist, founder of Student Loan Tutor, is a student loan repayment advisor. Geist said AI technology, like ChatGPT, can give good common advice to borrowers. Some of this advice includes options for refinancing loans or explaining how a specific repayment plan works.
What AI cannot do, aside from being unable to actually pay down student loans, is understand nuance and areas of finance that affect student loan repayment. Think taxes, income and an overall holistic financial plan. 
"I think of AI as left brain driven thinking," said Geist. "It's great for calculating things, abstracting things, delineating things, measuring things and statistics in general. It is not fully aware of the whole, the whole person, the whole implications of financial decisions, things which can go wrong that are not directly related to the question you ask it, and you don't know what you're not asking, that requires a human with wisdom."
With AI being unable to fully understand financial nuance and our own unique risk tolerance, borrowers remain advised to work alongside financial professionals if they have questions or need guidance to pay off student debt.
"I'm biased, but I think most will agree with me. Given the chance to speak with a professional on a subject, especially one as important as finance and student loan debt in particular is extremely valuable," said Geist. "An AI has no accountability, no fiduciary and can't get a bad review or be held accountable for any bad advice or errors it makes."
Where Borrowers Can Find Support for Student Loan Repayments
Borrowers who can't rely on AI to help pay off their student loans may have more resources available than they realize. Patricia Roberts, chief operating officer at Gift of College, recommends exploring assistance via two helpful avenues.
Get Help From Your Employer
Many employers offer student loan benefits to full-time and part-time employees. If you feel stressed thinking about resuming payments in October, check in with your employer to see if they offer any repayment assistance programs. Looking for a new job and carrying student debt? See if your prospective employer offers this financial wellness benefit.
Roberts said these types of education benefits are a win/win for employers and employees. Currently, student loan repayment assistance is tax-free for employees and tax deductible for employers. Under the CARES Act, Roberts said employers can contribute $5,250 tax-free per employee per year and take a business tax dedication under IRS 127 Educational Assistance Plans.
Engage Friends and Family for Contributions
A recurring financial trend throughout 2023 is skipping traditional gifts given at birthdays, holidays and milestone moments such as a wedding in favor of requesting contributions of any amount to go toward outstanding student loans. Putting some money toward outstanding student loan debt helps reduce the balance and alleviate the borrower's stress level.
Roberts said a contribution is an easy, and meaningful, gift to give and receive. Borrowers can set up a free profile on crowdfunding platforms and invite others to contribute to either a student loan account or a college savings account, if you're saving in advance for college to avoid taking out loans.
More From GOBankingRates