10 Best Colleges To Graduate With No Student Loans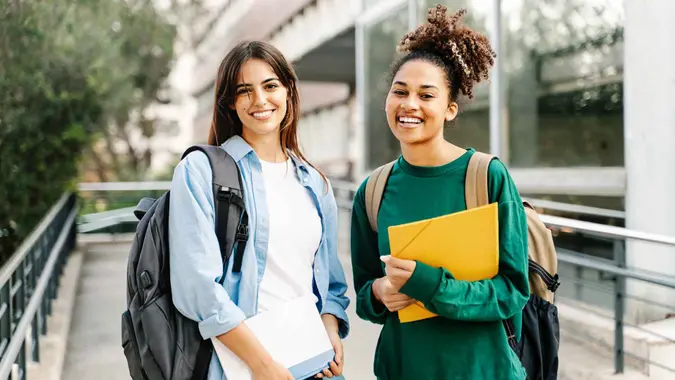 Eduard Figueres / Getty Images/iStockphoto
Students who plan to attend college may feel nervous reading the recent wave of news stories about the end of the student loan payment pause. Are there any colleges you can enroll in which don't charge unbearably expensive tuition? Or do you have to grin and bear a significant amount of student debt?
The good news is there are schools where qualifying students do not need to pay tuition and may graduate without debt. In alphabetical order, these are the 10 best colleges to graduate from with no student loans.
Alice Lloyd College 
Location: Pippa Passes, Kentucky
Alice Lloyd College (ALC) offers a tuition guarantee to students originating from their service area. Qualifying students from ALC's 108-county service area who are awarded the Appalachian Leaders Scholarship pay $0 in out-of-pocket tuition costs. This scholarship covers the cost of tuition for up to 10 semesters at ALC. 
Barclay College
Location: Haviland, Kansas
What if living on campus was your ticket to receiving a free education? Private Christian college Barclay College offers a Full Tuition Scholarship awarded to all students who live on campus. According to the Barclay website, "the commitment of the college and our supporters is that students should not graduate from college and carry a large debt load into their future that might prevent them from following God's call."
Berea College
Location: Berea, Kentucky
Students enrolled at Berea College simply do not pay tuition, ever. According to the Berea website, no Berea students have paid tuition since 1892. Berea was founded to be accessible to people who could not afford a college education and was the first interracial and coeducational college in the South.
College of the Ozarks
Location: Point Lookout, Missouri
College of the Ozarks commits itself to a debt-free education. Their website uses a simple math formula to outline annual tuition cost. A work program plus federal and state grants plus a College of the Ozarks scholarship equals the annual cost of tuition. The work program is on-campus with participation for 15 hours per week and two 40-hour work weeks each school year. Credits from work program participation, along with federal and/or state aid for qualifying students and the C of O Tuition Assurance Scholarship combine together to cover the Tuition Assurance. 
Curtis Institute of Music
Location: Philadelphia, Pennsylvania
Students who are admitted into the Curtis Institute of Music are not charged for their studies. The only consideration for admission, according to the conservatory's website, is artistic promise. The most promising young musicians are invested in by Curtis, ensuring they can rehearse and perform alongside musical peers and enter into the profession without educational debt.
Davidson College
Location: Davidson, North Carolina
While there are tuition and fees at Davidson College, the institution also has a groundbreaking policy known as The Davidson Trust. According to the Davidson website, this policy implemented in 2007 eliminates loans from financial aid packaging. Demonstrated financial need is met entirely with grants and student employment. It is not expected of a student to take out a loan as part of their financial aid award package. (Students and families may take out education loans for personal financing matters, however.)
Deep Springs College
Location: Deep Springs, California 
All students selected to attend Deep Springs College receive a full scholarship valued at over $50,000, including tuition, room and board. Please note, according to the Deep Springs website, only between 12 and 15 are admitted to this college each year. Students are also expected to pay for their own books, travel, medical insurance, incidental expenses and provide a small damage deposit.
Grinnell College
Location: Grinnell, Iowa
Private college Grinnell College has a no-loan policy, replacing loans with scholarships in financial aid packages for students with financial need. Alongside this policy, Grinnell provides need-blind admission (your ability to pay is not considered when applying for admission) and meets 100% of a student's demonstrated financial need.
United States Air Force Academy
Location: Colorado
When you attend the United States Air Force Academy, you also commit to serving your country. Cadets who enroll do not need to pay tuition, room or board at the Academy. They are, however, required to serve as an officer in the U.S. Air Force or U.S. Space Force after graduation.
United States Coast Guard Academy
Location: Connecticut 
Similar to being a cadet in the U.S. Air Force Academy, cadets at the United States Coast Guard Academy do not pay for tuition, room or board. Cadets are also paid a salary while attending the school. This means you'll get the chance to graduate without student loan debt and additional savings.
More From GOBankingRates