Grant Cardone Says Taking On Student Loans Is a Bad Investment: 'The ROI on College Is Awful'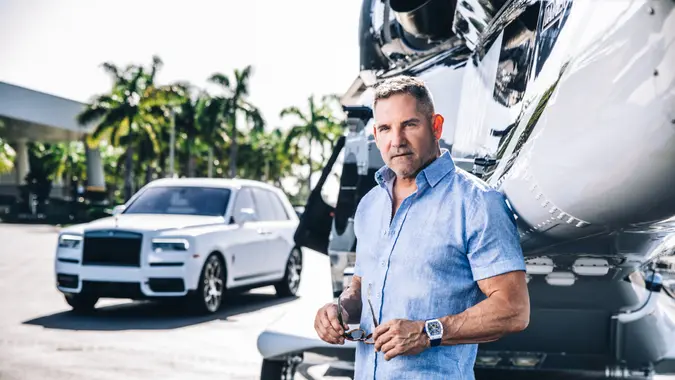 ©Grant Cardone
Student loan debt in the United States totals over $1.7 trillion, with the average borrower owing roughly $40,000 between federal and private loans, according to the Education Data Initiative. That means that many borrowers owe even more.
As college prices increase and debt burdens continue to increase along with it, many prospective college students may be wondering, is it actually worth it? According to Grant Cardone, author of the upcoming book "The Wealth Creation Formula," it isn't.
Here's why Cardone doesn't think most people should take out student loans to pay for college.
'College Is a Trap'
Cardone believes that college is a trap that prevents many people from building real wealth.
"Colleges are the single most inflated commodity in America today," he told GOBankingRates. "Nothing has kept up with the price increases of colleges — colleges went up 10 times faster than homes. And they don't produce a great product. They just give somebody another trap, which is the job, which is earned income, which is taxes."
Cardone believes that there are much better uses of the time it takes to get a college degree.
"College wastes four or five years," he said. "The most valuable thing a person has is four or five years. We spend five years going to college when in truth, it's impossible for the first five years of the job that you've got after college to pay for the cost of college.
"Not to mention that you just lost five years of income," he continued. "If you could have earned $60,000, over four years, that was $240,000 you could have earned. And it could have cost you $240,000 to go to school, so college costs you half a million dollars."
'College Debt Should Come With a Warning'
Cardone believes that college debt is truly dangerous.
"They need a black box warning on college debt like you have a black box warning on drugs that are addicting people," he said.
That's because, for most people, the return on the investment simply does not pay off.
"The ROI on college is awful, unless you're going to be a brain surgeon or you're in robotics or you're going to be an astronaut," Cardone said.
If you don't go into an industry that requires specific training, you do not need a college degree to be successful, he said.
"Every major tech company is now rethinking college as a prerequisite for hiring," Cardone said. "I have a company that makes a billion in sales over the internet, I own $5 billion worth of real estate and not one time has a bank ever asked me about my college degree. I've done deals in the hundreds of millions of dollars and my college degree was never considered."
More From GOBankingRates