Half of College Grads Are Unaware of Biden's New Student Loan Repayment Plan — 2 More Oversights Costing Them Money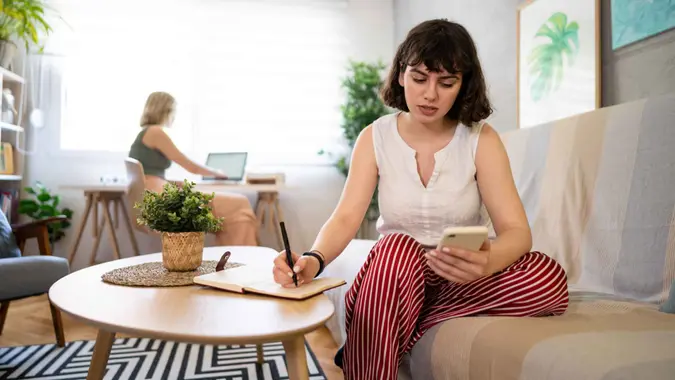 SrdjanPav / iStock.com
Federal student loan borrowers have less than a week to prepare for the resumption of payments following a payment pause that went into effect in March 2020. Many are expected to struggle to make the payments after three-and-a-half years of not having to think about it. But while programs are available to help out, many borrowers don't even known they exist.
One of those programs is President Joe Biden's Saving on a Valuable Education (SAVE) student loan repayment plan, which aims to eliminate monthly payments for low-income borrowers, save other borrowers at least $1,000 a year on payments and ensure borrowers don't see their balances grow from unpaid interest.
Although the SAVE plan is now open for applications, about half of college grads are unaware of it, according to a recent survey of 1,000 grads conducted by Study.com. Nearly half of those who are aware of the plan (48%) are not sure it will help them afford their loan payments. Seven in 10 respondents said they didn't even apply for the Biden student loan forgiveness plan that was later struck down by the U.S. Supreme Court,
On average, college grads have $30,556 in student loan debt, according to Study.com — and that debt is spread pretty evenly between different age groups:
Baby boomers: $32,000
Gen X: $27,000
Millennials: $31,000
Gen Z: $34,000
In addition to not being aware of the SAVE plan, here are two more oversights that could be costing student loan borrowers money:
Fewer than one-third (30%) of student loan borrowers know when payments are set to resume, according to a separate survey by U.S. News & World Report.
Sixty-seven percent have heard of the Biden administration's 12-month "on-ramp" to repayment program, but just 31% know what it is.
In terms of preparing to repay student loans, the Study.com survey found that 37% of college grads have made plans to adjust their budgets. About three in 10 (29%) are seeking a second job, 18% are researching repayment plans, 10% are scheduling automatic payments and 9% are exploring loan consolidation or refinancing options.
On average, younger grads expect to pay off their student loan debt around age 40, though that differs depending on the type of degree. For example, those with Associate's degrees expect to pay student debt off by age 42. Here's the breakdown for other degrees:
Bachelor's, age 39
Master's, age 42
Professional degree, age 46
The sample size for those with a Doctorate degree was too small to form an age conclusion.
More From GOBankingRates