I Took Out Student Loans and Regret It: What I Wish I Knew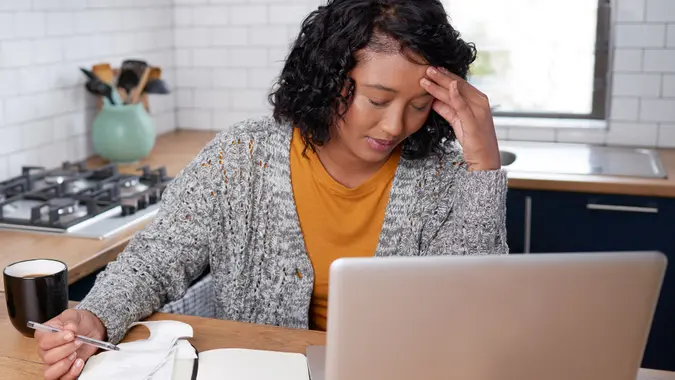 Meeko Media / iStock.com
America's student borrowers owe a collective $1.76 trillion in college loan debt, more than 93% of which is for federal loans. According to the Education Data Initiative, the average borrower is saddled with $37,338 in federal loan debt, but when you include private loans, that number jumps to more than $40,000.
But speaking in trillions makes it easy to lose sight of the human toll.
GOBankingRates spoke with two of the roughly 44 million Americans who struggle to navigate daily life while bearing the cost of their educations. They traveled different paths, but they both left school with a degree — and a whole lot of regret about what they paid to earn it.
A Family Tragedy Shifts the Burden of Borrowing
Ali Van Straten is a content marketing manager at Augurian and a lifestyle blogger at Champagne and Coffee Stains. As the first person in her family to pursue a degree, Van Straten was certain that higher education would be worth the expense.
"The idea of college was very exciting," she said. "My parents took out a very lofty loan to cover not only tuition but also living on campus and a meal plan."
Her parents used a mix of private and federal loans, and they added her as a co-signer because they thought it would help her build her credit.
"Unfortunately, my father passed away when I was in the middle of college so the debts all moved to me," Van Straten said. "The last two years I tried to mitigate costs on my loans by removing dining plans, living at home and eventually becoming a resident assistant on campus."
But despite all her belt-tightening, she still left her public university owing more than $100,000.
Check Out: Student Loan Forgiveness & Payment Pause End Top Budget Cuts in GOP Debt Ceiling Plan — Will You Need to Begin Paying Your Loans Now?
She Paid for the Degree, but Did the Degree Pay Off?
After college, Van Straten got a full-time job in corporate finance — but that only added to the growing sense that her diploma didn't justify the borrowing.
"I believe it was more based on my retail experience for this company and not my degree,"  she said. "While it was a good-paying job for entry-level, I was still in over my head with student loan debt and ultimately had to move to income-based payment terms, which ultimately added on even more time to my loan payment."
Can Any Good Investment Come With Decades of Debt?
Van Straten has now been paying her student loans for 13 years and is still only a little more than halfway through the climb.
"I anticipate I'll be paying them for at least 10 more years, which has a significant impact on my young family," she said. "If I could go back, I wish we had more information about how student loans were structured, and ultimately I would've rethought taking them out altogether. They have been nothing but a burden and it's been especially tough because — at the time in your life, you're just starting out — it makes it incredibly difficult to grow as a person and family because you're bogged down with debt."
A Borrower Finds Financial Freedom on the Other Side of the World
Content writer Krissi Driver, founder of The Write Hustle, is similar to Ali Van Straten in that she took out a mix of federal and private loans — but she went to a pricey private school.
"My first year, my parents paid for my tuition with the exception of about $2,000 I received in federal aid," Driver said. "When I went to school, I didn't realize I would have to buy textbooks and spend my own money to get them. I had no idea what I was getting myself into and despite both of my parents having attended college themselves, we didn't have conversations about what it would be like financially."
Chasing Debt Relief for 6,500 Miles
After graduation, Driver spent a decade dedicated mostly to keeping up with her student debt.
"For about 10 years, I was paying $600 a month split between three separate loan servicers," she said. "Some of my loans changed hands over the years, but I was always paying three different entities."
The combination of low income and high living costs made it hard to dig out of debt.
"I didn't have great paying jobs after college despite my degree and ended up living in some high-cost-of-living places like Denver and Portland, Oregon. The year I lived in Oregon, I actually applied to put most of my loans into forbearance just so I could afford to pay rent, put gas in my car, and eat. It was a tough year and I was hobbling financially."
On Dec. 31, 2020, Driver paid off her loans after 11 years — about nine years ahead of schedule — but only after she moved to South Korea in search of relief.
There, her living costs plummeted as her employer paid her rent and she could walk to the school where she worked teaching English. As a guest in the country, she paid a much lower tax rate than she would have in the U.S.
She Settled Her Debts, but the Effects Still Linger
In retrospect, it's hard for Driver to feel like her degree was a worthwhile investment.
"I've still never made more than $50,000 a year since graduating in 2009," she said. "Most years, I've made much less than that. I chose to stay in Korea because I had a small disposable income living here and had better and more affordable access to other parts of the world. But because of my longtime low salary and lack of any kind of traditional retirement account, I have literally zero assets of value and only a small amount of money tucked away in a Korean pension fund required by law. When I leave Korea for good, the total of that account will be wired to my American bank account, but it's not much. I'm very, very far behind and I worry about it a lot."
Candid Conversations Could Have Produced a Better Outcome
Looking back, Driver feels that stronger communication could have helped her avoid many missteps.
"For starters, I wish my parents and I had had more open conversations about how I was going to pay for college," she said. "I always assumed they would pay for all of it. That seemed to be how it happened in the movies, anyway, and you hear people talking about saving for their kids' college. But that was definitely not my experience. I wish I'd realized earlier on that I would be responsible for the cost of my degree."
Had her family talked through it, she might still have opted for college, but she would have chosen a different path.
"I probably would still have attended a four-year university, but I might have completed my gen-ed courses at a community college and transferred the credits somewhere else," she said. "I could have saved myself a ton of hardship and literally about $30,000 to $40,000."
More From GOBankingRates