My Student Loan Payment Is $550: 3 Steps I'm Taking To Lower It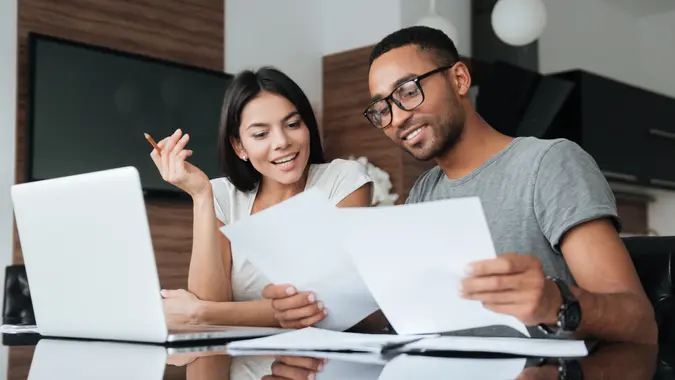 Dean Drobot / Shutterstock.com
As borrowers prepare to resume student loan payments in October, many are looking into strategic financial moves they can make to lower monthly payments. 
Casey Jones is the founder, director and head of marketing at digital marketing company CJ&CO. Jones also has a monthly student loan payment of $550. GOBankingRates spoke to Jones about the strategies he is exploring to help lower it. Here are the three steps he's planning to take to lower these payments.
Refinancing Student Loans
Refinancing student loans means taking out a new loan with a lower interest rate or a longer repayment term to replace existing loans. For Jones, the benefits of refinancing include the opportunity to lower each monthly payment by reducing the interest rate or spreading out payments to be made over a longer period.
However, Jones said qualifying for refinancing may mean losing some benefits or protections granted from his original loans. These include the ability to defer the loan or put the loan into forbearance. 
Consolidating Student Loans
In the event refinancing isn't the answer, Jones said he would next explore consolidation as an option.
Consolidating student loans means combining multiple federal loans into one loan. This single loan has a fixed interest rate and a single monthly payment, which can be lowered if the borrower extends the repayment term up to 30 years. 
What Jones is weighing when it comes to consolidating his student loans is whether doing so will increase the total interest paid over time. Like refinancing, there's also some potential benefits that may be lost from his original loan terms. Jones said a few protections he may potentially lose include subsidized interest and grace periods.
Applying for an Income-Driven Repayment Plan
This is the final option Jones is exploring for lowering his monthly student loan payment.
Applying for an income-driven repayment plan can lower your monthly student loan payment to as little as 10% of your discretionary income. Depending on the type of plan, it can also extend your repayment term to 20 to 25 years. Much like refinancing, however, Jones said applying for IDR may increase the total interest he pays and additionally the amount he owes in taxes.
More From GOBankingRates