What Borrowers Should Know About the New Student Loan Payment Delay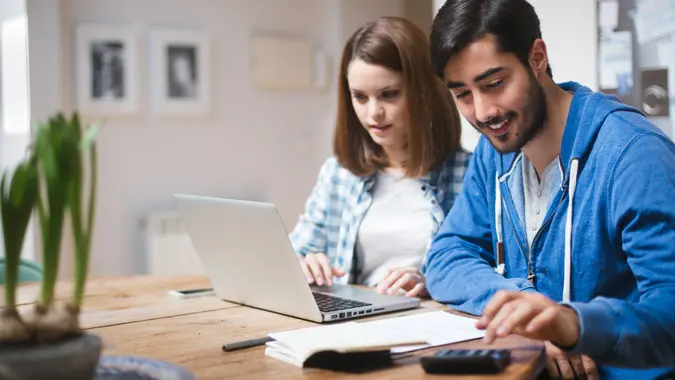 Tempura / Getty Images
Student loan borrowers now have a bit of breathing room. The Biden administration recently extended the student loan repayment pause to August 31, 2022 from the original deadline set to expire May 1. Borrowers now have until September to plan and prepare for repaying their debt.
Discover: How To Get Rich With a Normal Job
And More: 20 Genius Things Mark Cuban Says To Do With Your Money
Here's a quick primer on what the latest payment delay means for borrowers with federal and private student loans, and the best ways to start preparing now to make student loan repayments.
Federal Loans: What Borrowers Need To Know
The repayment pause has been welcomed by borrowers with federal student loans. Federal student loans have not seen interest accrue since 2020 and won't until September 2022. No payments are due at this time and borrowers do not owe any back payments on principal or interest.
Charlie Javice, head of student solutions, Chase, and founder of Frank, said borrowers will not need to make payments on their federal student loans until September 1, 2022. 
What the freeze does not impact is timing for federal loan forgiveness programs. Javice uses the example of Public Service Loan Forgiveness, which forgives loans tax-free if you have federal Direct Loans, work full-time for a qualifying nonprofit or government agency for 10 years and make 130 qualifying payments on an income-driven repayment plan. 
"Borrowers with a Direct Loan, who work full-time for a qualifying employer during the suspension, will receive credit toward forgiveness during the freeze as though on-time monthly payments were made," said Javice.
Take the GOBankingRates Poll: How Much Do You Expect Your Tax Refund To Be This Year?
Private Loans: What Borrowers Need To Know
Borrowers with private student loans from private servicers, unfortunately, were not included in the payment pause. The pause was only extended to federal loans. 
Javice said borrowers with private loans should still be making regular payments per the agreement with their lender. Those struggling to make payments have a few options available to them. Private student loans may be refinanced or consolidated to help lower the interest rate. Some loan servicers may also offer the option of a reduced rate if you enroll in autopay or paperless billing. (Reach out to your servicer to inquire if they offer this option.)
For borrowers struggling to make payments to private loans due to financial hardship, Javice recommends getting in touch with your servicer to discuss adjusted repayment options. Borrowers may be eligible for temporary deferment or an income-based plan, if it's available.
Tips for Repayment Planning and Preparation
While there is no confirmation that this may be the final loan pause or there may be another extension, borrowers may use the coming months to get up to speed with their personal finances. Here are a few strategies for preparing to repay student debt.
Plan To Add the Loan Back Into Your Budget
After a few years on pause, it's critical that borrowers are able to readjust their budgets to include the added expense of their loan. 
If you don't already have a budget, now is the time to create one. Christina Klenotic, senior vice president and head of brand and strategic partnerships at Laurel Road, recommends using the 50/30/20 rule where 50% of your budget goes to fixed expenses like rent and car payments, 30% goes toward flexible spending and variable expenses like groceries, and 20% is put toward financial goals such as building an emergency fund and saving for retirement. Use a designated tracking method, like a spreadsheet or dedicated app, that allows you to stick to this budget.
Set Realistic Savings Goals
Some borrowers planning to repay their student debt may worry that they will not be able to save as much money once the pause lifts. Klenotic recommends figuring out a percentage of your income that you're able to put into savings, even as you work to repay your loans. Use your budget to help guide you.
What about borrowers concerned that they may deplete the savings they built during the pause? 
"If you are concerned about depleting savings, consider scenario planning for how to rebuild your savings, such as forecasting what you'll need to save over the coming year to build your nest egg back," said Klenotic.
Explore Repayment Options
Borrowers may look into financing options like refinancing or consolidating for their student loans. Javice said borrowers may also explore if income-driven repayment plans are a fit for you and your current financial circumstances. If you are eligible, these plans can help make your monthly student loan payments lower once the pause ends.
Enroll in Autopay
Even if you don't receive the option of a reduced rate for signing up for autopay, it's still a good idea to enroll to ensure you don't miss any payments. If you were enrolled in autopay prior to the payment pause, Javice said borrowers will need to reaffirm they would like to re-enter into autopay.
Keep Calm 
Don't panic about the end of the pause and resuming debt repayments. Klenotic said borrowers do not have to pay off student debt right away and they should not expect to either. Remember that student debt is considered "good debt" — which is debt that is used to pay something that has long-term value.
"Taking these steps to budget and save are great first steps to repaying debt," said Klenotic.
More From GOBankingRates