Paying Off Student Loans vs. Buying a Home: Which Is More Urgent in Current Housing Market?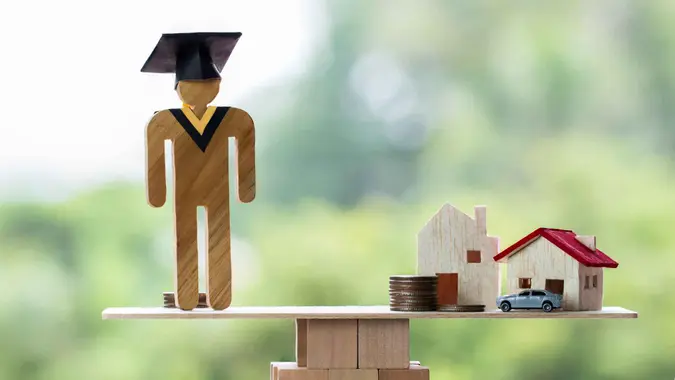 smolaw11 / Getty Images/iStockphoto
There's no way to predict whether the Biden administration's plan to cancel up to $20,000 in federal student loan debt will pass the Supreme Court, and this shouldn't be part of your future financial plans. Instead, Nicole Dieker, Money Scoop guest columnist, said to think about the benefits of buying a house versus the benefits of paying down student debt more quickly.
On the one hand, paying off your student debt first could help you qualify for a bigger mortgage and give you the added benefit of knowing your loans are paid off. However, it also means remaining a renter for longer and it could be a while before you're in the home of your dreams.
Student loan debt is a well-known obstacle to homeownership. According to the National Association of Realtors, student loan debt was the biggest factor holding back home buyers from saving for a down payment, delaying their savings by two years.
The barrier to entry is large, but Dieker pointed out that some former renters found that their monthly costs go down after buying a home. Plus, if homeownership shortens your commute to work or gives your family additional space, there could be even more benefits. Dieker advised putting any extra monthly savings as a homeowner toward paying off student loans.
Take Our Poll: Do You Think Bankruptcy Is an Acceptable Way To Escape Student Loan Debt?
Another consideration is how much interest you're paying on your student loans, per Dieker, and how much interest you might pay on the mortgage. Federal student loans are low-interest, but mortgages are a little more complex.
Mortgage rates were at rock bottom during the height of the pandemic, but now they're inching back up. Home prices have also skyrocketed over the past couple of years, pushing many first-time buyers to the sidelines due to affordability constraints.
"A house is a big thing and that shouldn't be taken lightly," Logan Murray, a financial planner in Tempe, Arizona, explained to Money. "You still don't need to let student loans run your life."
More From GOBankingRates