Experts: Should Student Loan Debt Be Forgiven?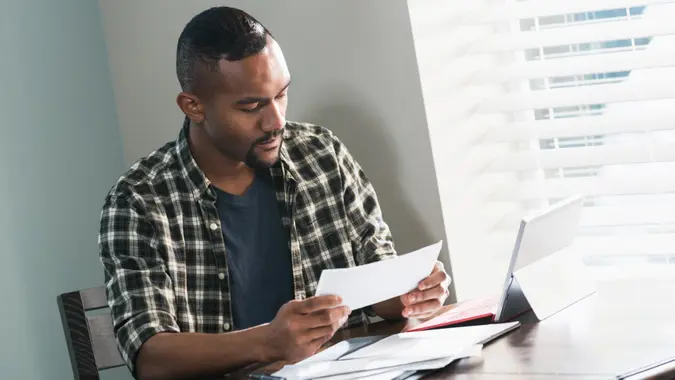 kali9 / Getty Images
Should there be a sweeping forgiveness on student loan debt? In a recent GOBankingRates poll based on 9,737 responses, only 34% of respondents said yes to forgiving student debt. In contrast, 47% responded no. 
Here It Is: Our 2022 Small Business Spotlight
More: 5 Things To Always Buy at Costco
Here's what borrowers can possibly expect when it comes to student loan payment pause extensions and forgiveness.
Current State of Student Loan Debt
What does the current student debt situation look like right now? Federal student loan repayments are slated to resume after August 31, 2022 after receiving various extensions throughout 2022. There has been no word as to whether there will be another pause extended for repayments. 
However, there are predictions we may see another extension. NextAdvisor in partnership with Time shared an article on signs the Biden Administration may consider another student loan payment pause or even possible student loan forgiveness. Robert Farrington, CEO of The College Investor, said in the article another payment pause could potentially extend repayments until January 31, 2023. 
Take Our Poll: Do You Tip For Service?
Will Student Loan Debt Be Forgiven?
The topic of student loan forgiveness is tricky to address. As seen in the GOBankingRates poll, views are mixed as to whether student debt should be forgiven. 
Many of the differing viewpoints may be expressed by various generations favoring forgiveness for many reasons. One popular reason for favoring student loan forgiveness is the advantage it gives borrowers to catch up on reaching their financial goals. Some of these goals may include saving for retirement and having the ability to put their finances into other life choices like starting a family and purchasing a home.
As it is, many borrowers are struggling financially amid inflation and may have trouble making repayments at the end of the August pause.
Will There Be Another Student Loan Payment Pause Extension?
Should borrowers bank on another extension? Ryan H. Law — CFP, AFC and CEO of Ryan Law Consulting, LLC — said it's possible payments may not resume in September 2022.
"The Department of Education recently told servicers not to send out payment notifications," said Law. "Those payment notifications are required to be sent at least 30 days before a payment is due."
These signs, Law said, point to the extension being pushed through until at least the end of the year, mirroring Farrington's prediction on another possible student debt pause.
What about widespread student loan forgiveness? While forgiving current borrowers of $10k in student debt or less may help them a lot, the next question is if all future students will receive $10k in student debt forgiveness. 
"It doesn't address the root cause, which is college costs are too high. It's a band-aid solution to a much bigger problem," said Law. "It would be better to eliminate origination fees and lower the interest. Many borrowers have been paying for years and owe more than they did when they entered repayment."
More From GOBankingRates