Should You Still Make Payments on Student Loans During the Moratorium?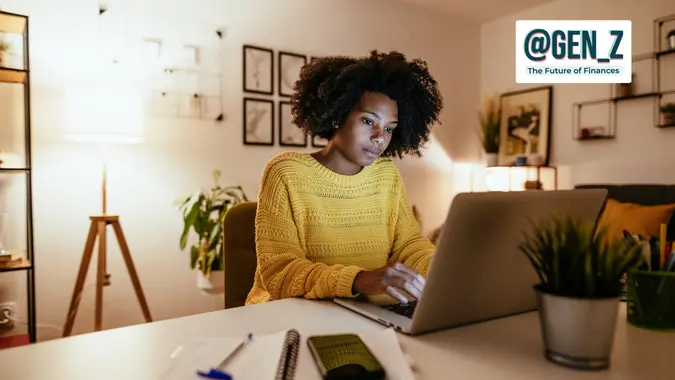 Drazen_ / iStock.com
The pandemic's shocks continue to ripple through the economy, though some rebound has been seen. Reprieve has come in the form of congressional legislation packages that have eased some of the hardship with moratoriums on some payments, from mortgages to loans. College students with federal student loans received a temporary reprieve on making payments, relief that was extended through Jan. 31, 2022 (private loan holders are still required to pay). With the end of the moratorium now in sight, should Gen Z keep withholding their payments or start to pay up? GOBankingRates aims to help students determine which path is right for them.
Fact Check: Is a Fourth Stimulus Check Going to Happen?Stimulus Update: States Give Out Thousands of Bonus $1,000 Checks – Will You Get One?
First, Know Your Loan
Choosing to keep paying or not depends entirely on what type of student loans an individual has, according to L.J. Jones, a financial planner and founder of Developing Financial LLC.
For those on an income-driven repayment plan, he urged people to "make sure that each month they are receiving credit for their payments even though they are 0. This includes those who are working towards Public Student Loan Forgiveness."
"If the individual is on a standard 10-year repayment schedule, then it is a matter of preference for the individual. For those who do not like the idea of having debt, they can be making payments. By doing so, they will make significant headway on their loan balance by making payments during the moratorium," he said.
For those who truly qualify for the moratorium, he encourages them to invest the money they save, or at the very least put it into an interest-earning savings account: "While no investment is risk-free, earning a positive return on your money is better than paying off debt with a 0% interest rate."
Advice: What To Do If You Can't Afford Your Student Loan Payments
Keep Paying Your Loans To Improve Your Credit Score
There's no doubt that not having to make a student loan payment, which can be a significant amount of money depending on your loan size, comes with relief. It would be easy to just bask in that relief and save the money. However, according to Mike Martinez, president and CEO of M Martinez & Associates, it's a good idea for Gen Z to keep making their payments. "For starters, debt affects your credit rating. If you're paying down your student loans, your credit rating will go up. This will improve your credit score."
While a credit score may not mean much to a young person, when it comes time to buy a car, a home or anything else of significance, that score will be very important.
Did You Know?: Your Employer Can Pay $5,250 Annually Towards Your Student Loans Tax-Free Until 2025
Keep Paying Loans To Accomplish Long-Term Goals
Another reason to pay student loans during the moratorium is that it whittles down your debt over the long term. "Student loans often make it difficult to purchase your first home, as it makes your debt ratio too high to qualify for a home loan," Martinez explained. "The sooner the debt is paid off, the sooner you can accomplish other financial goals."
Moreover, if you have the financial stability to pay your loans, Martinez suggested it has a positive impact on your mental health. "Debt can increase financial anxiety. Less debt equals less financial anxiety. Overall, less debt can improve your mental health."
Not to mention that if you keep paying on your loans, "You won't be accruing interest, so you can more easily chip away at your principal balance and pay down your loans faster," said Carter Seuthe, CEO of Credit Summit Student Loan Refinancing.
In Depth: How Gen Z's Future With Student Loan Debt Looks Compared to Millennials
Decided Not To Make Payments? Build an Emergency Fund or Save for Retirement
On the other side of the picture, there can be some other financial benefits to not paying your loan for a few more months, according to Cameron Church, a certified financial planner and certified student loan professional.
"I have been encouraging [clients] I work with not to make payments during the moratorium and use the money they would be spending to pad up an emergency/rainy day fund or even to consider contributing to a Roth IRA or other type of investment," Church said.
If you don't plan to do either of those things, he strongly urged people to set the money aside anyway: "It's going to be a wakeup call on Jan. 31st if you've been spending the money that would normally go toward your loans and then all of a sudden have to come up with a few hundred dollars for the loans."
Learn: The Standard Emergency Savings Advice Was Wrong — How Much Do You Really Need?
Get Some Money Back
If you are in truly dire financial straits, Church also pointed out a little loophole during the moratorium for federal student loans only: "Not many people know this, but if you have been making payments during the moratorium, you can actually go on the Federal Student Loan website and request that they return that money to you. If you're struggling with some bills or credit cards or just need some savings money, that refunded money could be a game changer."
More From GOBankingRates
Last updated: Sept. 24, 2021