16 Million Approved for Biden Student Loan Forgiveness Plan — Will Supreme Court Uphold?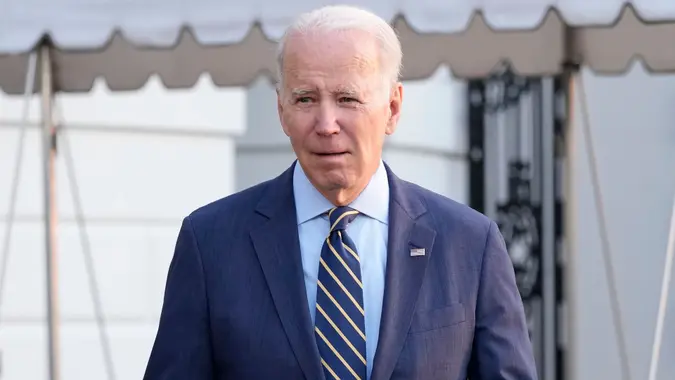 Susan Walsh / AP / Shutterstock.com
A total of 26.26 million student loan borrowers have applied or were deemed automatically eligible for relief under President Joe Biden's student loan forgiveness program, and there are 16.48 million fully-approved applications sent to loan servicers for discharge, according to recent White House data.
Student Loan Forgiveness: Timeline of Events Leading Up To the Supreme Court Review
Find: 3 Ways Smart People Save Money When Filing Their Taxes
The Jan. 27 data showed a breakdown by state "of how many people applied for debt relief and whose applications were approved by the Department before the administration was blocked from discharging debt," according to the statement.
In November 2022, the Education Department was required to stop accepting applications as a result of several lawsuits. In turn, loan servicers were prevented from discharging any debt, the White House said.
According to the White House, more than 40 million borrowers would qualify for the debt relief program, with nearly 90% of the benefits of the relief going to borrowers earning less than $75,000 per year.
"Millions of those borrowers could be experiencing the benefits of that relief today — were it not for lawsuits brought on by elected officials in some of their own states," the White House stated.
For example, in Texas, where one of the lawsuits stemmed from, there are 2.16 million student loan borrowers who have applied and 1.39 million fully-approved applications sent to loan servicers for discharge, according to the White House data.
However, due to the multiple lawsuits and injunctions, the program announced in August 2022 has been halted. Millions of borrowers are awaiting the discussion beginning Feb. 28, when the Supreme Court will hear cases.
In turn, the administration announced that the student loan pause, which was set to end Dec. 31, 2022, will be extended to the end of June 2023, as it awaits the Supreme Court's review of the program.
Under the Biden plan, there is up to $10,000 in federal student debt relief for borrowers whose income in 2020 or 2021 was less than $125,000 (or $250,000 for households). In addition, for Pell Grant recipients, that amount increases to up to $20,000 in student loan cancellation. If you are a dependent student, your eligibility is based on your parental income. Most federal loans are eligible, including undergraduate and graduate direct loans, parent PLUS and grad PLUS loans, consolidation loans, Federal family education loan (FFEL) program loans held by the Department of Education, Perkins loans held by the same department and defaulted loans, according to studentaid.gov.
More From GOBankingRates