Student Loan Forgiveness: Are Grants a Wise Alternative to Cancelling Debt? 8 Options Available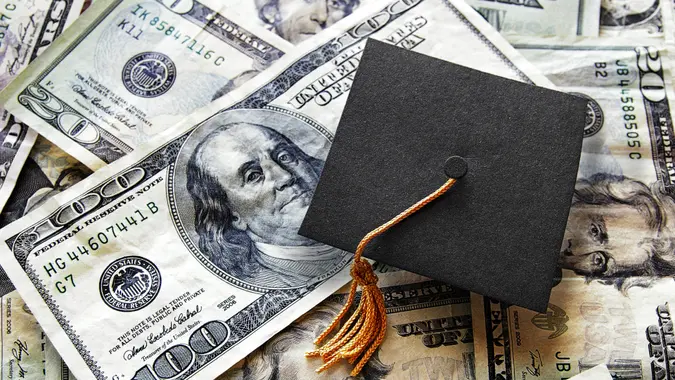 zimmytws / Getty Images/iStockphoto
With the Biden administration's federal student loan forgiveness plan at risk of being struck down by the U.S. Supreme Court, many borrowers might be considering other options to reduce or eliminate their debt. Those options include applying for grants.
The advantage of grants is that they are financial awards that don't need to be repaid, so in that respect, they operate more like scholarships than loans. The catch is that you might have to commit to working for a specific company, government agency or industry that sponsors the grant.
In many cases grant money can be used to reduce student debt. For example, the Bold.org website recently listed the Charles Cheesman Student Debt Reduction Scholarship. This grant aims to reduce student loan costs for African American or Hispanic/Latino first-generation students who are currently in college or have graduated with student loans. Workers who are no longer students but are still working to pay off student loans are eligible.
If you are interested in applying for a grant, there are dozens of different types ranging from state and federal government programs to grants provided by individual companies and industry groups.
Here's a look at eight grants that provide a national reach:
National Health Service Corps (NHSC)
The NHSC offers grants designed to help healthcare professionals reduce their overall student loan debts. To qualify, you'll need to commit to two years of full-time service in an area with limited healthcare availability. In exchange, you can get up to $50,000 toward your student loan debt. Part-time service opportunities are also available, with grants up to $25,000.
Armed Forces Loan Payment Programs
Several U.S. military branches offer grant programs that will pay off your student loans, including the Air Force JAG program, the Army College Loan Repayment program, the Army Reserve Loan Repayment program, the National Guard Loan Repayment program, and the Navy Student Loan Repayment program. These are specifically for federal student loans and will require committing to service with the appropriate military branch for a certain number of years.
John R. Justice Student (JRJ) Loan Repayment Program
This program is available to state public defenders or prosecutors and offers financial assistance of up to $10,000 per year with a maximum benefit of $60,000. Funds can be applied to the remaining balance of most federal student loans. To qualify, you must agree to work as a public defender or state prosecutor for at least three years.
Segal AmeriCorps Education Award
This grant is available to educators who serve in AmeriCorps for at least 12 months. The grant money can be used to repay federal student loans or loans from a state agency or state college or university. The grant amount equals the maximum value of the Pell Grant for that fiscal year, so it changes annually.
Nurse Corps Repayment Program
This is a Health Resources and Services Administration program that provides student loan grants for licensed registered nurses, advanced practice registered nurses and nurse faculty members. You must commit to two years of service in either a healthcare facility with a critical need or at an accredited school of nursing. In return, you'll receive 60% of your outstanding student loan balance. An additional 25% is available by completing a third year of service.
Department of Justice Attorney Student Loan Repayment Program
Attorneys who work for the U.S. Department of Justice can apply for roughly $6,000 per year in grant money under this program, with a lifetime maximum of $60,000 in student loan assistance. To qualify, you need at least $10,000 in federal student loan debt.
Centers for Disease Control and Prevention (CDC)
The CDC's Educational Loan Repayment Program for Health Professionals provides up to $50,000 per year in student loan assistance for doctors, veterinarians, master's and doctoral-level scientists, and other health professionals. To qualify, you will need to be accepted into the CDC's two- or three-year fellowship program.
Take Our Poll: Do You Think Bankruptcy Is an Acceptable Way To Escape Student Loan Debt?
National Institutes of Health
The NIH offers a grant program for employed researchers and repays loan amounts of up to $50,000 a year. These types of research grants typically provide money for projects related to specific fields of study. They are usually awarded based on merit.
More From GOBankingRates