Student Loan Forgiveness: Biden Vetoes Measure That Would Have Overturned Plan — What Happens Now?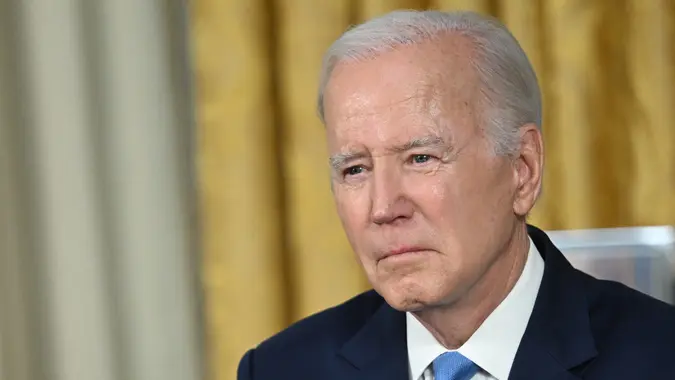 Pool/ABACA/Shutterstock / Pool/ABACA/Shutterstock
President Joe Biden announced he is vetoing a bill that would have overturned his student loan relief program. Now, the fate of the program is in the hands of the Supreme Court, which will review it later this summer.
"Congressional Republicans led an effort to pass a bill blocking my Administration's plan to provide up to $20,000 in student debt relief to working and middle class Americans. I won't back down on helping hardworking folks. That's why I'm vetoing this bill," Biden tweeted on June 7.
Earlier this month, the Senate passed a Republican-led legislation, which would have overturned Biden's relief program to cancel up to $20,000 in student loans.
"It is a shame for working families across the country that lawmakers continue to pursue this unprecedented attempt to deny critical relief to millions of their own constituents," President Biden said in a June 7 statement on the White House website.
Meanwhile, Republicans argue that the program is "unfair" and would burden taxpayers.
In a May 30 op-ed, sponsors of the bill Sens. Chuck Grassley (R-La.) and Bill Cassidy  (R-La.) said the program would only transfer the burden from those who willingly chose to take out debt to attend college to those who chose not to go to college or already worked to pay off their loans.
"Making these taxpayers responsible for the debts of others is as irresponsible as it is unfair," they wrote in the Fox News op-ed.
Some democrats also voted for the bill, including Sen. Joe Manchin (D-W.V.), who said that the country could not "afford to add another $400 billion to the national debt," according to a May 31 statement, adding that the program  "forces hard-working taxpayers who already paid off their loans or did not go to college to shoulder the cost. Instead, we should be focusing on bipartisan student debt reforms that reduce the cost of higher education and help all Americans."
Zack Geist, founder of Student Loan Tutor, said that while payments are still set to resume no later than 60 days from June 30, there could be special provisions rolled out by the Department of Education to give relief with a forbearance or a deferment that does not cause interest to capitalize.
Take Our Poll: What Are You Worth to Your Company?

In addition, Geist said that the revision to the income-driven repayment program pay as you earn — set to be implemented in the beginning of 2024 — will adjust the poverty guideline index from 150% to 225%, "which is extremely beneficial to borrowers for earning more before a payment is due."
"In addition to this, the one-time account adjustment is far more positively impactful for the majority of borrowers versus a one-time $10,000 to $20,000 off their balance and will have a greater effect for borrowers that still have federal student loan debt going back almost 30 years," added Geist.
More From GOBankingRates