Student Loan Forgiveness Could Get a Win as Texas Judge Transfers Lawsuit to Liberal District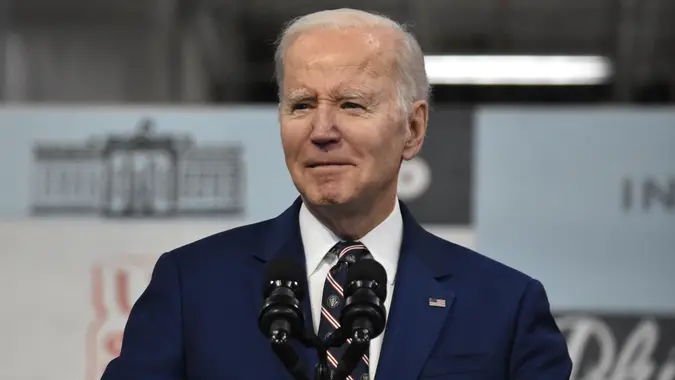 Kyle Mazza / NurPhoto / Shutterstock.com
The Biden administration scored a needed win in an unlikely place this week when a federal judge in a conservative Texas district agreed to let a student debt relief lawsuit be heard in a different, more liberal court.
The Monday ruling was made by U.S. District Judge Mark Pittman, a Donald Trump appointee in the Northern District of Texas, Politico reported. The case concerns a lawsuit that challenges a new U.S. Department of Education rule making it easier for student loan borrowers to have their debts forgiven when they are misled or defrauded by their colleges.
Pittman ruled that the lawsuit, filed in February by Career Colleges & Schools of Texas (CCST), was improperly filed in his district. He also granted the U.S. Department of Justice's request to transfer the lawsuit to Austin, a liberal city in the Western District of Texas.
Austin is located in Travis County, which voted for Biden over Trump by a nearly three-to-one margin in 2020. That represents a major outlier in a state that supported Trump by a 52% to 46.5% overall margin.
As Politico noted, Biden administration officials have raised alarms that many of the legal challenges it faces in Texas are filed in districts where judges are more likely to rule against the administration.
Several high-profile cases challenging President Joe Biden's policies have been filed in the heavily conservative Northern District of Texas, which includes Fort Worth. The U.S. Justice Department has even accused Texas Attorney General Ken Paxton of "judge shopping" by filing cases against the administration policies in the district, Fox News reported.
Career Colleges & Schools of Texas, a trade group that represents more than 70 for-profit higher education institutions in the Lone Star State, likely hoped its lawsuit would remain in the Northern District.
The CCST suit seeks to block the Education Department's revision of a program that forgives student loans when a college misleads or defrauds borrowers. CCST claims that the new rules, due to take effect on July 1, 2023, are unlawful and risk creating a "crippling liability" for its member institutions by sticking colleges with bills that student borrowers no longer have to pay.
As previously reported by GOBankingRates, the Biden administration in February unveiled a new "Borrower Defense Loan Discharge" program that aims to give borrowers legal grounds to discharge federal student loans when schools mislead students or engage in other misconduct in violation of certain laws.
The Education Department has already erased billions of dollars in student debt for borrowers who were misled by for-profit schools such as ITT Technical Institute and DeVry University.
The borrower defense initiative was unveiled during an otherwise grim period for debt relief efforts – including Biden's federal student loan program that seeks to provide up to $20,000 in canceled debt per borrower. That plan has been hit with numerous legal challenges and is currently being reviewed by the U.S. Supreme Court.
Take Our Poll: Do You Think Bankruptcy Is an Acceptable Way To Escape Student Loan Debt?
CCST's effort to block the borrower defense program relied heavily on getting the case reviewed in a sympathetic judicial district. Pittman rejected CCST's arguments in a six-page decision, writing that the public interest factors "heavily favor" transferring the case to the Western District.
It was a surprising win for the White House, considering that Pittman was the judge who first blocked Biden's student debt relief program last fall.
More From GOBankingRates