Student Loan Forgiveness Debate Has Experts Suggesting 3 Ways To Hold Colleges Responsible for American's Debt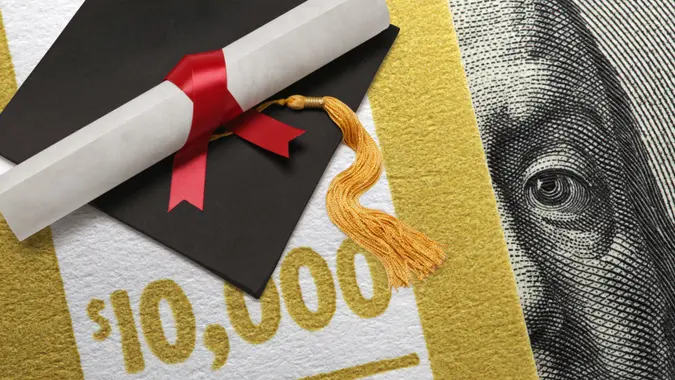 DNY59 / Getty Images/iStockphoto
President Joe Biden's plan to relieve up to $20,000 in student loan debt for tens of millions of Americans rests on shaky ground as the Supreme Court continues to deliberate on legitimacy issues. With the total amount of student debt resting right around $1.7 trillion and government aid in limbo, experts are looking toward potential ways to hold colleges and universities responsible for the current situation.
Whether the federal government can or should forgive student loans is a matter for the court of last resort, but preventing student loan debt from amplifying and making colleges more affordable for future generations means changing tactics.
Holding Colleges and Congress Responsible
According to the National Center for Education Statistics, between the 1970-71 and 2020-21 school years, one-year tuition and fees at a public non-profit university rose 2,580% ($394 to $10,560). For private institutions, the increase was 2,107% over the same period, from $1,706 in 1970 to $37,650 in 2020, per Intelligent.com.
The trouble is that these colossal increases in tuition have outpaced gains in income significantly. As Intelligent points out, since 1970, the federal minimum wage has grown only 353%, from $1.60 per hour to $7.25. The days when hard-working students can fund their education through part-time or summer jobs are long gone.
The shift to "high-tuition, high-aid" caused a "massive total volume of debt," says Emily Cook, an assistant professor of economics at Tulane University. But when schools can essentially charge whatever they want for tuition and raise rates annually without question, the need to rein in tuition through legislative policy is required.
On Thursday, Thomas Gokey, an organizer with the Debt Collective, told a House Subcommittee on Higher Education and Workforce Development that Congress needs to address the uneven tuition price to wage ratio. "These Republican members of Congress and right-wing pundits attended college when tuition was significantly cheaper," said Gokey.
"The same isn't true for today's student debtors, where the price of college has skyrocketed while wages have fallen — now, young people have been buried under crushing debt," he added. 
Reinstating the Gainful Employment Rule
According to Biden plan supporter and president of the Institute for College Access & Success, Sameer Gadkaree, the "gainful employment" rule is a measure that should be reconsidered.
Testifying at the same subcommittee hearing, Gadkaree said the reinstatement of the gainful employment rule could help Congress hold "low-quality institutions…accountable for their predatory and harmful practices."
The rule — an Education Department metric used to assess whether the debt graduates leave college with is proportional to their relative earnings — ensures that college graduates are not taking on exorbitant levels of student debt. It was revoked by former President Donald Trump in 2019.
Demanding Colleges to Cosign Student Loans
A third perspective comes from a Biden loan forgiveness plan critic, but it's a long shot. Education economist Carlo Salerno thinks institutions themselves could be held responsible for borrowers repaying their loans by becoming cosigners.  
Take Our Poll: Do You Think Bankruptcy Is an Acceptable Way To Escape Student Loan Debt?
"Students benefit from risk-sharing because institutions that are held financially liable for their student's success will put more effort into getting those students through the system faster and more cheaply," Salerno said. "Taxpayers benefit because…part of the risk of loss gets covered by an entity that does not have to be skip-traced and compelled to repay."
As the future of Biden's student loan relief program remains uncertain, the White House has extended the federal student loan payment moratorium until June 30, 2023, or earlier if appeal litigation is resolved by the Supreme Court.
More From GOBankingRates