Student Loan Forgiveness: Mark These 6 Dates On Your Calendar Now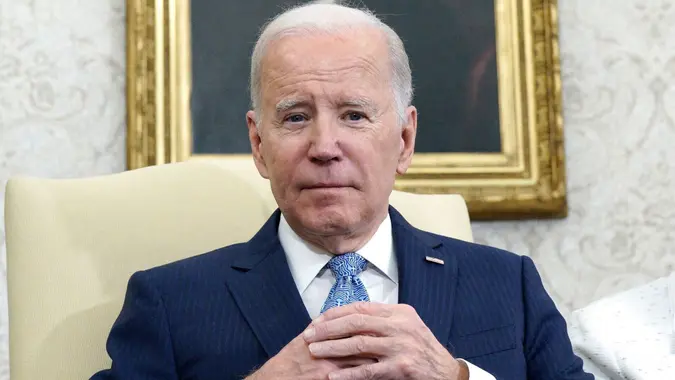 Pool/ABACA/Shutterstock / Pool/ABACA/Shutterstock
While most federal student loans have been frozen since March 2020, the future of President Joe Biden's student loan forgiveness plan continues to hang in the balance as borrowers await a Supreme Court decision, which is due to be delivered by the end of June.
Student Loan Pause Ends June 30: Here's Why You May Not Have to Start Paying ImmediatelyLearn: 3 Things You Must Do When Your Savings Reach $50,000
If the Supreme Court declares Biden's loan forgiveness plan to be just and legal, the Education Department can resume processing the 26 million applications it has received and will re-open the application process.
If the high court decides in favor of the GOP-led lawsuits, Biden's comprehensive student loan forgiveness program will be rendered effectively void.
For those keeping a close eye on debt forgiveness proceedings, the expected judgment is the first of six key dates to mark on your calendar.
June 22: A Supreme Court Ruling on Student Loan Forgiveness?
Before the Supreme Court adjourns for summer recess in July, it will have to rule on around 20 cases from the current term, according to Forbes. As June 22 is the last opinion release day of this term (scheduled as a non-argument session and conference day on the Supreme Court term calendar), many are expecting an announcement this Thursday regarding the legitimacy of Biden's loan forgiveness plan and the validity of the challenges against it.
July 1: Regulations Limiting Interest Capitalization Go Into Effect
When it comes time to repay your student loan, you'll also have to pay the accrued interest, or interest capitalization, that has been added to your loan balance during the payment pause. For income-driven repayment (IDR) plans, accrued interest can sometimes outweigh a borrower's monthly payment, says attorney and student loan expert Adam S. Minsky.
Education Department (ED) regulations will go into effect on July 1, expanding relief across several federal loan and discharge programs and stopping future capitalization events in the following circumstances: The first time a borrower enters repayment, upon exiting a forbearance and leaving any income-driven repayment plan besides Income-Based Repayment, per ED.
August 1: Deadline to Reach IDR Loan Forgiveness Milestone
When the Department of Education announced the creation of the IDR Account Adjustment last year, it was to repair long-standing mismanagement and record-keeping problems within the federal student loan programs. It also addressed changes that will result in at least 40,000 borrowers getting their debt canceled and more than 3.6 million borrowers receiving at least three years of additional credit toward IDR forgiveness.
Under the account adjustment, the time that accrued after July 1, 1994, will now be counted as IDR-qualifying months, even if the borrower was not enrolled in an IDR plan at the time.  A date hasn't been set for these IDR loans changes to take effect, however, per Forbes, "According to the Education Department, borrowers who reach their 20- or 25-year loan forgiveness milestone by August 1 should have their balances discharged within the subsequent two or three months."
September 1: Student Loan Interest Will Resume
According to a statement sent to Politico from an Education Department spokesperson, "Student loan interest will resume starting on September 1, 2023, and payments will be due starting in October." This means that interest on federal loans will revert back to the fixed rate being charged prior to the payment moratorium taking effect.
Those who consolidated their loans using a Federal Direct Consolidation Loan during the pandemic will have interest resume at the fixed interest rate based on the average of the interest rates on the loans that were consolidated.
October: Monthly Student Loan Payments Will Restart
The recently signed debt ceiling bill will lift the payment pause at the end of August, eliminating the possibility of extending the student loan moratorium for the eighth time since March 2020. So, barring another national state of emergency, student loan borrowers will need to find the hundreds of dollars required to pay their monthly loan installment starting in October.
Details surrounding resuming monthly student loan payments are vague but will be communicated to borrowers before they restart, per the Education Department spokesperson.
December 31: Deadline to Consolidate Loans for IDR Account Adjustment
As Minsky notes, borrowers who already have federal student loans will automatically be covered by IDR Account Adjustment regulations, but those with Federal Family Education Loans (FFELs), FFEL borrowers who want to pursue Public Service Loan Forgiveness (PSLF) and debtors with diverse loan periods have until Dec. 31, 2023 to consolidate their loans and benefit from the IDR Account Adjustment.
Take Our Poll: Are You Expecting an Inheritance?Student Loan Forgiveness: 10 Expenses To Cut From Your Budget When Payments Resume
Get Your Paperwork in Order Now
Though applications for the student loan relief program are on hold, make sure that you have all relevant documents in hand by June 30 in case the court rules in its favor. Gather all student loan debt records available to support your request. Learn more about eligibility requirements here.
More From GOBankingRates
Nicole Spector and Andrew Lisa contributed to the reporting for this article.