Student Loan Forgiveness 2023: More Financial Changes Coming This Year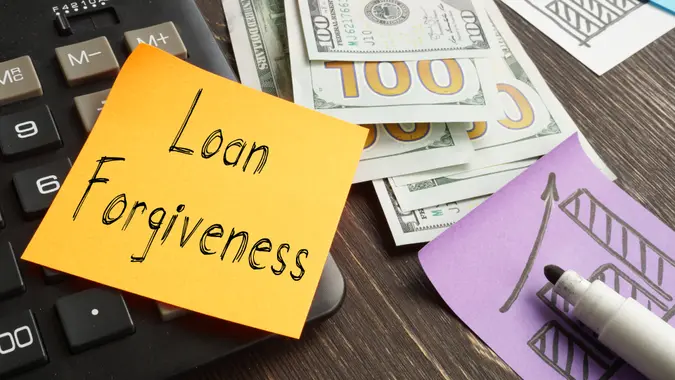 Andrii Dodonov / Getty Images/iStockphoto
There's little doubt that the 2020-2023 period has been the most confusing in student loan history. Welcome relief from the coronavirus pandemic started in March 2020, when first student loan interest was eliminated, and then actual payments were deferred. Since then, student loan deferrals have become something of a political football, with payments continuing to be deferred while legislators continue to threaten that relief is at an end. What exactly will happen in 2023 is anyone's guess, as the Biden administration's plans to flat-out eliminate some student loans are now being debated in the Supreme Court. Here's a quick overview of where things stand now and how the whole student loan saga may unfold over the rest of 2023.
Biden Administration Plan
In August 2022, the Biden administration rolled out a formal proposal to get some student loans canceled. Specifically, the plan was to eliminate $20,000 in federal student debt for Pell Grant recipients and $10,000 for non-Pell borrowers. However, the Supreme Court is currently weighing arguments that these provisions — which would eliminate more than $400 billion in student debt for tens of millions of borrowers — should not be allowed without Congressional approval. 
One of the tricky legal issues for the implementation of this plan is that the Biden administration leaned on the public health emergency declared in the wake of the coronavirus pandemic as the basis for the program. As the administration plans to end the health emergency in May, some have questioned whether that eliminates the foundation of the student debt forgiveness plan. Solicitor General Elizabeth Prelogar, who argued on the behalf of the Biden administration in front of the Supreme Court, also suggested that this type of debt relief was allowable under the Heroes Act of 2003, which grants alleviation of federal student loan hardships during national emergencies.
Supreme Court Involvement
With a 6-3 conservative majority, the Supreme Court seems likely to rule against the Biden administration's proposal. However, at least one conservative justice has indicated that a decision either way is not a slam dunk. To prevent the Biden administration's proposal, the court must find the appropriate legal means to nullify the program, not just dismiss it out of hand. The only thing that is certain at this point is that a swift answer is not coming. 
Current Status of Loan Forgiveness
What this all adds up to for more than 40 million student loan borrowers in the U.S. is that they are in limbo, and they will likely stay there for at least several more months. In addition to the status of loan forgiveness, the Supreme Court decision will also determine when payments, which have repeatedly been paused, must resume.
Potential Future Outcomes
Regardless of the ultimate fate of student loan forgiveness, there are some programs already in place that may help borrowers later this year.
Announced in January 2023, the Department of Education is putting the final touches on a new income-driven repayment plan for lower-income individuals. The plan seeks to reduce both monthly payments and the total amount that borrowers have to pay back over time. Specifically, the plan would amend the Revised Pay As You Earn (REPAYE) plan so that individuals earning less than about $30,600 annually and borrowers in a family of four making less than about $62,400 would pay $0 monthly. Those who don't qualify for a $0 payment may see their payments cut in half.
In July, important updates will be made to the Public Service Loan Forgiveness program. This program allows for federal student loan forgiveness after 10 years of qualifying payments for certain nonprofit and government employees. The changes will make it easier for qualifying borrowers to receive debt forgiveness, in part by allowing borrowers to receive credit for payments that didn't qualify previously, including late or lump sum payments.
Of course, the headline everyone is looking for in 2023 is whether or not the $10,000/$20,000 student loan forgiveness package proposed by the Biden administration will take hold. Until the Supreme Court makes its decision, millions of Americans will remain in a "wait and see" mode.
More From GOBankingRates