Student Loan Forgiveness Rule Quietly Changes — How It Affects Borrowers' Debt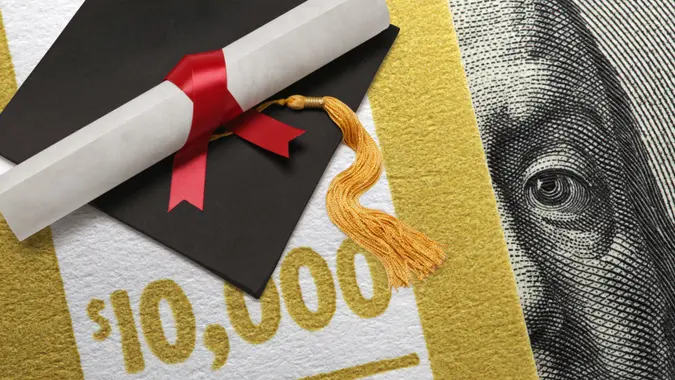 DNY59 / Getty Images/iStockphoto
The Biden administration has yet again quietly updated the timeline for borrowers seeking student loan forgiveness under a one-time account adjustment, according to reports.
In April 2022, the Department of Education announced updates that "will bring borrowers closer to forgiveness under income-driven repayment (IDR) plans." Said updates include a one-time adjustment of IDR payment counters "to address past inaccuracies and permanently fixing IDR payment counting by reforming ED's IDR tracking procedures going forward," the department stated.
As the Student Borrower Protection Center (SBPC) indicated, IDR was originally designed to offer borrowers a reduced monthly payment tied to their income, not their outstanding balance.
"In theory, federal law also provides that after a 20 or 25 year IDR repayment term, the borrower's debt is canceled in full. However, in recent years, investigations by SBPC and the National Consumer Law Center, National Public Radio, and the Government Accountability Office revealed widespread problems with IDR," the SBPC wrote in a January 2023 post.
Forbes reported that when the Education Department announced the one-time adjustment last April, the guidance indicated that borrowers could start receiving student loan forgiveness by the fall of 2022, and that all others should receive their one-time retroactive credit by January.
Then, in an updated guidance statement delivered October 2022, the department "maintained that borrowers eligible for immediate student loan forgiveness would still receive those benefits under the IDR account adjustment before the winter of 2022," and that "all other borrowers would not receive retroactive IDR credit until July 2023," according to Forbes. In a further December 2022 update, the department extended this timeline further, "pushing out expected student loan forgiveness under the adjustment to the spring of 2023, with all others receiving the benefits of the adjustment in the summer of 2023."
And now, the key dates have been pushed even further, Forbes noted.
In the latest guidance document released this week, the Education Department declared it still expects borrowers eligible for immediate student loan forgiveness under the IDR account adjustment to receive those benefits in the spring. But now, "All other borrowers will see their accounts update in 2024," according to a press release — which, as Forbes noted, could translate to a delay of more than one year.
According to Forbes, the delays are due to Congress not providing additional funding to the Office of Federal Student Aid in a recent budget bill.
More From GOBankingRates