Student Loan Pause Helped Push Americans Into Additional $1,800 of Debt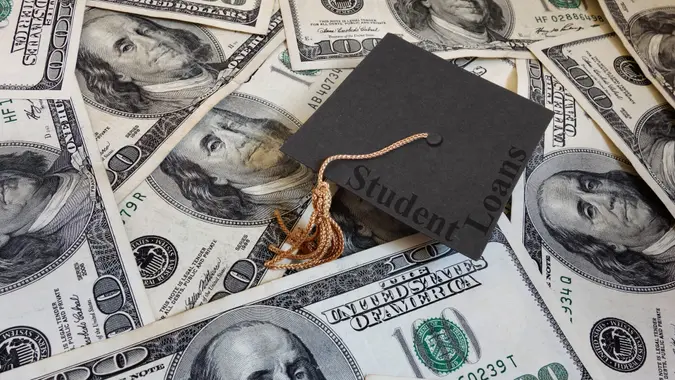 zimmytws / iStock.com
Federal student loan borrowers haven't been required to make payments since March 2020. The payment pause provided immediate relief to millions of borrowers during the early days of the pandemic, but new data suggests borrowers whose loans were frozen are in a worse position and may have accrued even more student loan debt, Reason reported.
Student Loan Payments: Here's the Official Date You Need To Start Paying AgainSee: How To Guard Your Wealth From a Potential Banking Crisis With Gold
A new working paper from the National Bureau of Economic Research shows that those whose loans were frozen by the moratorium borrowed more on credit cards and mortgages and took on more student loan debt instead of paying down the debt they already had.
Reason says the cost of the pause is estimated to be as much as $5 billion per month, totaling to almost $200 billion by the time payments resume in September.
By the end of 2021, borrowers who saw their loan payments paused increased their credit card, mortgage and car-loan debt by $1,800 on average and took on an extra $1,500 in student loan debt compared to those whose loan payments were not paused, noted Reason.
"Perhaps paradoxically, temporary student debt relief leads to higher overall household debt levels and larger future debt burdens," the paper reads, as reported by Reason. "The results indicate that debt payment pauses can increase consumption in the short term, but that overall debt increases, as borrowers use increased liquidity to service new debt."
More than 15% of borrowers were behind on payments before the pause, Bloomberg reported. When payments resume, Kyle Simmons, founder of Simmons Investment Management in Colorado, told Bloomberg that he recommends focusing on housing, transportation, food and utilities before your credit cards, medical debt and student loans. 
Take Our Poll: Are You Concerned About the Safety of Your Money in Your Bank Accounts?New Student Loan Problems: Prepare for Lost Payments, Surprise Late Fees as Contracts Change Hands
Julia Colantuono, owner of One Financial Design in Massachusetts, agrees but says to prioritize student loan debt over credit card debt. According to Bloomberg, this is because defaulting on federal student loans has dire consequences, such as having tax refunds withheld and the risk of being sued by a collections officer.
More From GOBankingRates