Student Loan Payments Will Add $200 to the Average Borrower's Monthly Expenses: How To Balance With Other Bills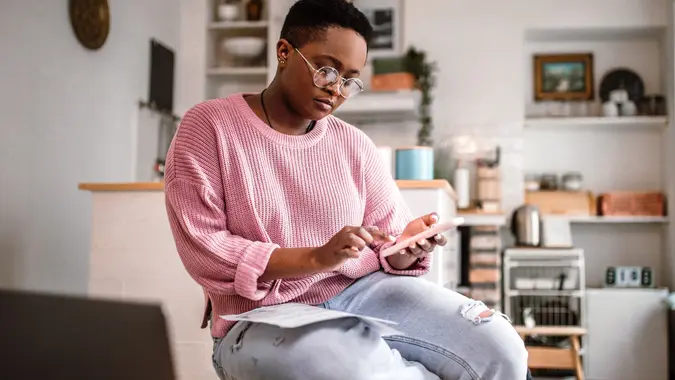 hobo_018 / iStock.com
Student loan payments will resume in October for the first time in three years, following the Supreme Court's striking down — in a 6-3 June 30 decision — President Joe Biden's student loan relief program. The restart of payments is set to put an immense dent in millions of Americans' budgets.
As the Kobeissi Letter posted on X, the platform formerly known as Twitter, there are a total of 45 million people in the U.S. with student loans and $1.6 trillion of student loans outstanding- with the average monthly student loan payment being around $200.
Other estimates, such as the ones by the Education Data Initiative, put the average monthly student loan payment at $503.  
And according to a TransUnion July study, consumers will experience what it deems "payment shocks," as 50% of them are expected to have a payment of more than $200 a month, while about one in five will see payments of more than $500.
Margaret Poe, head of consumer credit education at TransUnion, said that with the payment resumption, millions of consumers will face the challenge of fitting these payments into their monthly budgets.
Poe noted that many of these consumers have also taken on new debt over the last three years in addition to their student loans.
"More than half of student loan borrowers added a bank card to their wallet, and more than a third took out an auto loan," she said. "These consumers may be particularly vulnerable to payment shock as the student loan pause ends. But with some planning and consideration, there are ways to mitigate these shocks."
Here are some tips from experts on how to navigate the resumption and steps borrowers can take to alleviate this incoming financial burden.
Take a Detailed Look at Your Monthly Budget
To do this, use at least six months of data, said Poe.
"Sometimes spending and saving changes based on seasonality," she said. "Tax time, holidays and summer travel can cause some variability in our monthly budgets. There are many good apps out there, and your bank may even have an online portal you can use to track where your money is going."
Assess Your Needs vs. Your Wants
Another solid approach to help you plan a budget, is to evaluate what your needs are versus your wants, and assessing whether you have an emergency reserve?.
Needs are basic expenses such as rent, car payments, insurance, groceries and debt which have to be prioritized, said Andrew Crowell, financial advisor and vice chairman of wealth management at D.A. Davidson. Wants are discretionary or variable expenses which can be flexed like entertainment, dining out and travel. 
Meanwhile, an emergency reserve is an account which could be accessed in the event of a sudden layoff or a car breakdown.
"All three categories–needs, wants and reserves–are important considerations and will help to prioritize how much of monthly cash flow should go to each," said Crowell. "Many use a rough rule of thumb of 50%/30%/20%, but this is only a general guideline."
According to him, after setting a budget, individuals should then set tangible savings goals like building up a reserve of $1,000 in one year or paying off student loans in 10 years or buying a car in five years. 
"By establishing tangible savings goals, the saver can further refine their monthly budget to ensure they are on track," he added.
Make Sure You're Using the Right Repayment Plan (Know Your Options)
If you're going to feel the squeeze of taking on student loan payments again in October, be sure to make sure you're using a repayment plan that is right for you, said Derek Brainard, AFC, CRPC and director of financial education at AccessLex Institute.
The new Saving on a Valuable Education (SAVE) Plan is an income-driven repayment (IDR) plan, which protects more of your income before charging you 10% of your remaining discretionary income and could result in a payment as low as $0 a month, he said.
Indeed, The SAVE Plan provides the lowest monthly payments of any IDR plan available to nearly all student borrowers and replaces the REPAYE plan. It went into effect in July 2024 and cuts monthly payments to $0 for millions of borrowers making $32,800 or less ($67,500 for a family of four) and saves all other borrowers at least $1,000 per year, according to the Education Department.
Another change is that the SAVE Plan increases the income exemption to 225% of the poverty line, from 150%.
Put Any Savings in a High-Yield Savings Account (HYSA)
If you've been setting money aside during the pause, consider moving that money to a high-yield savings account.
"High-yield savings accounts offer significantly higher interest rates than traditional accounts and will allow your money to work for you rather than just sit in the bank," said Mark Henry, founder and CEO of Alloy Wealth Management. "Any interest you earn can go toward paying back your loans. Be sure to shop around for the best rates and avoid monthly fees."
Ask If Your Employer Offers 401(k) Matching for Student Loan Payments
Under the Secure Act 2.0, employers can now match your student loan payments with contributions to your employer-sponsored 401(k).
"The process is similar to regular employer 401(k)-matching – but instead of matching a certain percentage of your 401(k) contribution, they make a matching contribution of whatever you pay toward your student loans," said Henry.
He noted, however, that this is not mandatory for employers.
"If you have an employer-sponsored retirement plan and your company does not offer this advantage, talk to your HR department to see if it can be implemented," he said. "This is a great opportunity to save for retirement, even when you don't have room in the budget to make retirement plan contributions on top of student loan payments."
Cut Back on Other Expenses
As TransUnion's Poe explained, you may be tempted to just look at your biggest expenses, but it can be difficult to change your car or rent payments.
Instead, find the largest expenses that bring you the least amount of personal value and go from there. 
"It can be anything from downgrading a phone plan or internet service to your entertainment and personal shopping habits," she said. "Sometimes you can find money "leaks," or areas that you forgot about. These may be things like unused subscriptions for streaming services."
The important thing is to do what works for you, she said, adding that if you value your daily coffee shop stop on your way to work, you don't need to cut it, no matter how many personal finance experts tell you to make coffee at home.
"There may be some tough spending cuts you have to make, but you'll increase your odds of success by making it as painless as possible," added Poe.
Always Make the Minimum Payment
And whenever possible, try to add more, said Crowell.
He recommended putting loan payments on auto-payment, which can further help to ensure that payments are always on time, so that penalties do not get added to the balance.
Indeed, not paying on time can affect your credit score and trigger another slew of issues.
"Payment history is an important credit scoring factor, so be sure to prioritize on-time payments," said TransUnion's Poe. "While there are benefits to paying more than the minimum payment on your credit cards, at least pay the minimum balance by the due date. If you're able to pay in full, that's even better, as it can help your credit score in addition to saving you in interest."
Look Into Refinancing (Or Getting a Lower Rate)
According to Alloy Wealth Management's Henry, if you've been using the past few years to pay off other debts and get financially healthy, your credit score may be better than it was before the pause.
"You may also be earning more money than you were three years ago. So check to see if you qualify for a lower interest rate or monthly payment than the one you currently have," he said.
In addition, in some cases, refinancing your student loans might be an option, especially if you want to attack them faster or with a lower monthly payment.
"Each loan is different, so it's essential to check in with your servicer to find out what your options are," he added.
More From GOBankingRates