Student Loan Payments: Here's the Official Date You Need To Start Paying Again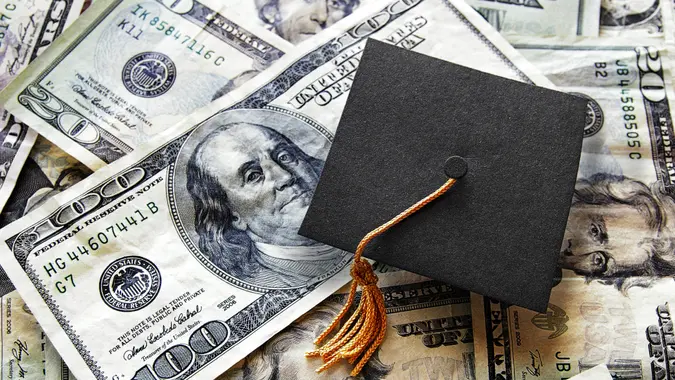 zimmytws / Getty Images/iStockphoto
While the fate of President Joe Biden's federal student loan forgiveness program remains up in the air, borrowers should definitely expect to resume loan repayments before the end of August, according to recent comments from Education Secretary Miguel Cardona.
Cardona confirmed the repayment date during a Senate Appropriations hearing last week, The Hill reported. His comments came as the COVID-19 emergency was set to expire.
"The emergency period is over, and we're preparing our borrowers to restart," Cardona said.
The Biden administration plans to restart student loan payments no later than 60 days after June 30, 2023, he added. Based on that schedule, you can expect to resume payments on or before Aug. 29.
Payments have been paused since March 2020, during the early days of the pandemic. There had been speculation that the Biden administration might try to extend the pause yet again — especially if the forgiveness plan gets struck down by the U.S. Supreme Court — but that's no longer on the table.
The main unknown right now is how the court will rule on the forgiveness plan, which aims to cancel up to $20,000 in student loan debt per borrower. As The Hill noted, the SCOTUS can release its decision on any Monday through the end of June.
If the court makes a ruling before June 30, then payments will resume no later than 60 days after the decision. Otherwise, they will resume no later than 60 days after June 30.
"We are committed to making sure that once a decision is made that we're going to resume payments 60 days after," Cardona said. "But no later than June 30, we're going to begin that process."
Although Cardona expressed confidence that the Supreme Court "will rule in favor of the targeted debt relief," many legal experts believe the majority-conservative court will rule against it.
The brouhaha has been a source of anxiety and confusion for student loan borrowers, who have gotten a series of mixed messages about when payments will actually resume. The Education Department reportedly has considered a transition period that would push the payment pause at least into the fall.
As previously reported by GOBankingRates, documents obtained by Politico show that department officials told loan servicers to prepare to begin charging interest on federal loans in September. The documents also show that officials are eyeing October as the first month in which any borrower will be required to make a payment. But Cardona's comments last week seem to cast doubt on that schedule.
Meanwhile, the Education Department is preparing to overhaul the system for student loan payments, Business Insider reported. Changes include a new income-driven repayment plan officials claim will be "the most affordable repayment plan ever," as well as reforms to programs such as Public Service Loan Forgiveness.
More From GOBankingRates