Student Loan Providers Comparison: How Servicers Stack Up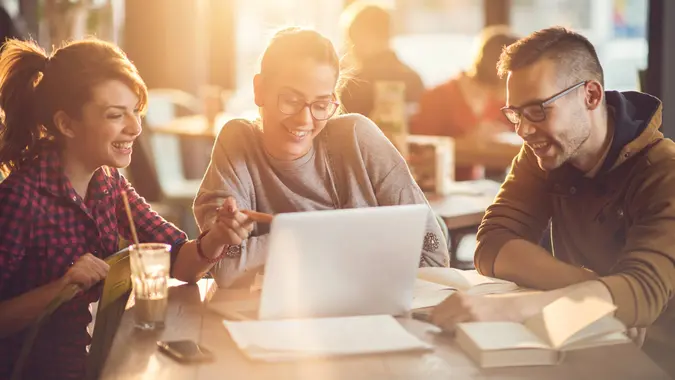 BraunS / Getty Images
Federal government-licensed student loan servicers are companies that help you with your federal student loans by handling the billing and other services — for free. These companies can work with you on a number of solutions for your loans, including providing different repayment plans, loan consolidation and even loan forgiveness if you qualify.
When you take out a federal student loan, the U.S. Department of Education assigns you to a loan servicer as soon as you receive funds. To find your student loan servicer contact information, visit the Federal Student Aid website. Keep reading for a list of student loan servicers and find out what these lenders have to offer.
Student Loan Servicers
Some Student loan servicing companies are nonprofit, some are not. Review these four student loan servicing providers that aren't nonprofit:
FedLoan Servicing
FedLoan Servicing offers many payment options for different phases of your student loan, whether you're in school, enjoying your grace period before you have to start paying or are in your repayment period. The company will help you set your repayment goals and strategy, and if you pay through a direct debit, it will give you an interest rate reduction of 0.25 percent. If you're in the military, teaching or working in public service, the company can help you explore special benefits and even possible loan forgiveness.
Check Out: FedLoan Servicing Federal Student Loans Guide
Nelnet
Nelnet strives to make it as easy as possible to pay your student loans. It will process your monthly payments, guide you through the different stages of your loan, and perhaps most important, help you find options for lower monthly payments. You'll get a 0.25 percent interest rate reduction for paying via automatic debit and you can also pay online, with a mobile app and more. Nelnet offers loan consolidation, loan forgiveness, disability discharge and bankruptcy issue services. In 2017, Nelnet bought Great Lakes Higher Education Corporation, but the two companies operate independently.
Navient
Navient has helped "millions of Americans achieve financial success," according to the website. Whether you need a different repayment plan, including ones based on your income; loan consolidation; fraud protection or payment postponement; Navient can help. You can sign up for autopay so you never miss a payment, and you can use the company's educational resources, which include videos about how to manage your loans and what to expect when you're repaying them.
Learn: How to Get the Best Student Loan Interest Rates
Great Lakes
Great Lakes has been in the business of helping people make successful student loan repayments for 50 years. It provides a range of repayment options, loan consolidation, payment management solutions, postponement and deferment services and a knowledge center that provides valuable tools to educate people about student loans. Military service members receive special benefits at Great Lakes, such as interest rate reductions, reduced payments and zero percent interest for serving in hostile areas.
Nonprofit Student Loan Servicers
Explore nonprofit student loan servicers and see what they do. Here are the five main nonprofit student loan servicers:
MOHELA
Mohela is a student loan servicer committed to offering customized solutions that meet your needs, according to its website. Like most loan servicers, it offers a number of repayment plans to fit different needs as well as a range of payment options. Sign up for auto-debit withdrawals to pay your loan and you could receive a 0.25 percent interest rate reduction. The info center offers some valuable educational resources that can help borrowers learn everything they need to know about student loans.
HESC
New York State Higher Education Services Corporation is "leading the way to college affordability," according to the website. HESC frontloads the student loan process by providing borrowers with step-by-step planning tips for college — and getting financial aid — prior to taking out loans. HESC provides support for borrowers with affordable payment solutions, temporary payment postponement and loan consolidation. If you've defaulted on your loan, HESC can give you options. You can go to the website and begin creating a repayment plan by answering some simple questions.
Granite State
Granite State Management & Resources can answer any questions you might have about your student loans and will provide you with a number of repayment options, including income-based, pay as you earn and more. You can choose from a standard, graduated, extended or income-sensitive plan to meet your specific financial needs. The company can also consolidate multiple loans and identify if your loans qualify for forgiveness. Like most loan services, Granite State provides special benefits to those who serve.
OSLA
If you live in a FEMA-declared disaster area, OSLA might be able to help you with disaster forbearance. It can also provide you with loan consolidation and loan forgiveness services. You might qualify for a number of the company's repayment options and if you're in the military, you might qualify for special benefits.
Cornerstone
Cornerstone Educational Services is a Department of Education-approved federal loan servicer that can help you lower your payment, explore loan forgiveness and choose from a wide range of payment options. You'll get a 0.25 interest rate reduction if you sign up for autopay and an interest rebate for on-time payments if you qualify. The website also offers a financial literacy section that includes a budget calculator that can help you figure out everything from how much you should save for college to how much your monthly payments will be.
Find Out: How to Apply for Student Loans
More on Student Loans
This content is not provided by the companies mentioned. Any opinions, analyses, reviews or recommendations expressed in this article are those of the author alone and have not been reviewed, approved or otherwise endorsed by the companies mentioned.