Student Loans: 45 Million Borrowers Are Resuming Payments in October — Why That Number Matters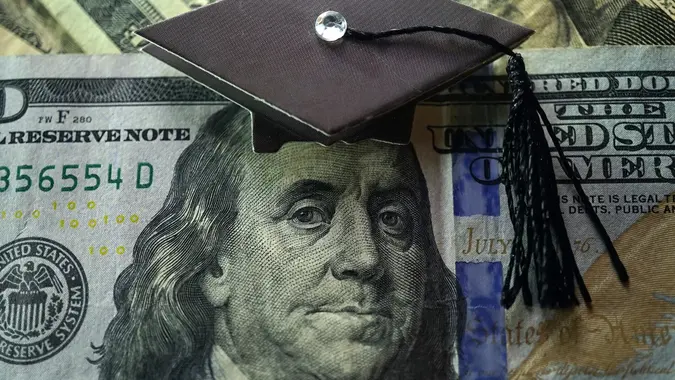 Kameleon007 / iStock.com
The resumption of student loan repayments, which paused during the pandemic, will kick in in October. While this will have direct and immediate consequences for borrowers — the average monthly student loan payment is $503, according to the Education Data Initiative — the economy at large might also take a hit.
As the Kobeissi Letter posted on X, the platform formerly known as Twitter, said, there are 45 million people in the U.S. with student loans and $1.6 trillion of student debt outstanding.
"This means roughly $9 billion in consumer spending will be subtracted every month," the Kobeissi Letter said in the post. "Roughly $100 billion per year will be substracted from consumer spending, mainly with an impact on younger consumers. Another large shift in consumer spending is coming."
Impact on the Economy
The return of federal student loan payments after a three-year hiatus could have significant economic repercussions, said Mayuranki De, thematic ETF research analyst at Global X.
How it impacts individuals hinges on variables such as payment history, debt load, income and other financial commitments. With 43.6 million borrowers affected, even those who are managing well will feel the consequences, she said.
"Interest is now accumulating, coinciding with subdued consumer spending, the conclusion of pandemic assistance programs and stricter credit markets," De said. "These compound the financial strain on borrowers, potentially leading to reduced consumer spending, lower savings rates and possible delays in debt payments, which, in turn, affect the broader economy."
De added that this effect extends to non-borrowers, grappling with the deceleration in economic growth as well.
According to her, the resurgence of repayments may quickly erode the progress made during the payment pause, particularly impacting those who recently took on new mortgages or auto loans, leveraging their financial flexibility during the absence of student loan payments.
"Even if the overall economy remains strong through the end of 2023," she said, "the reinstatement of student loan payments could pose a minor obstacle to near-term growth."
A recent Global X study found that 70% of Americans believe it also will have an impact on the economy. In addition, the survey found that 50% of borrowers believe the resumption will affect monthly spending, with 20% saying it will dramatically reduce all spending.
Worried Retailers Ahead of the Holidays
Already, a slew of retailers such as Walmart and Target have voiced their concerns about how the resumption of payments will affect their bottom lines.
For instance, in an August earnings call, Target executive vice president and CFO Michael Fiddelke, said the upcoming resumption of student loan repayments "will put additional pressure on the already strained budgets of tens of millions of households."
While estimates vary, Moody's Analytics projects that $70 billion will be taken out of the economy with the resumption of loan payments.
According to another Moody's Analytics report, on the retail front, the resumption will trigger a decline in discretionary budgets, which will spread among a variety of goods and services.
"The retail sector has seized an opportunity during the pandemic due to limited inventory growth over prior years and pent-up demand," the report said. "But financial buffer losses could shake up the retail demand in response to young consumers' change of budget and even potential cutbacks on service spending."
Impact on Household Liquidity
A combination of factors — including inflation, soaring rates and borrowers accumulating additional debt during the payment pause — are making experts raise the alarm.
For instance, a recent TransUnion study found that the average consumer with a student loan already carries $35,000 in debt. Making matters worse, many borrowers have added new debt during the pause, including 53% who added bank card debt, 36% who added auto loans, 31% who added retail card debt, 15% who added mortgages and another 15% who added unsecured personal loans.
As Michael Micheletti, chief communications officer at Unlock Technologies, explained, the meteoric rise in consumer debt, combined with personal saving rates that continue to hover around historic lows, have been putting a strain on Americans' wallets.
"Today, households are grappling with financial stress, a smaller social safety net than ever before and, for most, greater financial uncertainty than they have experienced in many years," he said. "Inflation continues to impact basic life needs like transportation, utilities and food."
In turn, this has created a situation of decreased household liquidity.
Against this backdrop, it seems likely that the resumption of student loan payments will have a ripple effect at the household level for 45 million Americans.
"That's 14% of the U.S. population," Micheletti said. "Put another way, with the average household size at 2.5 people, that's roughly 18 million households/families that will be affected by an additional debt payment every month."
In turn, it's understandable that the resumption of payments will certainly have an impact on the overall economy, as billions of dollars will be removed from non-essential service-sector businesses such as restaurants, bars and movie theaters, he added.
Finally, a recent Credit Karma survey found that a staggering 37% of federal student loan borrowers say they have not saved money in anticipation of resuming their payments. Already, 53% of them say they are currently struggling to pay other bills.
More From GOBankingRates