Student Loans 2023: What To Know About Resuming Payments in October, According to Experts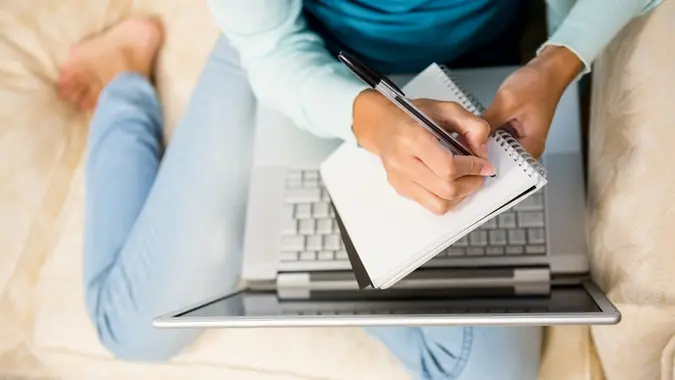 wavebreakmedia / Shutterstock.com
The three-year student loan pause is set to expire in just a few more months. According to the U.S. Department of Education, federal student loan payments will be due starting in October 2023.
Borrowers who haven't made a payment since the pause started may feel overwhelmed trying to figure out how to resume loan payments. Fortunately, there are certain strategies they can use now to gradually ease them back in again. Here's what borrowers need to know about preparing for student loan payments.
Find Out What You Owe, Where To Pay It and The Due Dates
It's time to get your logistical ducks in a row with your student debt — again. Richard Barrington, financial analyst at Credit Sesame, recommends starting off by finding out what you owe, where you need to pay it and the due dates for these payments.
Borrowers can start by checking with their loan servicer and re-familiarizing themselves with their payment schedule. Barrington said it's possible some of the details about how to make payments may have changed, so keep your eyes peeled for any changes you may not have otherwise known about. 
Explore Payment Plan Options
It's important for borrowers to remember the payment plan they were part of before the federal student loan pause will be the same payment plan they resume payments on.
If you don't like your current payment plan, you may be able to change it. Raeonna Jefferson, client success associate at Zenith Wealth Partners, recommends visiting studentaid.gov to see which payment plans you may be eligible for. 
Start Reviewing Your Budget Now
In addition to student loan payments resuming in October, interest on federal student loans resumes starting Sept. 1, 2023. Borrowers will need to factor this additional amount into their monthly budgets when making payments. 
Right now is a good time for borrowers to begin reviewing their budgets and making any necessary adjustments. Jefferson said this gives borrowers time to plan ahead and figure out where in their budget they can make cuts. Borrowers who already know what their monthly payment will be are advised by Jefferson to start putting this money aside in a savings account. 
After student loan payments resume, borrowers should keep reviewing their budgets moving forward. Jefferson recommends keeping an eye out for money habits that may be sabotaging you, as well as any money you may have leftover at the end of the month. Put any remaining money towards building your savings account, as this will come in handy should any financial issues creep up.
Practice Your Budget Now
If you're currently reviewing and updating your budget, it's not a bad idea to start practicing this newly revised budget now.
Each month, Barrington recommends setting aside the amount you'll have to make in loan payments this October. Doing so gives borrowers some experience living with this budget, and it may alert you to any pinch points. 
Make Extra Payments
This is advice which is often cited for anyone who is already paying student loans or plans to resume payments. 
If your budget allows for it, Monique White, head of community at Self Financial, recommends making extra payments to your student loans. Doing so can help reduce interest and the total loan cost.
More From GOBankingRates