Student Loans 2023: 10 Tips To Avoid Student Loan Regret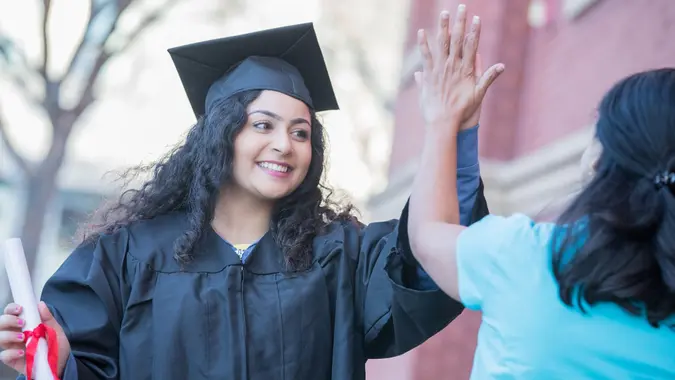 Courtney Hale / iStock.com
The average student borrows more than $30,000 to pay for a bachelor's degree, according to the Education Data Initiative. What's worse, it takes the average borrower about 20 years to pay off their loans.
If you are close to graduating high school and are deciding on your next steps, you may be wondering how to avoid — or at least reduce — your student loan debt and still enter the workforce with the degree you need. Follow these tips to make sound financial choices as you enter your next stage of life.
Understand Interest Rates To See How Much You'll Really Pay
Whether you take out private loans or federal loans, the money you borrow comes at a high price. To get a realistic grasp of how much that degree will really cost once you factor in fees and interest rates, use a student loan calculator.
The average student loan interest rate is 5.8%, according to the Education Data Initiative. That makes student loans a better choice than accruing credit card debt to pay for your degree. But keep in mind that the longer you take to pay back the loans, the more you'll spend.
Research Salaries for Your Chosen Field
You can pay off loans faster if you're earning more money. Compare the cost of your loan to how much you can expect to make with a degree in your chosen field. According to one survey conducted by Student Loan Planner, 43% of professionals wish they'd chosen a different career path. Roughly 70% of those polled had more than $100,000 in student loan debt.
Some fields deemed "regrettable" due to lower salaries and high debt included occupational therapist, veterinarian and chiropractor.  
Choose Your Loans Wisely
Federal student loans carry an average interest rate of 5.50% compared to 5.8% across all loans. However, federal student loans carry no prepayment penalties, and income-driven repayment plans are available.
Take AP Classes in High School
One of the ways to reduce your student loan costs is by reducing the costs of college overall. High schools offer Advanced Placement classes, where college credits cost a fraction of the price they would at college.
The cost for an AP exam is just $97, with need-based fee reductions available, according to the College Board. Speak to your high school guidance counselor to determine if AP classes are an option for you.
Consider Starting With Community College
Community college costs dramatically less than a four-year college or university. Consider taking core classes at your local community college and then moving on to a four-year school with plenty of credits already under your belt.
Live at Home During College
You might consider living at home even after you've transferred to a four-year school. However, unless you live in a city with good public transportation, you'll have to evaluate the costs of commuting, owning and maintaining a car, car insurance and all the other expenses that come with living at home versus living on campus.
Work To Defray Costs
You can reduce your college costs through the Federal Work-Study program. This program provides jobs for undergraduate and graduate students who show financial need. If you don't qualify, you can still apply for a part-time job on or off campus to earn money toward college costs. Some jobs even offer tuition assistance.
Apply for Scholarships
You don't have to be a star athlete to qualify for scholarships that can help pay for tuition, books and other costs. Every few hundred dollars can add up when it comes to college living expenses, so apply for every scholarship you can find within your school and community.
Apply for scholarships through local businesses, civic organizations like the Lion's Club or Rotary Club and your and your parents' employers.
Set Clear Career Goals
The best way to eliminate student loan regret is to ensure that your degree is really worth it. A degree should pay for itself over time through increased wages and expanded job opportunities.
Defraying college costs through scholarships, AP classes and frugal living while you're in school can help. It's also crucial to set a clear career path and consult with your guidance counselors so you take the courses you need to earn your degree as quickly as possible and prepare you for the working world.
More From GOBankingRates