What Happens If You Miss a Student Loan Payment?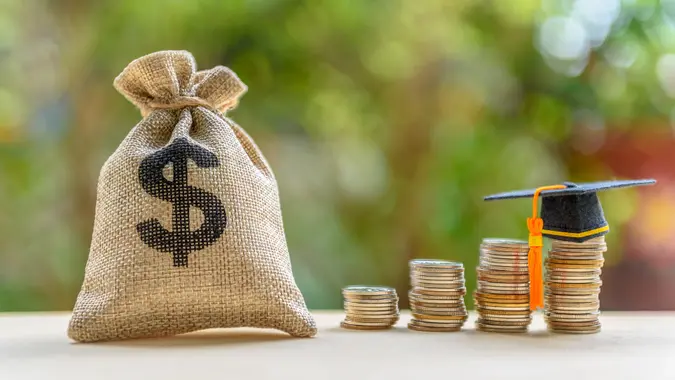 William_Potter / Getty Images/iStockphoto
The Biden Administration announced $39 billion of student loan debt forgiveness earlier this month. This would be good news for 804,000 borrowers. The administration has also approved $14.7 billion in debt relief for 1.1 million student loan borrowers whose colleges are determined to have taken advantage of them in some way. Their debt will also be forgiven if the institution closed abruptly while the students were attending. 
However, if you're not one of the lucky students' whose student debt is forgiven, you might be worried about how you're going to repay the remainder of what you owe. That amount can be pretty substantial.
According to a recent GOBankingRates survey, 16% owed between $10,000 and $40,000. When asked how the restart of student loan payments will affect their financial situation, 11% of respondents said they'd have to overdraw to make their payments, and 14% said they won't be able to pay all of their bills. If missing a bill isn't an option for you, then you might have to skip your student loan payments.
Missing Loan Payments
When you first miss a payment, your loan may be subject to late fees and penalties. Per the Department of Education (ED), "The first day after you miss a student loan payment, your loan becomes past due, or delinquent. Your loan account remains delinquent until you repay the past due amount or make other arrangements, such as deferment or forbearance, or changing repayment plans."
Missed payments are reported to credit bureaus after 90 days of delinquency and continue to be reported periodically. After 270 days of nonpayment — or 9 months — the loan falls into default. Your loan will continue to accrue interest charges during delinquency and even after default. So, if you're not making payments, expect your balance to rise before you begin making payments again.
According to the Department of Education, once a loan is in default, it is subject to a process known as acceleration: "If you default on your federal student loan, the entire balance of the loan (principal and interest) becomes immediately due. This is called acceleration. Once your loan is accelerated, your loan holder can begin collecting on your loan by taking money from your wages or your federal payments (such as tax refunds)."
The department further noted that, as of Nov. 2021, private collections agencies "will no longer service ED-held defaulted loans. If a private collection agency worked on your ED-held loans, it will no longer manage your loans moving forward."
What Are Your Options?
If you fall behind, you can catch up by making a number of consecutive on-time payments.
You can also ask your loan provider if there's anything they can do to eliminate the fees to help you get back on your feet. Sometimes, if it's the first time you've missed a payment, they'll have some leniency, depending on the circumstances.
More From GOBankingRates
Sam DiSalvo contributed to the reporting for this article.
Methodology: GOBankingRates surveyed 1,028 Americans aged 18 and older from across the country between June 27 and June 29, 2023, asking nine different questions: (1) Have you used Artificial Intelligence (AI) for any of the following? (Select all that apply); (2) In Retirement, how much do you think you'll need in Social Security monthly, in order to retire comfortably?; (3) How much do you spend on your average Costco trip?; (4) How often do you go to Costco?; (5) What items do you purchase most frequently at Costco?; (6) How do you think the restart of student loan payments will affect the economy in 2023 and beyond?; (7) How much student loan debt do you currently have?; (8) How will the restart of student loan payments affect your financial situation? (Select all that apply); and (9) How much did you (or expect to) inherit from your parents/relatives?. GOBankingRates used PureSpectrum's survey platform to conduct the poll.