Suze Orman: Use This Rule of Thumb To Determine How Much Student Loan Debt You Can Afford To Take On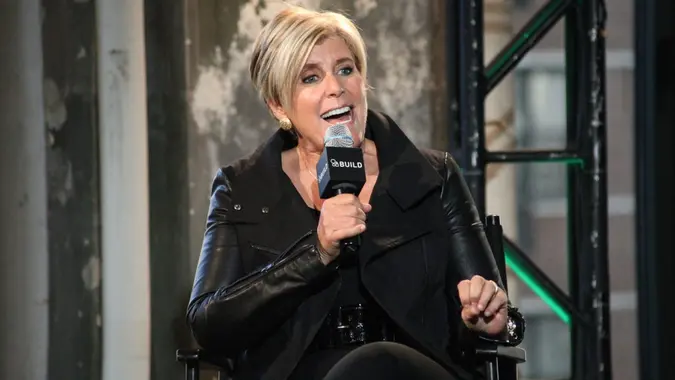 Mediapunch/Shutterstock / Mediapunch/Shutterstock
While the average student loan debt for those with undergraduate degrees is a staggering $37,337, according to the Education Data Initiative, the amount of debt taken on by those with graduate degrees is significantly higher. The average debt among master's degree holders is now $83,651, while the average debt among Ph.D. holders is $125,276.
And while those with graduate degrees generally do earn more than those with just an undergraduate degree, the difference is not usually significant enough to offset the higher loan balances.
"[A] Department of Education report points out that the 'earnings premium' for various fields relative to a high school degree has not increased," Suze Orman said in a recent blog post. "For most fields, the percentage gain in extra earnings 15 years ago is the same today.
"That means that people who are borrowing more are likely not earning a lot more to cover their higher borrowing costs," she continued. "The Department of Education says around 40% of the grad school programs for professional degrees (doctor, lawyer, etc.) had grads who left school with 'high debt burdens' that were at least 20% of their discretionary earnings. A sizable portion of master's degree students also had high debt burdens. […] It is a myth that the extra earnings from an advanced degree will make it easy to pay off grad school debt."
To avoid an insurmountable debt burden, Orman recommends following a simple rule of thumb.
How Much Student Loan Debt Can You Afford To Take On?
If you do elect to go to graduate school, Orman offers the following advice: "A helpful rule of thumb that can help you make a smart choice is for the student to keep total borrowing (undergrad and grad combined) to no more than the expected first-year salary," she wrote on her blog. "Impose that guardrail and you will be in good shape to pay off your school debt within 10 years after graduating."
For those who don't plan to pursue a graduate degree, determining your maximum borrow amount is even simpler.
"Restrict borrowing to only what a student can borrow from the federal government for an undergraduate degree," Orman wrote. "You will likely be able to pay off that debt in 10 years or so. That's because the federal student loan program imposes relatively low borrowing maximums for undergrads that basically work as great financial guardrails."
More From GOBankingRates