6 Tips for Paying Off Student Loan Debt While You're Still in School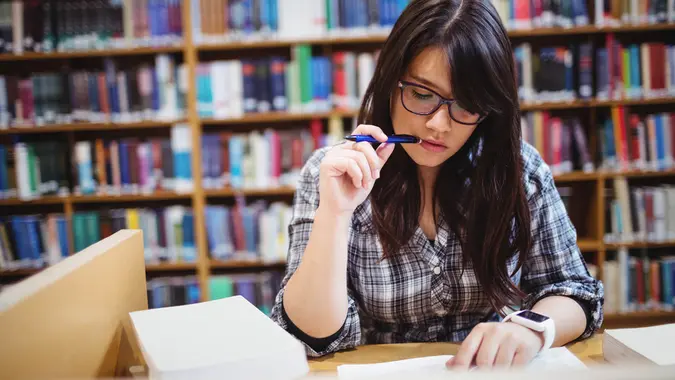 wavebreakmedia / Shutterstock.com
Do you have student loans to repay after you graduate? You're not the only one. Over 43 million Americans have student loan debt totaling $1.76 trillion in the U.S., according to the Education Data Initiative.
Cash App Borrow: How To Borrow Money on Cash App
Tips: 9 Bills You Should Never Put on Autopay
But in today's uneasy economy, you may be wondering how to start repaying your loans as fast as possible — even while still in college. GOBankingRates spoke with several financial experts to get their best advice for today's college students.
1. Understand Your Loan and Repayment Options
Taylor Westergard, financial coach and founder of Evolving Money, encourages students to do their research before committing to a loan.
"Avoid private loans at all costs," she said. "They're not nearly as flexible with the repayment options as government direct loans and can cost significantly more. This might mean making an active effort in applying for the thousands of scholarships and grants out there, finding a more affordable school, working while in school to pay tuition, and so on."
You can see how much and what type of federal direct loans you qualify for by filling out a FAFSA form.
Denise Thomas, a TEDx speaker and CEO of Get Ahead of the Class, warns against choosing a loan with a variable interest rate, which could rise later if the market shifts. Instead, choose a fixed interest rate.
"Don't get a 15-year or 20-year loan or an income-based repayment loan," she said. "These loan terms are designed to keep you in debt! Sure, it looks good and feels good to have a smaller monthly payment, but when you do the math, you may be paying back double what you took out in student loans."
POLL: Are You Concerned That Social Security Benefits Will Be Reduced During Your Lifetime?
2. Keep Your Debt Below Your Expected Post-Graduation Salary
Westergard recommends that people view student loans as an investment and never take on more debt than they'll earn with an entry-level salary in their chosen career field.
"Going to school doesn't guarantee a great job or a great salary anymore," Westergard said. "You need to do your due diligence to be sure that the investment in your degree is actually worth the amount of money you will be earning after school."
3. Get a Part-Time Job While in School
"Getting a part-time job while in school is one approach to control student debt," said Sarah Ross, a financial advisor and founder of CocoLoan. "You may utilize the money to pay down your balance. Say you can save $500 a month working part time. In a year, that's $6,000 for debt repayment. You can earn up to $7,040 a year without losing need-based help."
Thomas suggests looking for jobs that can work around your schedule, such as babysitting, tutoring or offering music lessons.
4. Learn To Live Below Your Means and Stick To a Budget
Doug Carey, founder of financial planning software company WealthTrace, said it's crucial that students start living below their income even before they graduate.
"This involves creating and sticking to a budget," he said. "If you don't know what you're spending your money on, it's much harder to decrease spending in order to pay down debt and make ends meet."
Students should pay extra attention to seemingly small expenses that build up quickly, Thomas said, "Be cautious and deliberate about how you spend your money. Set a goal to have pizza out with friends once per month, not weekly. Same for going out drinking. Alcohol is very expensive when you go out. Limit how much you will spend."
5. Avoid the Desire To Fit in When It Comes to Money
It's normal to want to spend money the way you see your peers spending it. But staying focused on your financial goals and knowing you have nothing to prove can make saving much easier.
"Be careful of 'keeping up with the Joneses,'" Thomas said. "It's very common to want to go out when your friends go out, to shop where they shop. But either their parents are covering the bill or they're in for a rude awakening. Don't let that be you. Instead, be the one who says, 'Sorry, I have to study.'"
6. Build Up an Emergency Fund While in School
Student loans carry a certain amount of risk. After all, if you don't find a job quickly enough after graduation, you may find yourself having to start making debt payments anyway. It's wise to save money while still in college so that, if an emergency arises, you can still make your payments.
"Start budgeting and saving while you are in school," Westergard said. "If your student loans are interest free while in school, start saving so that you are prepared with an emergency fund when you graduate."
More From GOBankingRates