Student Loan Forgiveness: Women Will Be Most Affected As US Supreme Court Strikes Down Biden's Plan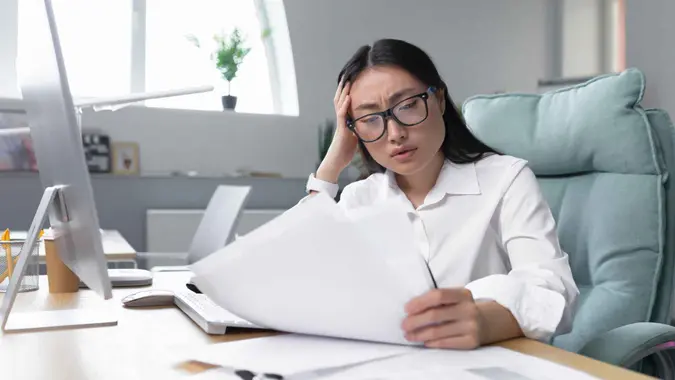 Liubomyr Vorona / Getty Images/iStockphoto
The fate of President Joe Biden's federal student loan forgiveness plan has been decided. The U.S. Supreme Court, via a 6-3 decision, denied Biden's plan on legal merits. Most experts had expected the court to rule against the plan, which aimed to cancel up to $20,000 per borrower. Given that the plan has been defeated, borrowers will soon have to repay their loans in full after a payment pause that first went into effect in March 2020.
Although millions of Americans with student debt are affected by the SCOTUS decision, it will have an outsized impact on female borrowers. Women held nearly two-thirds of the country's $1.54 trillion in student debt as of 2021, according to research from the American Association of University Women (AAUW).
Women earning a bachelor's degree graduate owe an average of $2,700 more than their male peers, the research found, while student debt is the second-highest source of household debt for women after housing.
In addition, it takes women about two years longer than men to repay student loans. That's partly because women typically owe more than men. It's also partly because "from the moment women graduate from college," most face a gender pay gap that compounds as they age, according to the AAUW. As a result, women often put off saving for retirement, buying a home or starting a business.
"That's a pretty substantial amount of money that women are taking on in many cases to just sort of achieve what men don't even need to have a degree to achieve," AAUW CEO Gloria L. Blackwell told Time.
Among the other findings from the AAUW's 2021 Deeper in Debt report:
Women hold an average of $31,276 in student debt, leaving them with a monthly loan payment of $307 the year after graduation. Because women graduating with a bachelor's degree expect to earn an average of $35,338 a year — 81% of what men anticipate earning — meeting that loan obligation is "challenging at best."
One year after college, women spend an average of $920 per month on housing, $396 per month on a car loan and, for the 16% of women who are mothers, $520 on child care. Adding in that $307 student loan payment "makes it difficult — if not downright impossible — to make ends meet."
The problem is even more challenging for Black women borrowers, who owe an average of $37,558.
As Time reported, the gender wage gap has remained fairly stable in the United States over the past couple of decades, with women earning an average of 82% of what men earn. Black women earn less, at roughly 63 cents for every dollar earned by non-Hispanic white men. Hispanic and Native American women fare even worse, according to U.S. Department of Labor data.
Given these disparities, it's easy to see why loan forgiveness might have taken on greater importance for women than men.
"Women are still required to have higher credentials to really pursue their careers and to seek out the same opportunities that men have, and so that means that they are going to school, not just for undergraduate degrees, but for graduate degrees as well," Blackwell said.
Even as the Supreme Court strikes down Biden's forgiveness plan, there are ways to address the student debt crisis for both women and men. The AAUW supports legislation that would make college more affordable for all students and help millions of borrowers across the country pay off their student debt. Among its recommendations:
Protect and expand Pell Grants for low-income students to reduce the amount of student loan debt they have to take on to complete a degree.
Pass laws, such as the Paycheck Fairness Act, to eliminate the gender pay gap, .
Increase funding for public colleges and universities and support efforts to move toward tuition- and debt-free options for students.
More From GOBankingRates
This headline and story have been updated with additional information.