You Don't Qualify for Student Loan Forgiveness: Now What?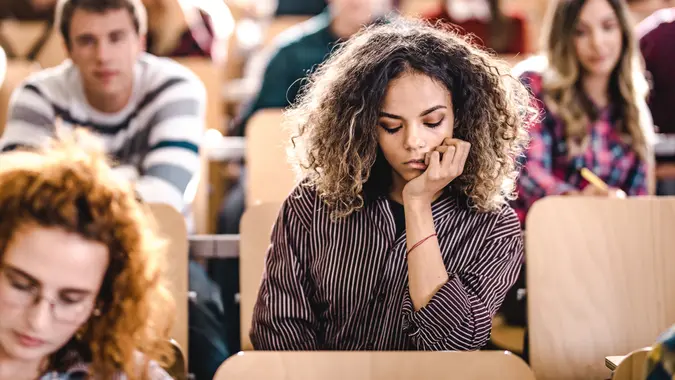 skynesher / Getty Images
On Aug. 24, the Biden administration announced the Student Debt Relief Plan, a one-time assistance program for low- and middle-income families earning up to $125,000 for individuals or $250,000 for couples. The program erases up to $10,000 in federal student loan debt and up to $20,000 for Pell Grant recipients.
The Future of Finances: Gen Z & How They Relate to Money
Watch Out: 25 Sneaky Car Dealership Tricks To Avoid at All Costs
On Oct. 11, the administration unveiled the program's application, a simple web form that is set to go live online any day. It requires applicants only to self-certify that they meet the eligibility requirements. Inevitably, some borrowers will be getting bad news.
"Student loan forgiveness can significantly impact your financial life and give you a fresh start," said Kami Hsueh, a certified student loan repayment counselor and board advisor at Fiona.com. "Unfortunately, not everyone is eligible. Realizing you don't qualify for student loan forgiveness could leave you devastated and unsure of what to do. However, student loan forgiveness is just one among many options. So, if it fails, it is time to consider other options."
Appeal the Decision and Explore Your Options
If your application is rejected, don't panic — that's not necessarily the end of it.
"Most people do not know they can appeal the denial, which is a less discussed topic," Hsueh said. "You can submit a complaint through the FSA feedback system, citing your reasons for complaining or proving you qualify. While it will take time for the investigation to be conducted and concluded, you could stand a chance of getting accepted."
While you're waiting for the results of your appeal, check with Federal Student Aid to see if you qualify for other relief initiatives including:
Public service loan forgiveness
Teacher loan forgiveness
Closed school discharge
Perkins Loan cancellation or discharge
Total and permanent disability discharge
Unpaid refund discharge
Take Our Poll: Do You Believe in Quiet Quitting?
Your Boss Has Every Incentive To Help — Ask About Assistance as a Benefit
Your employer might offer student loan assistance as an employee benefit — or might be willing to consider it if you ask.
"A strategy that borrowers often overlook is to ask their current employer to assist with student loan debt repayment or to seek a new employer who will," said Patricia Roberts, chief operating officer at Gift of College. "Given the number of employees who are changing jobs and the employer cost that is associated with employee turnover, more and more employers are recognizing the need to offer student loan assistance as a financial wellness benefit to stand out in a competitive environment to attract and retain talented individuals."
Roberts cited the CARES Act — which allowed employers to offer their workers up to $5,250 annually in tax-exempt student loan repayment assistance — and the Consolidated Appropriations Act, which extended the initiative through 2025.
Some employers might not know that Internal Revenue Code Section 127 allows them to take a $5,250 tax deduction for offering student loan repayment assistance — and they might jump at the chance to add a unique and enticing perk to their benefits package.
"Those who are currently employed should ask their employers whether they are aware of and willing to offer this benefit," Roberts said. "Those who are currently looking for jobs should seek prospective employers who have such a benefit in place. With many employers unaware of their ability to offer tax-free student loan repayment assistance, an employee who asks about it may be greatly appreciated for bringing this timely development to the employer's attention."
Work With Your Lender
If your boss isn't receptive to the idea, your lender certainly doesn't want you to go into default and will probably be willing to work with you if you're struggling to keep up with payments.
"Get in touch with your lender and work out a repayment plan that works for you," Hsueh said. "Fortunately, there are different plans — e.g., the income-based repayment plan or the Pay As You Earn plan — which you can use to repay your student loan for federal student loans. If you took a private student loan, these options might not apply to you. However, you can still contact your lender and discuss payment plans that can work for you depending on your financial situation."
Revise Your Holiday Wish List
With the holidays approaching, you could always ask friends and family to skip traditional gifts and contribute a comparable amount to your loan debt, instead.
"Rather than the well-intentioned shirt that doesn't fit or another gift that may just add to the clutter in one's home, a contribution of an equal amount toward outstanding student loan debt can help reduce the borrower's stress level and the amount owed," said Roberts, whose own college debt crowdfunding platform lets borrowers set up gift-based fund drives. "It's an easy gift to give and receive, and one that helps to improve the well-being of the recipient. Friends and family may actually welcome the opportunity to save time shopping for just the right gift and instead help in such a meaningful way."
Whatever You Do, Don't Assume You Don't Qualify
If you have federal student debt, you should apply whether you think you meet the qualifications or not.
"There really hasn't been a final determination on eligibility for the one-time forgiveness program," said Michael Lux, debt attorney and founder of Student Loan Sherpa. "Right now, the Biden Administration is focused on beating the lawsuits challenging the program. The rules are in flux, and bad news today may not be permanent. Borrowers should apply right away when the form becomes available, even if they don't think their loans are eligible. A rejection one day could be a future approval if there is a rule change."
More From GOBankingRates