These Are the 5 Best Cities for Mom Entrepreneurs, Study Finds
See where mompreneurs might have a better chance at success.
Being an entrepreneur can be challenging — especially if you're a mom and you have to balance the needs of your family and your business. However, you might face fewer hurdles toward successful entrepreneurship depending on where you live.
A new GOBankingRates study found that certain cities might be better for moms who are starting a business. The study pinpointed the 10 best and 10 worst places for mom entrepreneurs based on the percentage of the workforce that encompasses female entrepreneurs, the rate of new entrepreneurs, the number of startups, survival rate of startups and the average cost of child care.
So if you're a mom thinking about starting a business, you might have a greater chance of success if you're in one of the top 10 cities for women entrepreneurs.
Here are the top five cities for mompreneurs:
1. Miami
2. Atlanta
3. Austin, Texas
4. Tampa, Fla.
5. Portland, Ore.
It might come as a surprise that most of the 10 best cities to start a business as a working mom are in the South. In fact, two of the top five are in Florida, including the No. 1 city: Miami. These cities have higher rates of female entrepreneurs, more favorable conditions for entrepreneurs in general and, perhaps most importantly, more affordable child care.
The study found that the worst cities for mompreneurs primarily are in the Northeast and Midwest. Two California cities made the list: Sacramento and San Jose. What the worst cities have in common is a low percentage of female entrepreneurs — less than 1 percent of the workforce. In most of the worst cities, child care also is significantly more expensive than in the best cities.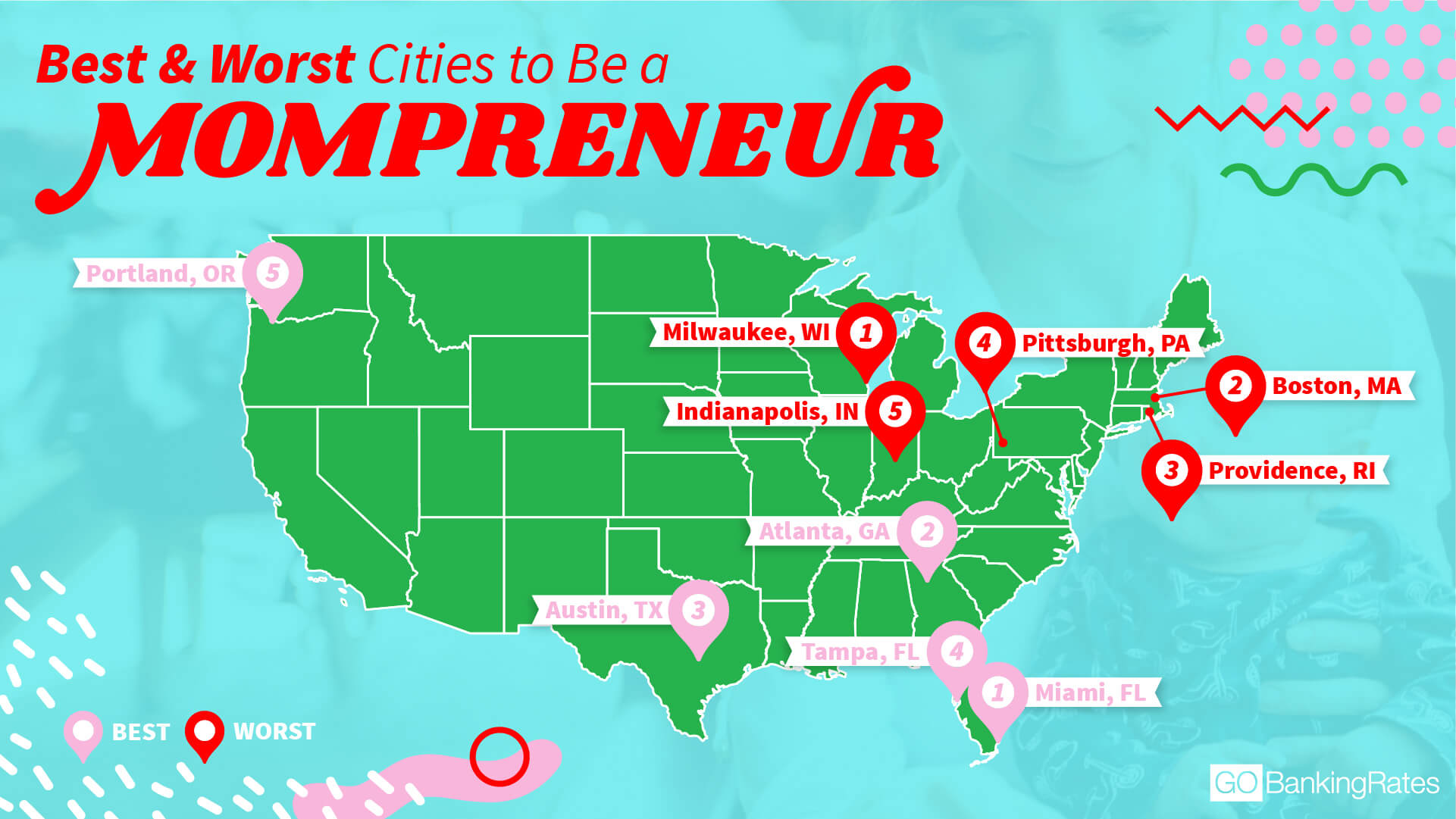 Here are the 10 best cities for mompreneurs:
1. Miami
2. Atlanta
3. Austin, Texas
4. Tampa, Fla.
5. Portland, Ore.
6. Los Angeles
7. Charlotte, N.C.
8. Orlando, Fla.
9. Denver
10. Dallas
Here are the 10 worst cities for mompreneurs:
1. Milwaukee
2. Boston
3. Providence, R.I.
4. Pittsburgh
5. Indianapolis
6. Philadelphia
7. Sacramento, Calif.
8. Cleveland
9. Detroit
10. San Jose, Calif.
Click through to find out the best and worst states to start a business.
Methodology: GOBankingRates determined the best and worst cities for mompreneurs based on five factors: (1) percentage of total civilian workforce accounted for by female entrepreneurs, sourced from the Census Bureau's 2016 American Community Survey and weighted double; (2) the rate of new entrepreneurs, which measures the percentage of adults who became entrepreneurs in a given month; (3) startup density, which is the number of startup firms per 1,000 firms; (4) survival rate, which is the percentage of firms that remained in operation through their first five years (the latter three entrepreneurial factors were sourced from the Kauffman Index and weighted normally); (5) state average cost of child care, based on the annual cost of a child-care center for an infant and 4-year-old, sourced from Child Care Aware of America's 2017 annual report. This factor was weighted 1½ times because of its pertinence to mothers, but not double because it was state level.