Here's What Employees Say They'll Do to Double Their Salary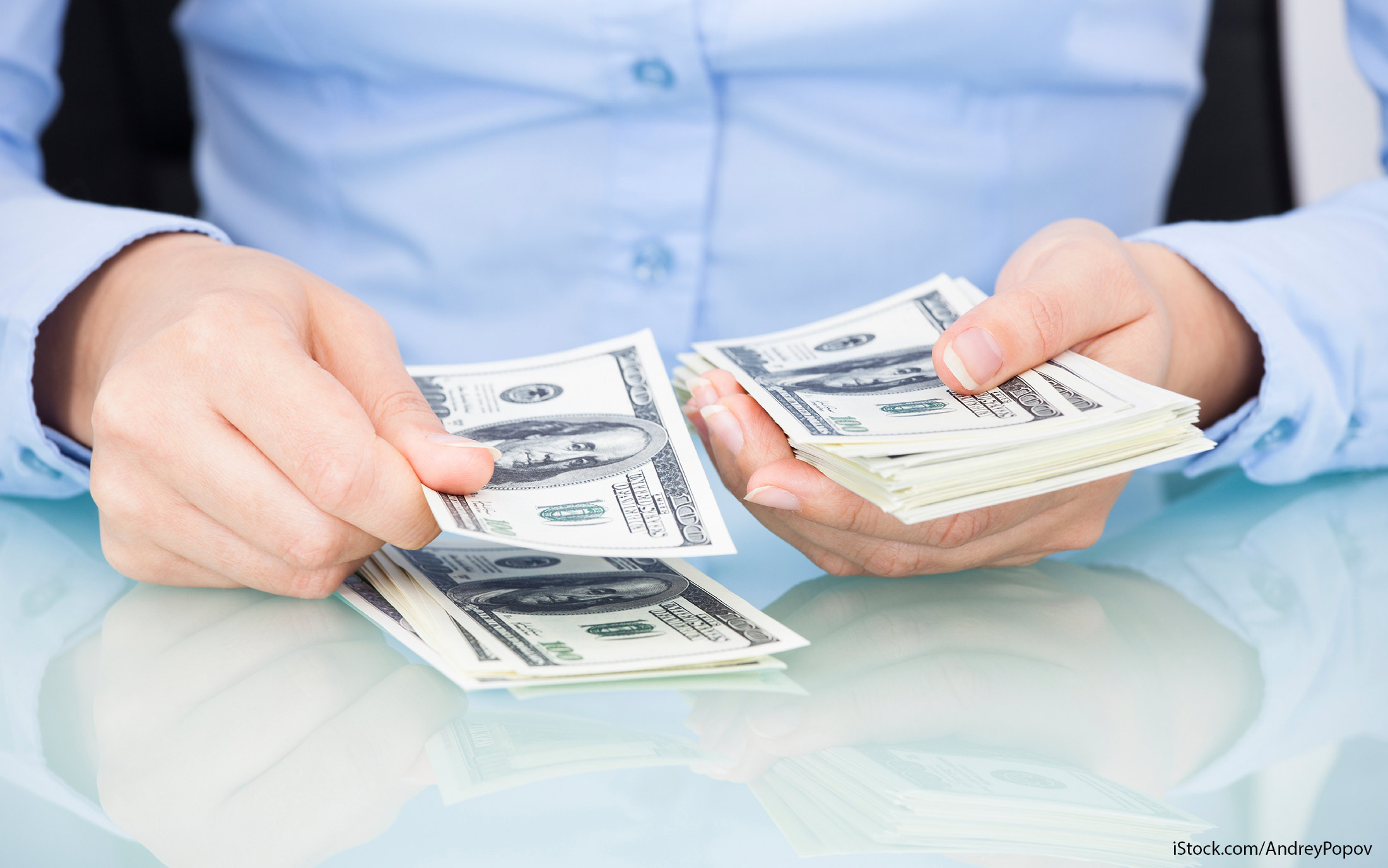 Paychecks in the U.S. haven't been rising much. The average wage growth over the past two years has been just 2.25 percent — versus an average 3.25 percent growth rate from 1983 to 2015, according to the Federal Reserve Bank of San Francisco.
Although you might be frustrated because your pay hasn't increased recently, remember that your salary shouldn't make up your total compensation. Benefits — such as access to a workplace retirement account or health insurance — also play a big role. However, only 30 percent of American workers are somewhat satisfied with the benefits offered by their employer, and 20 percent aren't satisfied, according to a 2015 survey released by the Employee Benefit Research Institute.
To find out what people are willing to do to get a bigger paycheck or better benefits, GOBankingRates surveyed 1,000 full- and part-time employees. The employees were asked six "would you rather" questions with two options to choose from for each:
What would you rather do to double your salary?
What would you rather do for a $100,000 bonus?
What would you rather do to receive unlimited paid time off (PTO)?
What would you rather do to receive a free Uber ride to and from work every day?
What would you rather do to always have four-day workweeks?
What would you rather do to have your employer pay your income taxes?
The findings show that some people are willing to go to the extremes to get more pay and benefits. Fortunately, there are better ways to boost both.

What Employees Would Do to Double Their Pay
Given the choice of being on call 24/7 for their boss or being on call 24/7 for businessman and 2016 Republican presidential candidate Donald Trump, 83 percent said they'd rather be available around the clock for their supervisor in order to double their salary. Although Trump might be doing well in the polls, only a minority of people are willing to be at the beckon call of the man who is famous for saying, "You're fired."
However, there are better ways to get a pay raise than being on call 24/7. For starters, you could try negotiating a higher salary. Many employees don't ask for a raise, but 75 percent of those who do get a bump in pay, according to Payscale's Salary Negotiation Guide.
To negotiate a pay raise, be ready with a list of your accomplishments that show why you're worth what you're asking for, said Barry Maher, a business consultant and author of "Filling the Glass."
"If you can assign a dollar value — how much the accomplishments on that list have earned or saved an organization money — so much the better," he said.
Or, you might be better off looking for a new employer who will pay you more. Forbes reported in 2014 that employees who stay with the same company for more than two years earn 50 percent less, on average, over their lifetime.

Related: 7 Reasons Your Boss Won't Give You a Raise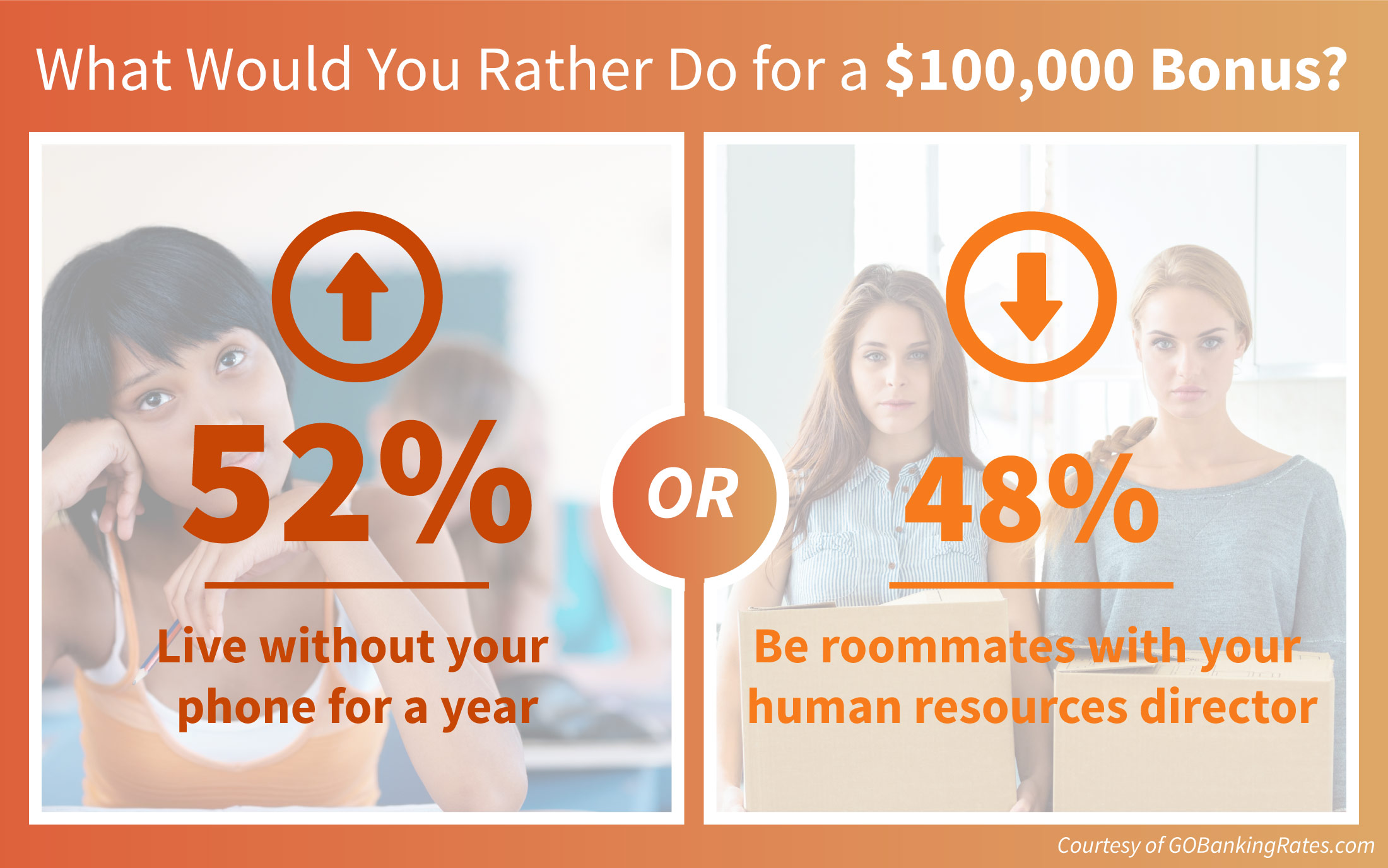 What Employees Would Do for a Big Bonus
To get a $100,000 bonus, more than half of those surveyed said they'd live without their phone for a year. However, 48 percent said they'd be roommates with their human resources director for a bonus that big. Younger workers ages 18 to 24 are much more willing to be roommates with their HR director than give up their phone — 69 percent versus 31 percent.
A 2015 survey by recruitment firm Accounting Principals found through a survey of human resource and hiring managers that the average year-end company bonus that year was expected to be $858. However, 21 percent planned to give employees bonuses of $1,000 or more.
According to the HR and hiring managers surveyed, employees can boost their chances of getting a bonus — or earning a bigger bonus — by staying motivated during the year, being positive and volunteering to take on new responsibilities.
What Employees Would Do for Unlimited Paid Time Off
Given the choice of a pay cut or a longer commute, more employees would choose the latter in order to get unlimited paid time off. Of those surveyed, 56 percent said they would rather have a two-hour commute to work each way for unlimited time off, versus 44 percent who said they'd be willing to take a 25 percent pay cut.
Considering how much commuting costs, spending more time getting to and from work could be the equivalent of a pay cut. A survey commissioned by Citi ThankYou Premier card found that the average commute is 45 minutes and costs $12 per day. A four-hour daily commute would be $64 a day and $320 a week. For someone who makes the *$830 median weekly earnings, that means they would only get to keep $510 of their weekly paycheck — which is equal to about a 39 percent pay cut.
However, many employees might already be taking a pay cut without realizing it because they aren't taking advantage of the paid time off their employers offer them. On average, American workers earn 21 days of paid time off each year but use only 77 percent of that time — giving up nearly five days of paid time off annually, reported Project: Time Off.
Also, plenty of job hunters overlook paid time off when evaluating an employment offer. A Fidelity Investments study found that only 27 percent of millennials consider paid time off when evaluating the total compensation of a job offer.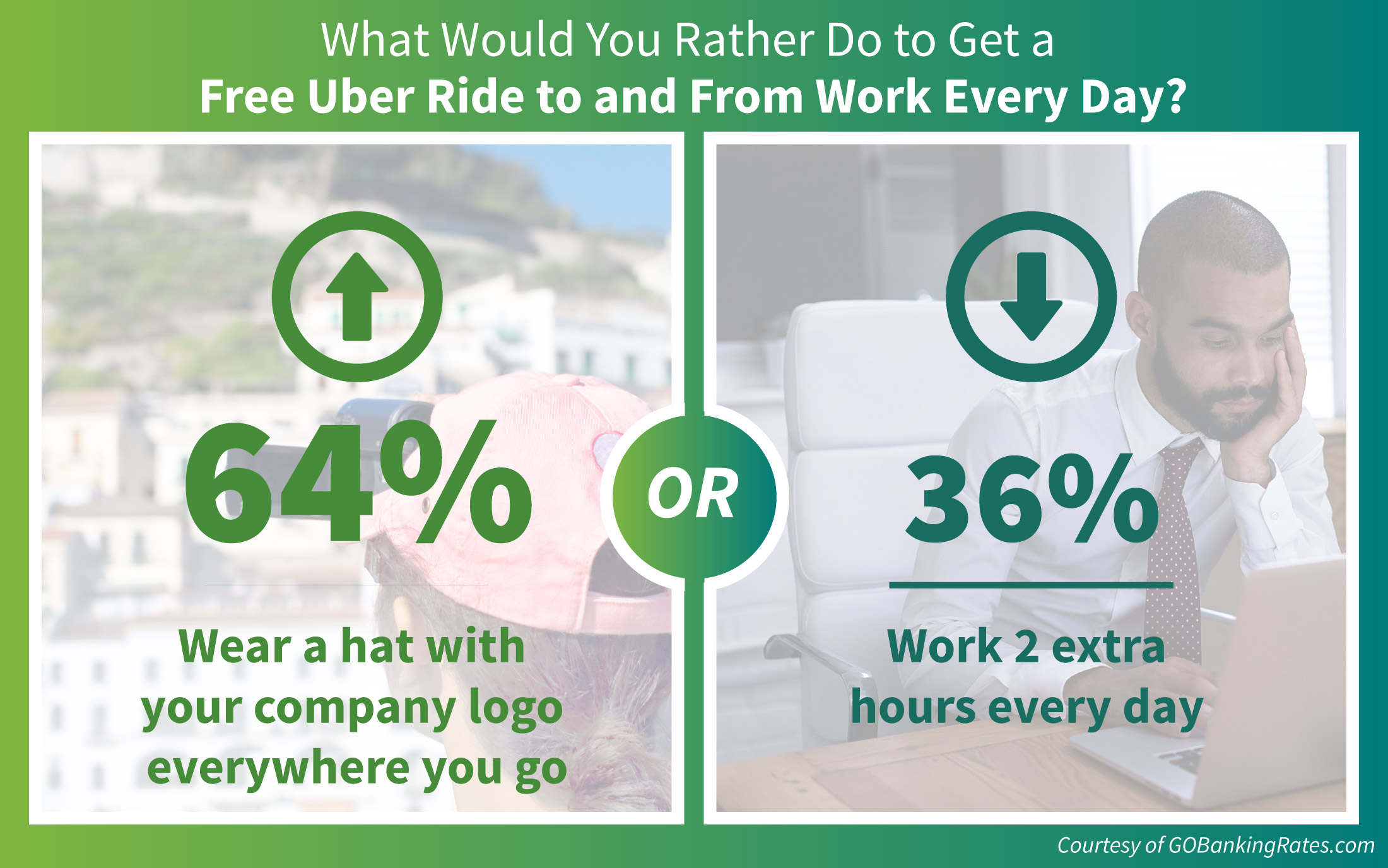 What Employees Would Do for a Free Ride to Work
Of those surveyed by GOBankingRates, 64 percent said they would wear a hat with their company logo everywhere they went to get a free Uber ride to and from work daily. And 36 percent said they would be willing to work two extra hours every day to get a free ride. However, men are more willing than women to wear a company hat — 71 percent versus 58 percent.
Even if your employer doesn't offer free rides to work, you might be able to cut transportation costs if your job offers a commuter benefits program. If you participate in your employer's commuter benefits program, you can set aside up to $255 from your paycheck each month — before taxes are deducted — to pay for public transportation or parking, reports the New York Times.
Check to see if your employer offers this benefit because it could help you save a lot on taxes. For example, if you earn $50,000 and your monthly transit cost happens to be $255, you could save $765 a year, according to the tool on CommuterBenefits.com.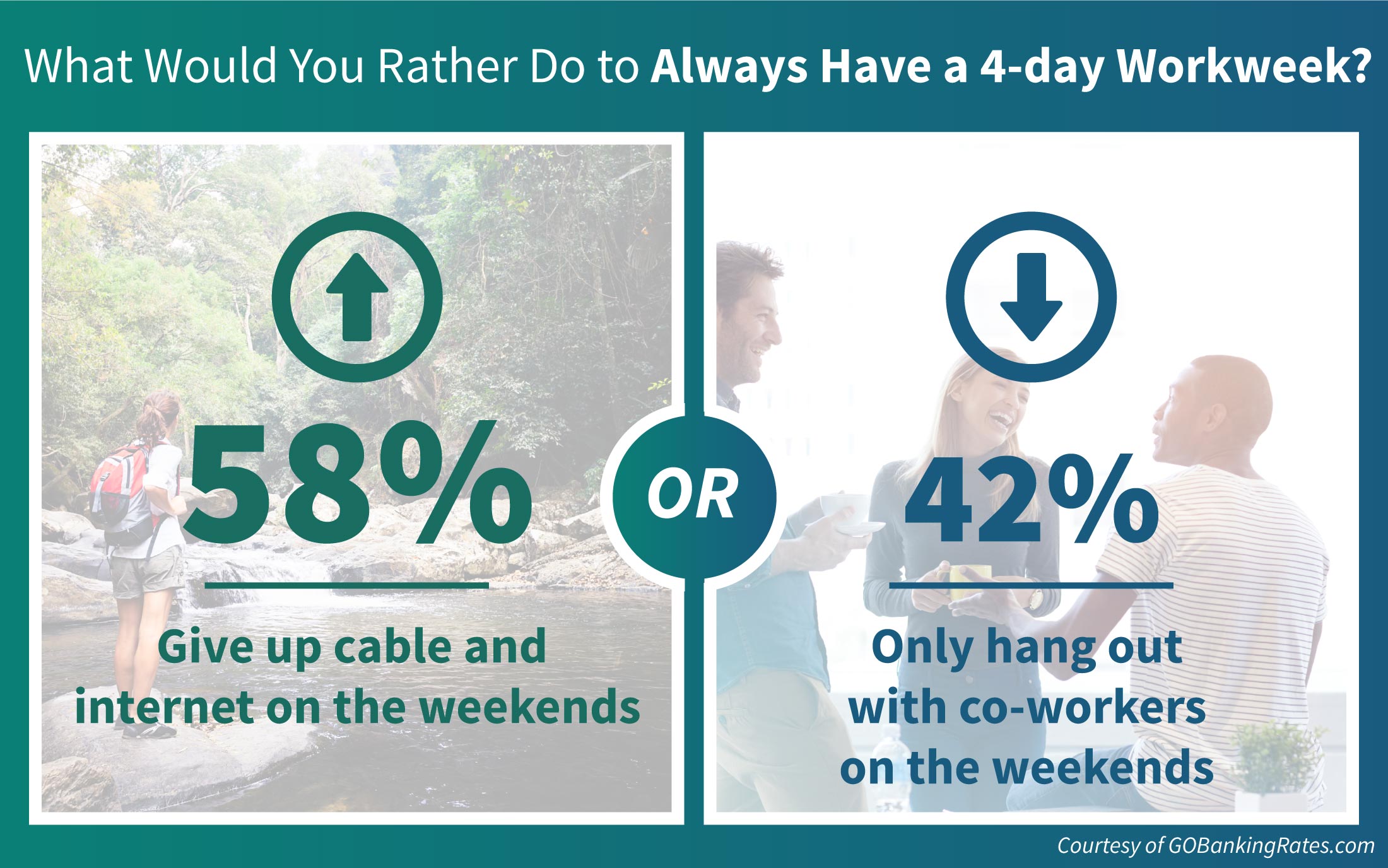 What Employees Would Do for a 4-Day Workweek
More employees surveyed by GOBankingRates said they'd rather give up cable and internet on the weekends than only hang out with co-workers to shorten their workweek to just four days.
Time — such as time in a flexible schedule or more days off — is usually the most popular benefit job seekers want, said Katie Donovan, founder of Equal Pay Negotiations.
Perhaps it's because people want a better work-life balance. Fidelity Investments' Evaluate a Job Offer survey found that millennials were willing to take a $7,600 pay cut, on average, for an improved "quality of work life," such as a better work-life balance. However, achieving that balance doesn't have to come at the expense of your salary.
"Getting educated about the total compensation and benefits package of an offer can enable job seekers to evaluate the potential trade-offs between two jobs and make an informed decision that could give them the best of both worlds," said Kristen Robinson, senior vice president of women & young investors at Fidelity Investments, in a press release.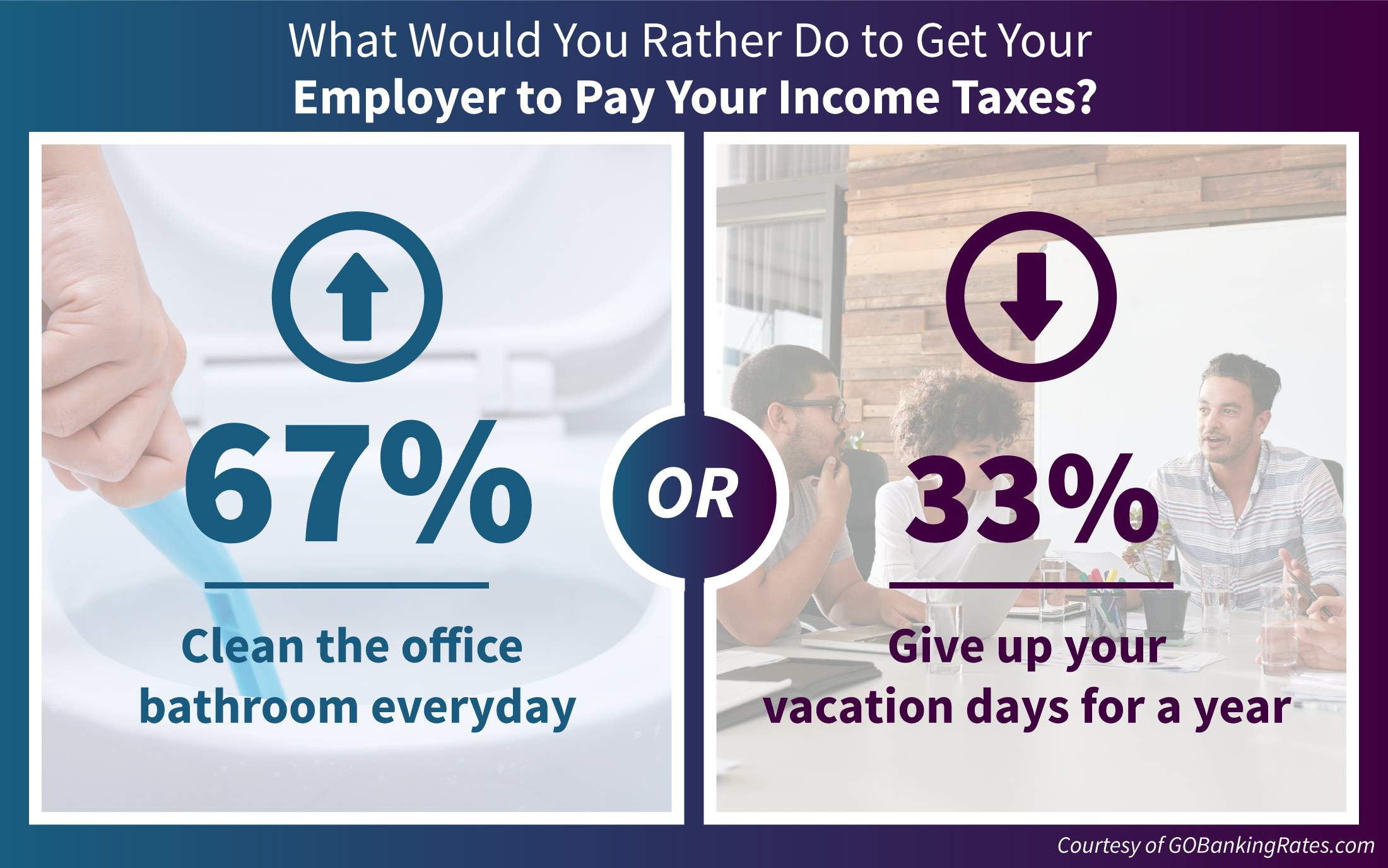 What Employees Would Do to Get Employers to Pay Their Taxes
Taxes can take a big bite out of your paycheck — up to 39.6 percent if you're in the top income-tax bracket. To get their employer to cover their tax bill, 67 percent of those surveyed by GOBankingRates said they'd be willing to clean the office bathroom daily. And 33 percent are willing to give up their vacation days for a year.
If your employer offers paid vacation leave, that would be a big benefit to bypass to avoid taxes. Each day of paid time off that isn't taken is worth, on average, $504, according to Project: Time Off.
Employees also need to keep in mind that employers do cover part of their tax bill. You and your employer each pay a 6.2 percent Social Security tax on up to $118,500 of your earnings and a 1.45 percent Medicare tax on all earnings. But if you were self-employed, you'd have to pay the full 12.4 percent Social Security tax and 2.9 percent Medicare tax.
There are other ways to lower your tax bill by taking advantage of workplace benefits such as a retirement account and flexible spending account. Employees typically can make contributions to these accounts with pre-tax dollars, which lowers their taxable income.
Although you likely won't ever have to decide whether it's worth being on call 24/7 for Donald Trump to get a raise or moving in with your HR director to get a bonus, you should ask yourself what you value most when evaluating a job offer. Although pay is important, it shouldn't be your sole consideration. Make sure to factor in the value of benefits as part of your total compensation. You might find that a job that pays a little less but offers great benefits is better for your bottom line.
Methodology: Using the online survey resource Survata, GOBankingRates.com surveyed people from April 21, 2016, to April 22, 2016. The margin of error for this survey was 3.1%. In the survey, each respondent was asked a screening question: "What is your current employment situation?" Respondents then had the following answer choices: i) I am employed full time or part time, ii) I am unemployed and iii) I work for myself. The only passing answer choice was "I am employed full or part time."
The 1,000 respondents who passed the screening question were then asked a series of six "Would You Rather"-style questions with two answers to choose from each. The six questions were: 1) What would you rather do to double your salary? 2) What would you rather do for a $100,000 bonus? 3) What would you rather do to receive unlimited paid time off? 4) What would you rather do to receive a free Uber ride to and from work every day? 5) What would you rather do to always have a four-day workweek? and 6) What would you rather do to have your employer pay your income taxes? 
*According to the Usual Weekly Earnings of Wage and Salary Workers for First Quarter 2016 by the Bureau of Labor Statistics