Ranked: The 20 Highest-Paying Jobs at Apple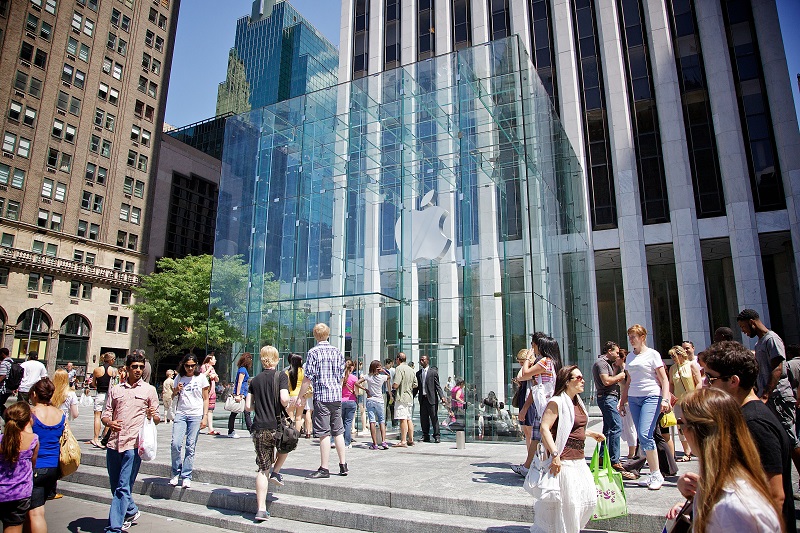 Apple is one of the biggest businesses in the world and it employs more than 92,000 workers across the globe, according to Statista data. It is also one of the world's most innovative companies, so it's no surprise the bulk of Apple's employees are engineers who are taking home some pretty large paychecks.
But it takes a village to keep this tech empire running and in addition to engineers, there are several other talented Apple employees who are also compensated handsomely for their contributions. Using anonymous annual salary data from Glassdoor, we've rounded up a list of the top-paying jobs at Apple.
Related: 5 Reasons You're Still Living Paycheck to Paycheck
The 20 Highest-Paid Titles at Apple
1. Senior Director: $278,628
A senior director is typically someone who works just under a vice president. Apple has several areas of business, all of which must employ senior directors to keep everything on track. This is one of the highest-paying jobs someone can land at the company.
2. Software Engineering Director: $228,209
The software engineering director at a company like Apple would probably be in charge of the technical, administrative and strategic direction of the product engineering group. This person likely oversees complex software development projects and typically reports to the vice president of software engineering.
3. Senior Counsel: $218,746
Senior counsel usually advises the company on legal matters like licensing issues, intellectual property and contracts law. These in-house legal experts must not only have experience with those issues, but they must also be familiar with the technical aspects of software development and programming.
4. Senior Engineering Manager: $196,036
Software companies hire senior engineering managers to lead and manage teams of skilled software engineers. A senior engineering manager's job includes planning, development and maintenance to meet product delivery deadlines.
5. Industrial Designer: $179,839
An industrial designer develops the concepts for products like cars, electronics, appliances and toys. It's a combination of art, business and engineering, which Apple has undoubtedly mastered.
6. Engineering Manager: $174,813
Engineering managers are similar to senior engineering managers, but they usually have less experience and may manage smaller teams of engineers. They also work on the planning, development and maintenance to meet product delivery deadlines.
7. Software Engineer V: $172,606
Software engineers create and develop Apple's operating systems and applications, and the V indicates a senior position with superior skills and experience. They also analyze data and deliver critical components of Apple's software products.
8. Senior Product Manager: $171,899
Senior product managers have to balance building technically-challenging products with managing the various teams who are going to design and build those products. This is a very data-heavy role in a faced-paced work environment.
Read: 5 Things You Need to Know About the Apple Watch
9. Senior Product Marketing Manager: $168,112
Senior product marketing managers must be able to work across teams like operations, finance and public relations to market products to customers from around the world. They must also be experts in technology, consumer and societal trends in order to know how these products can meet consumer demand.
10. Applications Software Engineer V: 167,469
Applications software engineers build and perfect the next generations of apps, and as some of the most skilled engineers they earn a high salary and a senior designation (the V after the title). They use technology to create the beautiful, high-performing applications for which Apple is so well known.
11. Software Development Manager: $166,618
A software development manager at Apple works with a team to build innovative services and applications. Those holding this position lead larger technical teams and have a hands-on role in in the design and development of applications.
12. Architect: $163,483
Apple's "architects" are engineers that build new software and hardware for the company. It's an extremely creative role and these workers must demonstrate excellent collaboration skills and the ability to think outside the box.
13. Software Engineering Manager: $160,423
Software engineering managers lead teams of other engineers to use data to build systems. They need experience with multiple programming and workflow technologies and the ability to coordinate between them.
14. Senior Engineering Program Manager: $160,076
This is a very high-profile role that is required to lead teams of engineers to launch new products. Senior engineering program managers must be able to make action plans based off technical discussions and have strong multi-tasking and crisis management skills.
15. Lead Camera Module Design Engineer: $159,333
This person researches, designs, develops and tests the camera hardware on all Apple products. Engineers in this role must have mechanical design experience and strong knowledge of data analysis and statistics.
16. Senior Engineering Project Manager: $158,538
This person manages the software development process and coordinates all details and processes on a given project across multiple teams. As one Apple job listing stated, "We are looking for an individual who is a force of nature."
17. Hardware Engineering Manager: $157,698
Hardware engineering managers lead teams that make sure Apple's hardware some of the best of the world. From the new MacBook to iPad minis to the new Apple Watch, Apple has some of the most innovative hardware in the world and these workers are hired to keep it that way.
Apple's New Online TV Service Gives Cable Providers a Run for Their Money
18. Information Systems Manager: $157,062
Information systems managers can also be called IT managers or IT project managers and direct computer-related activities in an organization. They help identify the information technology needs and goals of a company and then develop computer systems to accomplish them.
19. CAD Sculptor/Digital 3D Modeler: $156,003
This position utilizes software to create high-quality representations of Apple's designs. These models are used to present new conceptual designs to the executive management team, as well as validate and pretest designs before they are put into production.
20. Engineering Manager I: $155,785
Engineering managers help lead the efforts to test frameworks of Apple applications. This person must have exceptional problem-solving and leadership skills.
Photo: Aurelien Guichard