Could You Afford to Live Like Paris Hilton?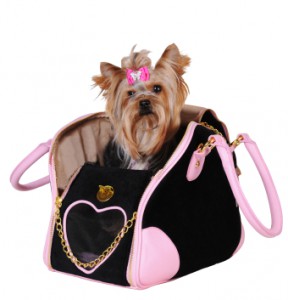 Socialite, heiress, actress, singer, fashion designer, media starlet: Paris Hilton certainly keeps herself busy. Whether she's on vacation in the Caribbean, working on her newest perfume line or doing another photo shoot, Paris is always on the move.
The 29 year old originally stood to inherit over $100 million from her grandfather, but after he earmarked 97 percent of his wealth to go to charity after his death, Paris stands to inherit  a measly $5 million.
Not surprisingly, that won't be a problem for the socialite who is "famous for being famous." Between 2006 and 2007, Paris made approximately $22 million in income. Although the star of The Simple Life only has her GED, she has managed to keep her income high by doing photo shoots, making her own albums, starting her own fashion lines and fragrances and making money off of her promotions, like the recent hair extension scandal.
Now, especially, Paris stands to rake in even more dough. On the tail of the release of her 10th fragrance, Tease, Paris has announced she plans take on the real estate industry with her own line of hotels. After all, she's already conquered entertainment, right?
Despite setbacks like her 2007 jail stint, Paris has remained popular in Hollywood circles today, spending most of her nights partying with other celebs. To keep her fashion high and her parties fun, Paris manages to spend quite a bit of money.
Things look pretty good from her side of the fence, but could you afford to keep up with her lifestyle? How much would you have to accumulate in savings to live like Paris has for the past couple of weeks?
Let's look at Paris's Twitter feed to see how much she has spent so far this month: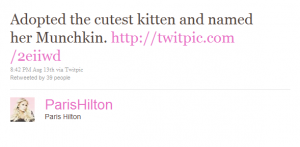 Adoption costs: $50 – $150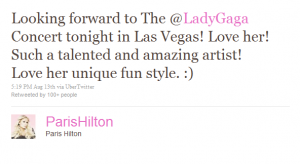 Lady Gaga ticket: $200 – $1000 depending on backstage privileges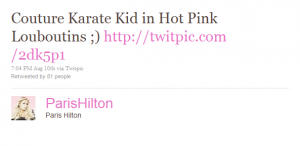 Louboutins: $700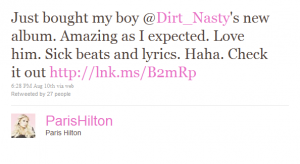 Dirt Nasty's album Nasty as I Want to Be: $16.99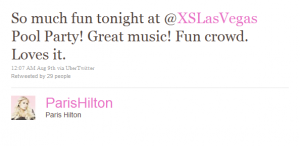 Flight to Vegas: $1,100 for first class
Partying at XS: approximately $1,000
Hotel expenses: $4,000 for two night stay at Hilton suite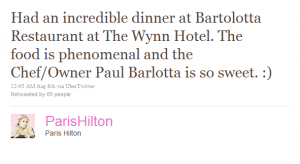 Bartolotta Ristorante di Mare: average of $35 per meal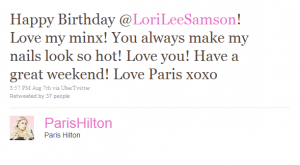 Nails by Lori Lee Samson: $95 for mani and pedi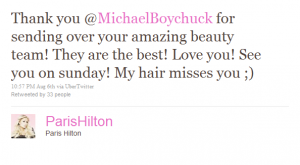 Hair and Makeup by Michael Boychuck: average of $50 for hair (but we can assume Paris is paying more for her platinum gold locks at approximately $200)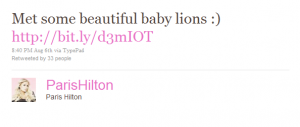 Trip to South Africa to see exotic animals: $20,000 for private flight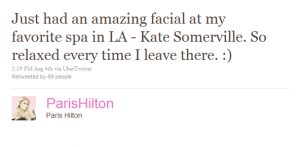 Facial at Kate Somerville: $200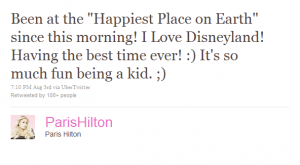 Day at Disneyland: $101 for a one-day ticket
Total expenses: $28,598 since the beginning of August
That sure is a lot of money. And that doesn't count the day-to-day living expenses Paris undoubtedly has.  If you want to live the Hilton life, better start saving now.
Do you think Paris spends too much or is she just taking her well-earned desserts after a hard day's work?