Why Most Olympic Athletes Aren't Rich Like LeBron James and Usain Bolt (Infographic)
There's fame and glory ... but what about money?
It's easy to understand why any athlete would aspire to be an Olympian. There's fame, glory…but what about money? Contrary to what many would assume, it does not pay to to be an Olympic athlete. In fact, participants in the Olympics aren't paid a cent to compete, and the only hope they have of earning and saving enough money to actually make a living from their respective sports is by winning medals and gaining sponsorships.
Unfortunately, as we've seen in the past, even gaining recognition as an Olympic gold medalist isn't enough to guarantee a golden future. The infographic below highlights the potential money available to only the most elite Olympic athletes — what a majority of the competition can only dream of earning.
(Click the image below to see full graphic)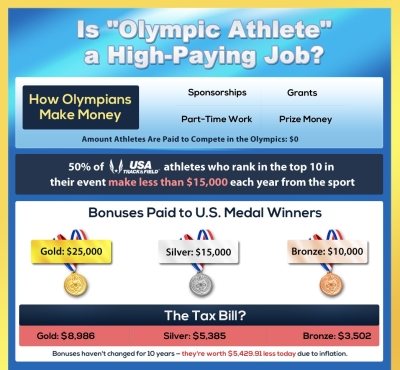 How Do Olympians Make Money?
Sponsorships
Grants
Part-Time Work
Prize Money
Bonuses Paid to U.S. Medal Winners
Gold: $25,000
Silver: $15,000
Bronze: $10,000
However, because bonus amounts have remained the same over the past decade, they're actually worth $5,429.91 less today due to inflation. Additionally, these bonuses are taxed at the highest possible rate:
Gold: $8,986
Silver: $5,385
Bronze: $3,502
Most Gold Medals Ever Won
Michael Phelps: 18 gold medals for a total of $450,000 in gold medal bonus money
Gold Medal Bonuses from Around the World
Italy: $182,000
Russia: $135,000
Ukraine: 100,000
Ghana: $20,000
Australia: $20,000
Great Britain: $0
Malaysia: Gold Bar Worth $600,000 (No one has won since 1956)
American Living the Dream Medal Fund: $250,000 to Any Wrestler Who Wins Gold
Olympics Revenue Sources
Broadcast: 47%
Sponsorship: 45%
Ticketing: 5%
Licensing: 3%
Revenue Distribution
External Committees & Organizations: 90%
International Olympic Committee: 10%
Athletes: 0%
Top 10 Highest Paid Olympic Athletes (Forbes.com)
10. Li Na: $18.4 million
9. Chris Paul: $19.2 million
8. Novak Djokovic: $19.8 million
7. Usain Bolt: $20.3 million
6. Carmelo Anthony: $22.9 million
5. Kevin Durant: $25.5 million
4. Maria Sharapova: $27.1 million
3. Kobe Bryant: $52.3 million
2. Lebron James: $53 million
1. Roger Federer: $54.3 million