13 Companies Like Zappos and Target That Pay Over Minimum Wage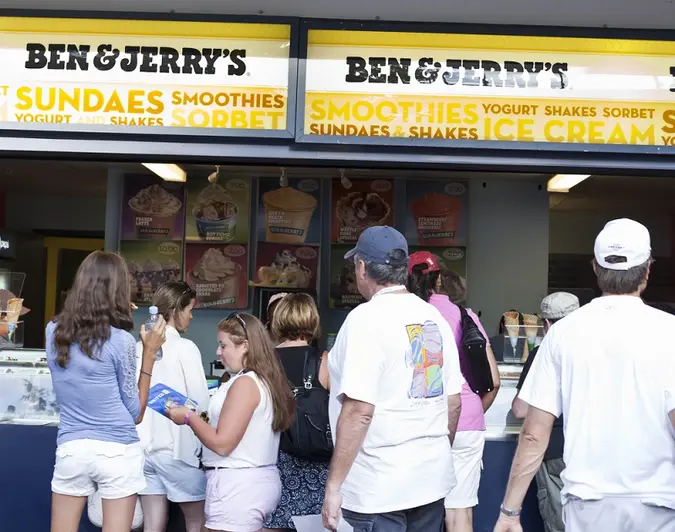 Millions of working-class Americans have yearned for a living wage that pays higher than the bare minimum. While last year's talks to raise the federal minimum wage — from $7.25 to $10.10 an hour — reached an impasse, changes on the state and local levels are beginning to materialize.
Last June, Seattle lawmakers agreed to increase their city's minimum wage to $15 an hour, and in Massachusetts, a plan to raise the  state's minimum wage to $11 an hour would make it the highest in the nation. Los Angeles looks to follow suit; a 14-1 city council vote last month will raise L.A.'s hourly rate from $9 to $15 by 2020.
From fast food to shopping, major retailers and businesses are taking note. If you're looking for employment, a second source of income, or just like to support brands who compensate their workers higher than average, these companies are some of the few that start their employees above federal minimum wage and minimum wages of the states they're headquartered in.
Read: 13 job tips for millennial college grads
1. Ben & Jerry's — $15.97/hour
Vermont's minimum wage will jump to $10.50 by 2018, according to The New York Times, but the state's most famous ice cream maker, Ben & Jerry's, tops that number by paying its entry-level workers a generous $15.97. Liz Torres writes on Monster.com that co-founder Ben Cohen is a strong advocate for raising the minimum wage. Other perks? "The benefits package includes three free pints of ice cream, frozen yogurt and sorbets every day," according to Michelle Coffey of the New York Post.
2. Moo Cluck Moo — $15/hour
Chick-fil-A, pay attention: Michigan-based fast food franchise Moo Cluck Moo pays its entry-level workers $15 per hour. When the increase began in October 2013, Moo Cluck Moo's base pay was $12 per hour, still higher than most competitors. With the pay hike, employees earn nearly double that of Michigan's state minimum wage ($8.15 as of this writing). The reason for the increase? "It just feels human to do it," noted co-owner Brian Parker in Upworthy.com.
Make Your Money Work Better for You
3. Zappos.com — $14.50/hour
With its lightning-fast shipping and flawless return policy, it's no wonder Las Vegas-based Zappos pays its employees well. The online apparel company, according to Fortune, pays its call center workers an average of $14.50 an hour, far above Nevada's $8.25 minimum for jobs without health benefits. Proof that better-paid workers are happier workers, Zappos is also a handful of companies on this list with a low employee turnover rate, according to Forbes.
4. Trader Joe's — $13.29/hour
The supermarket pays its employees an average $13.29 hourly wage according to Glassdoor, plus other benefits for part-timers usually reserved for full-time staffers. "The grocery store also provides free dental and vision care to all employees who work more than 15 hours per week," writes Byan Cronan in the Christian Science Monitor. According to Mary Mazzoni of Triple Pundit, Trader Joe's employees also can receive up to a $2 pay raise annually. Not bad when compared to a California state minimum wage tapped out at $9.
5. Costco — $11.50/hour
Employees of this Washington-headquarted wholesale warehouse megastore can aspire to great things and better pay. While the state minimum wage is $9.47, the starting salary at Costco is $11.50, according to Michelle Coffey of the New York Post, who cites a Bloomberg Businessweek story claiming that the average company employee earns $21 an hour. Costco ranked second in 2014 on Glassdoor.com's top 25 companies for compensation and benefits — the only company on this list to do so.
6. Whole Foods — $11/hour
Whole Foods has also seen its share of high rankings. Torres of Monster writes that the natural foods grocery chain has been on Fortune's list of 100 best companies to work for every year since 1988 (the list's inaugural year), and for good reason, since new employees can look forward to a $11 rate per hour, a wage that most entry-level employees of other companies can hope to earn after a few years on the job. (In Texas, where the chain is based, minimum wage is $7.25.) Workers also receive a 20 percent store discount, gym membership discounts, compressed workweeks, casual dress and stock purchase plan, notes Torres.
Make Your Money Work Better for You
Related: Avoid being underpaid by working in one of these cities
7. REI — $10.94/hour
While employees of outdoor and sporting goods retailer REI (Recreational Equipment Inc.) would be better suited to a rounded $11 per hour, at $10.94 and a host of other on-the-job perks, who's complaining? Nobody, it seems; according to Torres of Monster, a 2013 internal employee engagement survey revealed that 81 percent of REI's workers felt fully engaged in their roles, and 92 percent support the values which the Washington company stands for. Other benefits, according to Torres, include tuition reimbursement, an incentive plan and employee discounts of 50 percent on REI-branded gear and apparel, and more.
8. Ikea — $10.76/hour
In January, Swedish furniture store Ikea raised its employee minimum wage to $10.76, a 17-percent jump that's attached to a cost-of-living calculator. The pay raise takes into account reimbursing employees for several common expenses, like taxes, housing, food and transportation based on their individual store's location. "The company," writes Coffey, "also said it will not be raising prices as a result of the wage hikes."
9. In-N-Out Burger — $10.50/hour
In-N-Out 1, McDonald's zero. At $10.50, the classic California burger stop's minimum wage is higher than most employees of fast food chains will find, and one endorsed by U.S. Labor Secretary Thomas Perez. Quoted in Triple Pundit, Perez recently stated that In-N-Out's competitors should raise their wages: "I find it a remarkable notion that McDonald's can't afford to pay an increase in the minimum wage but In-N-Out Burger can," Perez said.
10. Aldi — $10.50/hour
German discount supermarket Aldi pays a higher-than-average minimum wage and places high value on its employees. Cashiers, according to Cronan of the Christian Science Monitor, are paid a minimum hourly salary of $10.50 — and, there's room for major growth if you're a college student. "Aldi also announced recently that it would begin hiring recent college graduates as district managers with an annual salary of $75,000 (plus a corporate credit card, company car, and paid gas for professional and personal use)," he writes.
Make Your Money Work Better for You
11. Gap — $10/hour
This month, Gap employees received their second $1-per-hour wage increase in two years, following the imperative of company co-founder Don Fisher to "do more than sell clothes," according to Torres of Monster. Since Fisher announced the rate hike last year to $10 an hour, San Francisco-based Gap has seen a huge spike in job applications, writes Emily Cohn of The Huffington Post.
12. Target — $9/hour
For the last month, Target employees have enjoyed a much-campaigned-for pay raise to $9 per hour, following recent wage boosts by Walmart, T.J. Maxx and other competitors, according to Claudia Koerner of BuzzFeed News. Koerner writes that the company's financial officers initially balked, but a campaign by women's rights group UltraViolet changed their mind, after the group's petition garnered more than 25,000 signatures. Based in Minnesota, Target's rate hike beats out the $8 state minimum wage for large companies.
13. Walmart — $9/hour
Walmart announced in February that its minimum wage will go to $9 in April, far above the $7.50 minimum in Arkansas, where the retailer based. The impact is both huge (it's America's largest private employer) and small (only a few thousand of its more than a million workers at the time earned the $7.25 federal minimum). In a blog posting, CEO Doug McMillion also announced "comprehensive changes to our hiring, training, compensation, and scheduling programs, as well as to our store structure." The changes — which involve fixed scheduling and increased promotional opportunities — were widely heralded as being more worker-friendly. And by Feb. 1, 2016, Walmart's minimum hits $10.
Photo credit: Lev Radin/Shutterstock