6 Alarming Facts About America's Water Industry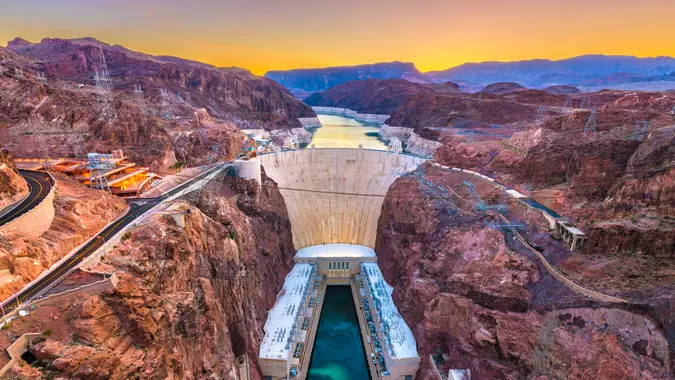 Sean Pavone / Getty Images/iStockphoto
America is one thirsty country. The U.S. consumes 322 billion gallons of water every single day, according to the U.S. Geological Survey. The most, 133 billion gallons, goes to thermoelectric power. Next is irrigation at 118 billion gallons a day. The last big category is the 39 billion gallons of water that go to personal consumption. That's the stuff that cooks the pasta and wets the washcloths and cleans the car tires and pours down the drains of millions of showers, sinks and toilets every second of every day. And the following is just one little drop in that great, big bucket. 
2021 Small Business Spotlight: Nominate Your Favorite Small Business and Share With Your Community
America Loves Bottled Water… the Earth, Not So Much
In the early 1990s, most bottled water came from small, regional companies. In the ensuing years, control of the market has become concentrated among just a few giant corporations. Today, No. 1 Aquafina and No. 2 Dasani each do more than $1 billion in sales. In February, Nestle sold its North American bottled water business — which includes Pure Life, Deer Park and Poland Spring — to a private equity company for $4.3 billion. That's a whole lot of bottled water — about 44 gallons per American per year — and a whole lot of plastic. 
Make Your Money Work Better for You
See: 30 Million Seniors Haven't Received Their Stimulus Check, According To Lawmakers
According to the Water Project:
It takes 3 liters of water to package 1 liter of bottled water.

1.5 million barrels of oil are needed to manufacture America's water bottles. That's much more oil than would be needed to power 100,000 homes for a year and that's just from bottle manufacturing — not moving the finished product to market.

It takes 1,000 years for water bottles to biodegrade.

America's landfills are home to 2 million tons of water bottles. 

Only about one water bottle in five is ever recycled. 
Read: India Proposes Ban on Bitcoin — and the US Could Be Next
For 1 Company, the Slow Poison of Plastic Wasn't Enough
As if whale and turtle stomachs filled with plastic bottle caps weren't sufficient, one water company decided to up its contribution to the world's waterways by adding arsenic to the equation. In 2020, the company with the cleanest and most refreshing name in bottled water marketing pleaded guilty to lying about the presence of the deadly poison in wastewater from its California plant. The Crystal Geyser Alpine Spring company agreed to pay $5 million as part of a settlement with the state.
Make Your Money Work Better for You
The Water Is Still Bad in Flint — and Much Worse Elsewhere
In 2019, five years after the people of the state-controlled city of Flint, Michigan, were mass-poisoned with lead through their own water supply, residents there still didn't have access to clean water — and they're hardly alone. In 2016, two years after the crisis, a Reuters report found at least 3,000 communities across America where lead contamination and poisoning levels were higher — much higher, in many cases — than in Flint.
More: Unplug These Appliances That Hike Up Your Electricity Bill
America's Water Infrastructure Is Old and Underfunded
The federal government's share of capital investment in water infrastructure dropped from 31% in 1977 to 4% in 2017. The states, at this point, are pretty much on their own. According to an August 2020 report from the American Society of Civil Engineers (ASCE) and Value of Water Campaign, America is more than $80 billion short of the capital spending needed to bring its water infrastructure up to standard. At this rate, it will be $136 billion short by 2039 and the annual cost of water and wastewater failures will be seven times higher by then.
Make Your Money Work Better for You
When the Colorado River Dies, the West Dies With It
About 40 million Americans in the West and Southwest rely on the Colorado River for drinking water, as do the region's massive agriculture and recreation industries. Water has been the most valuable commodity in the West since the time of the pioneers. It became a source of modern political power when the water of the Colorado River was divvied up among seven Western States in the 1920s — the Jack Nicholson movie "Chinatown" dramatized California's legendary water battles.
Read: The Items That You Should Continue To Stock Up On
Today, a rapidly shrinking Colorado River is forced to support relentless development in California and across the West — very thirsty development. The river lost 16% of its flow during the drought years that have dominated the 21st century, according to USA Today, and is on pace to lose one-fourth of its flow by 2050.
That simply won't leave enough water. 
A Civilization's Water Hangs in a Delicate Natural Balance
Already, the Colorado River almost never makes it to the sea anymore, thanks to an incredible spike in Western water demand over the last few decades. What was the river delta in Mexico is now a desert surrounding a little sliver of remaining wetlands.
See: 40 Cities That Could Be Poised For a Housing Crisis 
With temperatures rising in the West, much more of the river's water is lost to evaporation just as it's being asked to support an unsupportable population boom. At the same time, less snowfall reduces both mountain snowpack and the annual spring melts that replenish the river. With less snow to reflect sunlight back toward space, more of the sun's heat is absorbed, which raises temperatures even more and starts the cycle over again.
More From GOBankingRates
Last updated: March 29, 2021
Make Your Money Work Better for You