6 Metrics You Should Be Tracking as a Small-Business Owner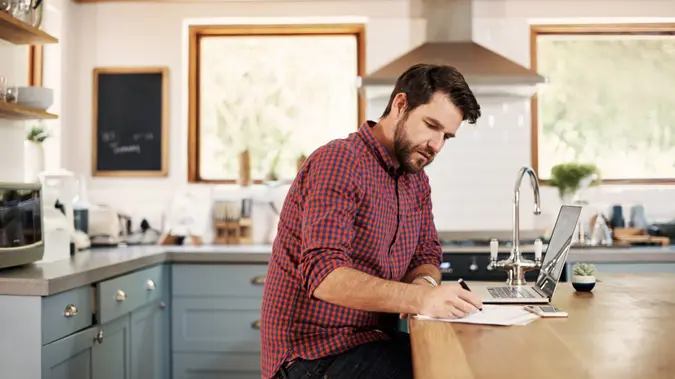 shapecharge / Getty Images
Most small-business owners begin their journey with nothing more than a dream and the will to work hard. But to manage a successful business, owners must track various financial metrics. Profit and loss and net worth are obvious starting points, but there are many more options that can give a business owner a more complete picture of how their business is actually doing. The not-as-obvious financial metrics listed below may not only point out areas where your business can improve but also give you a leg up on your competitors.
Check Out: 15 of Your Favorite Companies That Have Gone Out of Business
Find Out: 3 Money Moves Women Business Owners Should Be Making Right Now 
Cost of Acquiring New Customers
If you've ever watched an episode of the popular show "Shark Tank," you'll recognize this metric as one that the sharks quite frequently ask the entrepreneurs — and for good reason. Without understanding how much it costs you to acquire a new customer, you can't really figure out the success of your sales and marketing efforts, or even the profitability of your company. To compute it, divide your total sales and marketing expense by the number of new customers you've generated.
Make Your Money Work Better for You
Read More: Creative Ways Small Businesses Stayed Open During the Pandemic
Monthly Burn Rate
No matter how good your business idea is, your company can't survive without cash. Although some companies are able to repeatedly raise money from investors, many small businesses have to survive on the money they originally brought to the table. In either case, measuring your monthly burn rate will tell you how fast you're running through your financing and how long your company can survive — or at least when it will be time to raise money again.
Find Out: How Small-Business Struggles Hurt All Americans
Customer Retention and Satisfaction
The key to the success of any business, in the long run, is the retention and satisfaction of its customers. If you can't attract paying customers — or if they only buy from you once and never return — then your business is ultimately doomed. Satisfied customers represent not only repeat business but also a source of referrals. That's why it's so important to measure the rate at which you are retaining customers, and how satisfied they are. Ideally, this metric will show that you are not only attracting more and more customers but that they are becoming partners with your business, supporting you regularly and bringing even more customers to you. 
Make Your Money Work Better for You
Age of Accounts Receivable
Sales are important, but fewer customers than ever are paying with cash. This means that you won't typically receive payment for your goods and services for 30 days or more after you make a sale. Statistically speaking, the longer you take to collect on your accounts receivable, the more likely you won't ever get paid. It can be easy for a busy owner to focus on making current sales and attracting new customers, but if you don't actively track the age of your accounts receivable, you'll inevitably end up working hard to make sales that never translate to actual revenue for your company. That's a losing game over the long run. 
Read: Small-Business Industries Hurt Most by the Pandemic
Social Media Penetration
Social media penetration is a metric that didn't even exist in the not-too-distant past. However, it's becoming a more important criterion for corporate success than ever. Most people now use mobile apps, websites and social media to find out about businesses, so if you aren't active in these areas, you're almost assuredly losing ground to your competitors. If your social media engagement is trending downwards, it means you'll have to create a more engaging online presence to generate future sales. 
Make Your Money Work Better for You
Other Moneymaking Options: 22 Side Gigs That Can Make You Richer Than a Full-Time Job
Trends in Profitability
No small business should expect to be immediately profitable. In most industries, as a new business owner, you should anticipate not turning a profit for a few years. In fact, even some of the biggest companies in the world, like Amazon, were trading as public companies for years before becoming profitable. So, while making a profit is the goal of any company, as long as your business can survive on a cash flow basis, the trend in your company's profitability may be an even more important metric. It's one thing to lose money if there's a pathway to future profitability, but if you're burning through cash and taking larger losses every year, it may be a sign that your business isn't going to survive. 
More From GOBankingRates
Make Your Money Work Better for You