6 Alternatives to Etsy for Small Business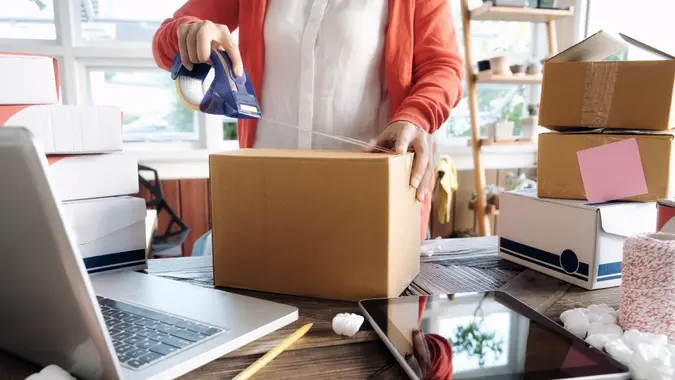 ijeab / Getty Images/iStockphoto
So, you're looking for a place to open up shop for your small business, but you don't want to pay Etsy's fees. Currently, Etsy's fees are $0.20 a listing, then once the item sells, there is a 6.5% transaction fee on the sale price including shipping. If you accept payments through Etsy Payments, there's an additional 3% plus $0.25 payment processing fee. If you want to pay $10 a month for Etsy Plus, though, you'll get 15 free listings along with some other features.
Look: 9 Dollar Tree Items To Stock Up On This Summer
More: The Best Cities With Great Weather To Retire on $2,000 a Month
Depending on what you're selling and how much, these costs can really add up, and may not be right for you. It's best to have multiple options for your online store so you can choose the site that's best for you and your business. Here are some alternatives to Etsy where you can sell your inventory.
Make Your Money Work Better for You
Shopify 
Shopify offers the ability to make your own webpage for your store, as well as a myriad of customization features. You can also easily track sales and get more insight about your customer base thanks to Shopify's detailed analytics reports.
You can try out Shopify for free for 14 days. After that, to establish a website for your store, you'll at least need Shopify Basic, which is $29.99 a month plus credit card fees (between 2.7%-2.9% plus $0.30 for online transactions). You'll also need to find ways to direct traffic to your site, as Shopify doesn't provide any sort of advertising.
Take Our Poll: Do You Tip for Service?
Amazon Handmade
Amazon now has a category called Amazon Handmade where artists can sell their handcrafted goods. You must pass an application process to ensure your items meet Amazon's guidelines for what qualifies as handmade.
As for cost, the $39.99 professional seller fee that Amazon sellers are subject to is waived as an Amazon Handmade seller. This means you reap all of the Amazon seller benefits (like the ability to run promotions, and tools to grow your business) without having to pay the price. However, Amazon Handmade does take 15% of every sale you make.
Make Your Money Work Better for You
Squarespace 
If your sales reach more than $10,000 a year on Etsy, you have to opt in to ads on your Etsy page. So if you're selling lots of inventory, consider selling on Squarespace. You can customize your web page and offer unlimited listings. There's also an array of tools to help you easily manage your inventory and shipping preferences.
The cheapest plan on Squarespace is the Personal plan, which is $16 a month and does not charge any transaction fees on what you sell. Similar to Shopify, as a seller, you will have to find ways to advertise your site. However, with more expensive Squarespace plans, you'll get Google Ads credits, which you can use to promote your business. 
Big Cartel
Big Cartel advertises itself as a place for artists and makers. They also pride themselves on not taking a cut of your sales.
If you list five products or less on Big Cartel, it's free, and you get to keep all of the money you make. For six to 50 products you can get the Platinum plan, which costs $9.99 a month, plus you get more features like multiple images per product, a custom domain, Google Analytics, inventory tracking and more. For 51 to 500 products, you can use the Diamond plan, which has all of the same features as the Platinum plan for $19.99 a month.
Make Your Money Work Better for You
Wix
Like Squarespace, Wix allows a lot of customization over your store's site. Users say the design process is very intuitive on Wix, and even those without any design expertise will find it easy to make an appealing website. Plus, you can integrate your site into social media marketplaces like Instagram and Facebook to easily attract more buyers. Wix allows you the options to sell globally and in person.
Wix plans start at $27 a month. All plans come with a free domain for a year.
IndieMade
IndieMade offers integrations with Etsy, but states on its website that it's perfect for artists looking to make the move from Etsy to their own independent website. IndieMade offers a 30-day free trial. After that, plans start at just $4.95 a month, but that only allows you to sell 10 products maximum. For $19.95 a month, you get the ability to list unlimited products with unlimited pages and galleries.
More From GOBankingRates
Make Your Money Work Better for You