Amazon Wants to Own Christmas — Including Your 7-Foot Live Tree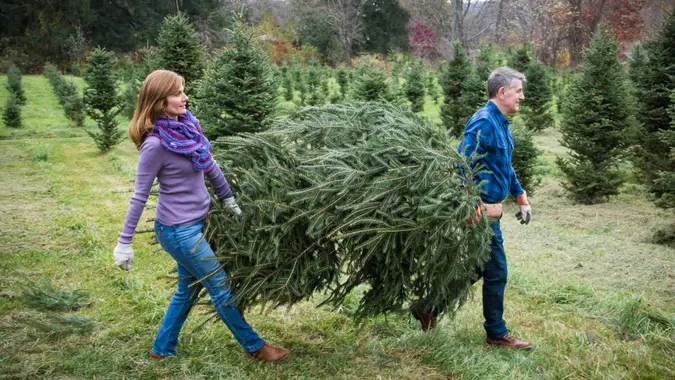 stanley45 / Getty Images/iStockphoto
Amazon, the same company that disrupted how people buy books, groceries and household items, wants to shake up the time-honored tradition of Christmas tree shopping and deliver a live 7-foot Christmas tree directly to your doorstep.
Last year the e-commerce giant tested the market by selling live Christmas trees shorter than 3 feet and due to the popularity, Amazon's expanding and lengthening its selection. Starting in November customers will be able to point, click and pay $115 on a 7-foot North Carolina Fraser fir all from the Amazon app or website, the Associated Press reported.
Click to see how much Amazon CEO Jeff Bezos is worth.
Trees will ship within 10 days of being cut and arrive bound and without water, but the company ensures the trees are resilient enough to survive shipment. Adding to the tidings of Christmas cheer, Amazon's also selling wreaths for $50, and red-leafed plants with candy cane ornaments for $25. Other trees available for purchase include Douglas firs and Norfolk Island pines.
Find Out: 7 Brilliantly Slick Ways to Get Amazon Prime for Free
Amazon can't make a believer out of everyone, and there's a contingent who maintain that the Christmas spirit cannot be packaged and delivered to your doorstep with free two-day shipping. People in the Christmas tree farm business aren't fazed by Amazon's entry into the market. Michigan's Wahmhoff Farms has already started fielding calls from interested patrons, and a company representative stated there's no substitute for the experience of hand-selecting a Tannenbaum, NBC affiliate WOOD TV reported.
Make Your Money Work Better for You
See: 10 Features That Make Amazon Prime Worth the Money
This holiday season's product expansion for Amazon aligns with consumer trends. Although some of the 90 percent of Americans who celebrate Christmas might prefer to put their presents under a real tree, fake trees sales have grown consistently since 2004. In 2016, the most recent data year, 46 million Christmas trees were sold — 27.4 million real trees at $2.04 billion in retail value were sold, along with 18.6 million fake trees at a $1.86 billion retail value, according to the National Christmas Tree Association.
Add These to Your Wish List: 15 Insanely Expensive Things You Can Buy on Amazon Right Now
No word on if the trees are available for pick up at one of the 3,000 and counting lockers in over 50 metro areas, but several outlet reports that the Christmas trees will be eligible for Prime shipping.
Click to keep reading about 12 clever ways Amazon gets you to spend more.
More on Making Money and Business