American Employees and Consumers Prefer Brands That Support LGBTQ Rights, Says New Survey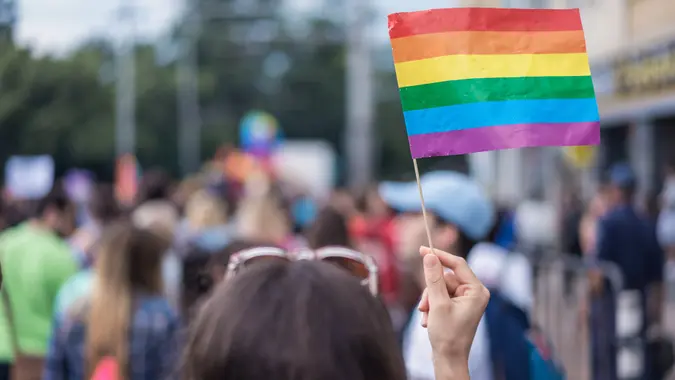 Mixmike / Getty Images
American consumers and employees are showing strong support for companies who publicly align themselves with and speak out on behalf of the LGBTQ community, according to a new study.
The survey released Dec. 13 by GLAAD, the world's largest LGBTQ media advocacy organization, in collaboration with The Edelman Trust Institute, found that 59% of Americans say that if businesses devoted significant resources to protecting the rights of the LGBTQ community, they could have a positive impact.
Additional key findings of the survey found that U.S. employees say they are four and half times more likely to work at a company if it publicly supports and demonstrates a commitment to expanding and protecting LGBTQ+ rights.
Lauren Gray, senior vice president of Edelman, added that the sentiment is strongest among Black employees who are seven times more interested in working for a company that supports LGBTQ+ rights and Asian employees six and a half times.
"This data shows why employers should avoid a siloed approach to DEI," said Gray. "As companies work to attract top talent, particularly among communities of color, support for LGBTQ+ issues is critical. These findings underscore intersectionality and could indicate LGBTQ+ community support is viewed more broadly as one barometer for an inclusive workplace."
And in an earlier July-August Edelman Trust Barometer survey, 51% of employees — both globally and in the U.S. — say they are more likely to work for a company if the organization were to publicly support addressing LGBTQ rights.
Make Your Money Work Better for You
On the consumer side of things, the survey found that Americans are twice more likely to buy or use a brand if it publicly supports LGBTQ+ rights, with one in five Americans in the 18-to-34 age bracket saying that protecting the rights of the LGBTQ+ community should be a top priority for brands when it comes to allocating money and resources.
In addition, the survey notes more than half of Americans (53%) say they expect CEOs to inform and shape conversations and policy debates about LGBTQ rights.
More From GOBankingRates