Barstool's Dave Portnoy Is On a Mission To Save Small Businesses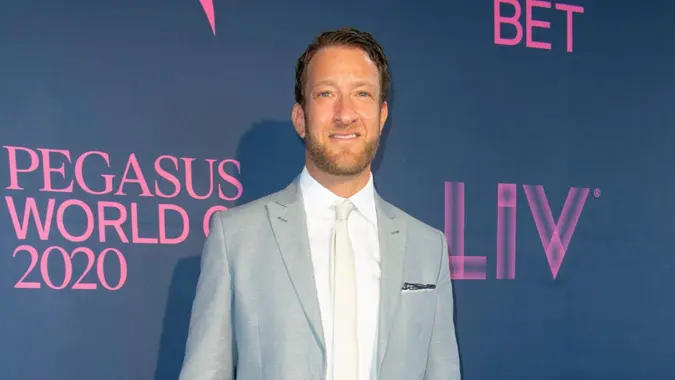 ©Romain Maurice/SouthBeachPhoto/Shutterstock
Barstool Sports founder Dave Portnoy was inspired to start a fund to help save small businesses by his cameraman, Frankie Borrelli.
"His dad owns [the restaurant] Borrelli's on Long Island, the perfect example of the type of business we're trying to save," Portnoy said in a video on The Barstool Fund's website. "Throughout this pandemic, I've been like, 'Hey Frankie, how's your dad doing? How's Borrelli's doing?' Every month, it's a little bleaker."
See: A Look Back at Small Businesses in 2020
Portnoy said he's been alarmed to see how little government help has been given to small businesses that have been forced to shut down or reduce services due to the pandemic and related restrictions.
"It's like, how do you expect these people to survive?" he said in the video. "They're already on their last legs, and you're pulling the plug on them. And nobody seems to care in the government, or at least they're not doing anything or acting like they care — no plan, no relief, no bailout. It's like, what's going to happen?"
Make Your Money Work Better for You
For the Future: 25 Small Businesses Every Neighborhood Needs
Portnoy said that after "ranting and raving" about the issue, his friend, entrepreneur and host of "The Profit" Marcus Lemonis told him to put his money where his mouth was. So Portnoy decided to dedicate a half-million dollars to start The Barstool Fund to help small-business owners across America. In addition to the funds from Barstool, Portnoy has set up a donation page where "Stoolies" can also make donations to the struggling businesses. Any small business can apply online to receive funding, but Portnoy does have one rule for qualification.
"Mr. Borrelli, credit to him, is still paying his employees. He's never shut off his payroll. I was inspired by that," he said. "That's rule one: To qualify for money from us, you have to still be paying your employees."
Read the List: Stores You Love That Soon Might Be Gone Forever
If a business meets that qualification and gets selected to be featured by The Barstool Fund, Portnoy has committed to continue funding the business for as long as needed.
Make Your Money Work Better for You
"What good does it do to help you for two months and then disappear and then you go out of business the next month? It doesn't," he said in the video. "I don't care how I get the money. If I need to raise more money, if I have to pay it myself, whatever it is, I'll get creative, but once you are in our program, we will pay whatever you need, the necessities you need, the money you need to get through this thing and give you a fair chance to run your business. These people aren't going out of business because they're not successful or not making money, it's because they have no other choice. They've been dealt a hand that nobody could play."
Portnoy kicked off the program by providing funding for Borrelli's, which is run by Frankie's father and his two brothers and has been serving Italian food since 1955. Since then, the fund has been able to help 90 other small businesses across the country, including restaurants, bars, dry cleaners, barber shops, limo services and more. Thanks to the support of over 155,000 "Stoolies," The Barstool Fund has been able to raise over $20 million to date.
Success Stories: 8 Surprising Industries That Are Thriving — and Have Millennials To Thank
Make Your Money Work Better for You
Most recently, The Barstool Fund raised $5,000 to help The Rathskeller, a German restaurant, event space and beer garden in Indianapolis that dates back to the 19th century. The funds are being used to pay for rent as well as to keep paying its staff, many of whom have worked at the establishment for over 15 years.
"We're going to try to save as many small businesses as we can — keep the employees getting paid, keep the owners in business until this thing is over," Portnoy said in the video. "Hopefully, we can save as many small businesses as humanly possible."
More From GOBankingRates
Last updated: Jan. 11, 2021