How Two Sisters Turned Their Love of Romance Novels Into a Sony TV Show Deal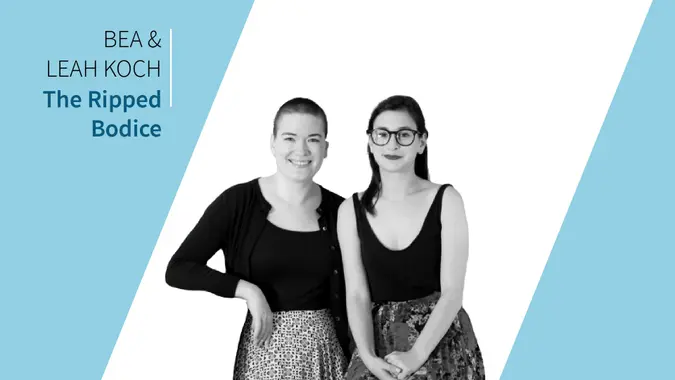 When sisters Bea and Leah Koch opened their bookstore The Ripped Bodice in Culver City, Calif., in 2016, they didn't have their sights set on Hollywood fame — they just wanted to sell romance novels. But a little over two years later, the pair have inked a first-look deal with Sony Picures TV — all because of their devoted following. They'll be developing projects for the screen based on their exclusive access to writers and fans in a notoriously profitable genre. With a prime location mere blocks from the Sony lot, eye-catching window displays and a flawless reputation, The Ripped Bodice is the only romance-dedicated bookstore in the nation and has earned a Bookseller of the Year Award from the Romance Writers of America. 
In this installment of GOBankingRates' "Best in Business" series, which sets out to discover what makes the people behind top innovative companies tick, the Koch sisters reveal how to get startup capital for unusual businesses, ways to measure success, how to get a tv show deal — and ways that you can find (or build) your own dream job, too.
When did you know you had to start this company?
There was a lightbulb moment when we realized there was no other store in the United States that solely focused on romance novels. We felt very strongly that there was a gap in the market that we could fill.
What were your biggest fears about launching your own business?
Failure. [We] don't think it's a very original fear, but it's definitely what we lost the most sleep over.
Make Your Money Work Better for You
Read More: Expert Tips for Turning Your Failure Into Financial Success
What was the most surprising thing about the process?
The most surprising thing is how much your concept gets tested the minute you start telling people about it. Some of the most valuable feedback and changes we made were very early on when we were just talking about the idea.
What was the hardest part?
Figuring out where we were going to get our startup capital from. We eventually decided to go with Kickstarter, which was an amazing resource for us.
Click to Read: How I Avoid Burnout as an Entrepreneur
Did any previous jobs inspire you to run Ripped Bodice the way you do?
Every boss that we had both worked under in the past who has been a successful manager or entrepreneur was incredibly flexible. We really felt like that was an attitude we wanted to bring to our store. We are independent self-starters, so past jobs really reinforced our desire to work for ourselves and be our own bosses.
Who are the people you lean on most?
Well, obviously each other! We could not have done this on our own, and I think had we done it with someone we were not related to, it would have been a very different experience. Our father is our biggest supporter and both he and our brother and sister-in-law really contributed in different ways to make this a true family business.
Make Your Money Work Better for You
Find Out: Elon Musk's Essential Tips for Aspiring Entrepreneurs
What advice would you give to someone who wants to start their own business?
Don't ever think about what any given kind of business is "supposed" to look like. Just because no one has ever done it your way before doesn't mean your way doesn't have value. Pursue alternative funding sources, and think creatively in every aspect of your plan.
We are so grateful to Chris and the whole team at Sony for offering us a seat at the table.

We are so excited to help develop the romance projects we want to see on our screens! ????

https://t.co/LF5tglwopT

— The Ripped Bodice (@TheRippedBodice)

September 12, 2018
When did you realize Ripped Bodice was going to make it?
When we arrived to open the store on our second anniversary and there was a line of people around the block, waiting to shop and celebrate with us. It validated all our hard work to see a group of people showing up to let us know that they would support us for a long time.
How do you define success?
Running a business that is financially stable and that we're proud of.
Read more about secrets to starting your own small business.
More on Entrepreneurship
Make Your Money Work Better for You
We make money easy. Get weekly email updates, including expert advice to help you Live Richer™.
This interview has been edited and condensed.