Best in Business: 7 Questions With Front Co-Founder Mathilde Collin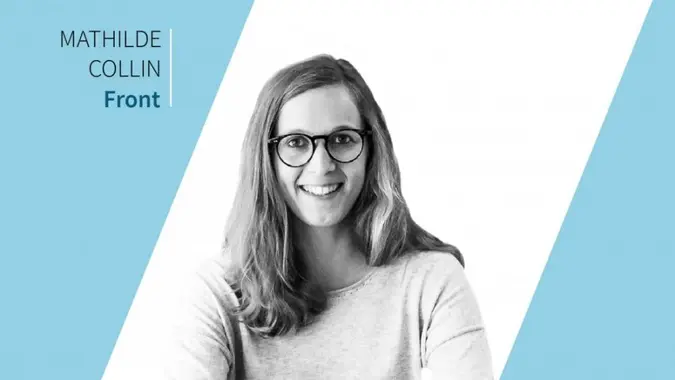 Mathilde Collin is the CEO and co-founder of Front, a shared inbox for teams — think Slack meets Gmail meets Asana meets Github, all in one convenient place. Founded by Collin in 2013 to help people focus and do meaningful work, Front counts heavy-hitters like Shopify, General Assembly, LVMH, HubSpot and Convoy among its 4,000-plus clients. It was also just ranked third on Fortune's list of 50 Best Small Workplaces. Front — which has raised over $79 million in funding — recently acquired the calendar software startup, Meetingbird, marking its first major acquisition. 
This is the first installment of our "Best in Business" series, which sets out to discover what makes the people behind top innovative companies tick. Collin told us what it was like to launch her very first company, how she turned it into a multimillion-dollar powerhouse — and how you can find (or build) your dream job.
What inspired you to start your own company?
When I was growing up in France, it always struck me how so many people seemed to be dispassionate about their jobs. It felt so normal for everybody around me to dread the next Monday, to complain about the long hours and resent their boss. I understood the feelings, but couldn't get myself to accept the idea.
I thought: If I'm going to spend half of my waking hours doing one thing, I certainly hope I'm going to like it! That's what I wanted for myself, and for the people around me. That goal led my co-founder and I to start working on Front in 2013. We wanted to make a difference in people's professional lives, and Front was the perfect vehicle for two reasons: One, as a company, we could improve things locally and internally by creating a work environment where employees could thrive, and two, as a software provider, we could improve things on a much bigger scale, by working on the most critical tool people use to get work done: email.
Make Your Money Work Better for You
What were your biggest fears about making the leap?
I didn't always have the confidence to run a company. When I was in business school, my classmates would often talk about how they were going to start a company. I wished for that as well, but didn't have the confidence yet to really believe I could do it. So out of school, I started working for a software as a service company, where I got a lot of insight into how a business runs. This experience helped me understand what it takes, and made me realize that I could do it. That, and I had someone believing in me and pushing me to let go of my fears and pursue my dreams.
Learn More: Doing Something That Scares You Can Build Your Wealth
What was most surprising about going from initial idea to actual business?
How hard it is to get your first user! There is a lot of work that goes into building something that is ready to get into the hands of users. It feels you're always "one feature away" from your MVP. But you need to keep hustling because it'll be insanely rewarding when someone finally pays for your product.
What was the hardest part?
What was most surprising was also the hardest. So much work happens before you have any customers at all. And yet, getting your first customer is just the beginning of your business.
Make Your Money Work Better for You
Did any previous jobs inspire you to run Front the way you do?
While in business school, I interned at a startup that was incredibly results-oriented and emphasized transparency — two things that I believe go hand-in-hand. They kept metrics front and center by displaying dashboards throughout the office, and sending weekly emails that let everyone know how we were tracking against our goals. These are two things I adopted and continue to do at Front today.  
And right out of school, I worked at a company that wasn't just opaque about the health of the business; they downright lied about it to employees and candidates. In response to this, I knew I wanted to make transparency a core value and instill a culture of trust and integrity. At Front, we practice transparency because I am confident it makes us more efficient, and keeps employees happy and engaged.
Who do you lean on most? 
My co-founder, Laurent Perrin, who has trusted me since day one and worked so hard literally every day. For entrepreneurs just starting out who want to know what to look for in a co-founder, go for mutual respect and unshakeable trust. It worked for us. My team, the real makers of Front. Front exists to improve email for businesses, but also to be a great place to work where people can be efficient, effective and make a difference. My team inspires and motivates me every day. My husband, who believed in me every step of the way, and gives me the confidence to prevail through all the highs and lows of starting and running a company. Patrick Collison, founder of Stripe, who believed in me and Front since day one.
Make Your Money Work Better for You
Find Out: 12 Fast-Growing Industries for Starting a Business
What advice would you give to someone who wants to start their own business?
Take a leap of faith and commit to working on something, even if you aren't convinced it's the best idea in the world. Entrepreneurs tend to be highly critical of their own ideas, and the worst thing you can do is wait around until everything feels perfect — you'll end up launching nothing! For the first two years of Front, I wasn't even sure if Front was a good idea. I knew something could be successful in the space, but I wasn't sure if the product would take off. Once we got the product into the hands of customers, however, I started to see the potential.
When did you realize Front was going to make it?
It wasn't until just after we raised our Series A funding that I realized we were really on to something. At that point, over 1,000 companies had started using Front, and we had raised $13 million in venture funding. It was a tremendous confidence boost to realize that all these investors and businesses believed in what we were building.
How do you define success?
"Success" is a constantly moving target. When you reach one milestone, it's onto the next. But ultimately, success boils down to a healthy, growing business, happy customers and happy employees.
More on Entrepreneurship
Make Your Money Work Better for You
We make money easy. Get weekly email updates, including expert advice to help you Live Richer™.